getting your pottery online part 6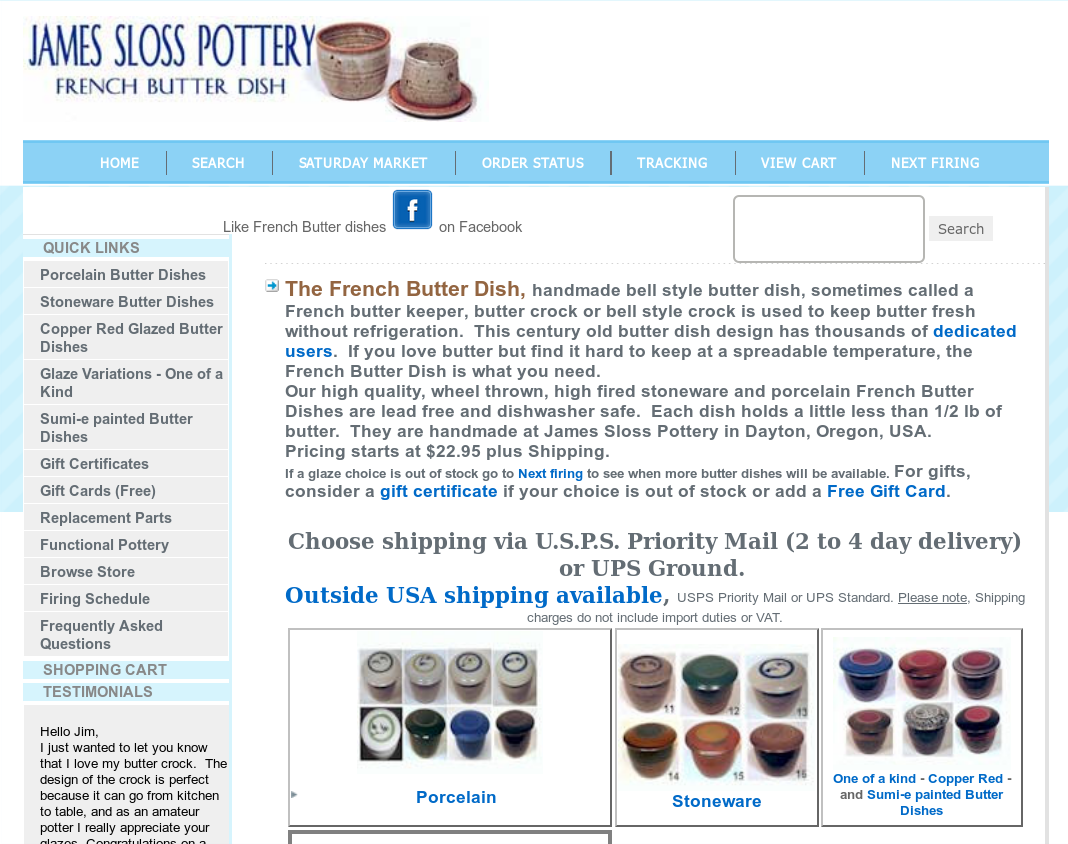 Continued from Part 5
Part 6: Online Store Builders
If you've decided to have an online store, or even full web promotion, then you're going to be looking at a kind of web host called a "site builder." These businesses offer point-and-click website design using custom software and templates, and can be used to build very attractive sites. All of them charge monthly fees that increase based on which features you want to use and the size of your site and/or store. You need to have your own domain for these.
While you certainly can design a site "from scratch" using HTML, CSS, and Javascript, if you have the skills for that you probably shouldn't be reading this article. For what it's worth, I do have the skills, but I still use a site builder because it's easier.
All of these site builder hosts are largely interchangeable, so I'll list them below in escalating order of cost and capabilities. Do note that, if you host your site on a site builder, you cannot move it to a different one without recreating your site design from scratch. None of them are free; if you find one that appears to be free, they're just hiding the charges. Pricing below assumes that you are using online store features, which are optional for some providers.
BigCartel is the most affordable of online store builders, mostly because it is only an online store and not a general site, blog, studio tour, or anything else. Choose this if you don't plan to expand your site beyond a simple online store, or if you have hosting for other portions of your site elsewhere. Pricing from $10 to $25/month. Founded by two artists who were fed up with Etsy.
OtherPeoplesPixels is another artist-created hosting company, and offers a full suite of site services, including blogs and video hosting, for $16 to $26 per month. While they are competitive with SquareSpace and Wix on listed features, their design system and templates are a lot more limited since OPP is sideline for a Chicago-based web design company. Their online store system is also very bare-bones.
Squarespace is one of the most mature hosting companies, with a very slick point-and-click site building interface, probably the best in the industry. Recommended if you want a site that really looks good without hiring a consultant, or want a blog, news page, virtual tour, etc. as well as a shop. Generally $30 to $40/month. Squarespace is the only company on this list with offices in Portland. Confusingly, they are not related to Square-the-credit-card-processor.
Wix is a direct competitor to Squarespace, with the same pricing. Their design tools are more friendly to professional designers, so if you have web designer assistance they're going to like Wix more than Squarespace. Otherwise Wix is a very similar offering with the same terms and limitations.
Weebly.com is owned by Square-the-credit-card-processor, so offers some advantages if you already use Square to take in-person payments. Costing between $20 and $30 per month, it's slightly cheaper than SquareSpace, although it lacks some of SquareSpace's sophisticated content templates and plugins. Has a very advanced online store, though, including inventory management in the higher priced plans.
Shopify used to be the high end of inventory and online store systems, with many features that other providers don't have. However, as a company they have strongly supported controversial right-wing groups, and as such are not a good idea for any potter. Even if you don't care about politics, having your store hosted by Shopify is likely to result in retaliation against you.
One other option I need to mention is Wordpress (WP), which is open source software with a galaxy of plugins for various purposes, including several online store options. There are a number of very affordable online hosts for WP, down to $5/month, including Wordpress.com and Dreamhost. However, WP is not point-and-click easy to set up a site; you will need a web geek to help you. That said, many college students who are currently off school have enough expertise to design a WP site, but you still need to budget a few hundred dollars and some time to get your site built out. You'll also have trouble modifying it yourself unless you learn some software skills.
Getting Going
Hopefully this has given you enough information to make some sense of the bewildering array of options when you decide to take your pottery business online. Just remember some important principles and you should be fine navigating the online wilderness:
You get what you pay for (or less);
Be realistic about the amount of work you can put into an online store;
Everything on the web is subject to frequent change;
And there is no "best" option, there is only what is best for you.
Take a deep breath, make a plan, and I'll see you online!