I like Japanese curry. I mean, who doesn't? Even Portland has its own Japanese curry house. But preparing Japanese curry (kare) at home usually means using these sort of instant curry blocks: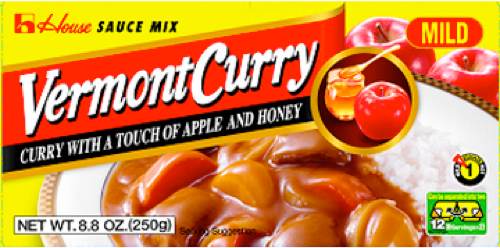 Those are fine, and I've used them lots of times, but I generally don't like to think a lot about what's actually in them. I wanted to make a from-scratch curry, so I checked out Pailin's recipe, which looked great except it depended heavily on browned beef and beef stock. So I checked out Daniel Gritzer's recipe, but his was a bit complicated.
So I set about synthesizing and simplifying both recipes into a vegetarian Japanese curry that would work for me. This was easier than I thought, and worked well the first time, so I share the recipe below. This curry is definitely doable on a weeknight, but it's a little high-cleanup, involving at least a pot, a pan, and a rice cooker. It makes good leftovers.
One thing you'll need to pick out on your own is the "crispy thing" to go on top of the curry. We did breaded (frozen) shrimp, but a croquette of some kind would also work, as would panko-breaded fried tofu, tonkatsu or boneless fried chicken. It's optional, of course, but having the contrast to something crispy and chewy definitely improves the curry a lot.
Japanese "winter curry"
Rice:
2 cups Japanese Rice
Water
Instant Dashi Stock:
1 small bullion cube or other instant stock
2 large squares konbu, maybe 4"x4" each
Vegetables:
2-3 Tbs vegetable oil
1 onion, diced small
2-3 carrots, peeled and diced
1 winter squash, about 1 1/2 lbs, peeled, seeded and diced
2-3 waxy potatoes, diced
1 apple, peeled and grated (like on a box grater)
8 oz small mushrooms, such as shimeji, nameko, or oyster, OR 1 cup frozen peas
Curry Paste:
5 Tbs butter
5 Tbs flour
1 clove minced garlic
1-2" piece ginger, peeled and minced fine, about 2 Tbs
2 Tbs mild yellow curry powder
Wash and drain the rice, reserving the rice washing water full of starch. Put this water in a small pot or microwavable bowl, and add additional water to make 1 quart. Heat to boiling. Add the konbu and instant stock; cover and let sit while you prepare other things like dicing all those vegetables.
Do whatever prep you need to do for the Crispy Thing, such as heating the oven.
Heat the vegetable oil in a large soup pot. Add the onion and fry until translucent. Add the squash and fry until it sweats. Add the carrots and potatoes, and fry until they sweat. Add the grated apple, and the stock, taking the konbu out. Bring to a low simmer, then cover and let cook for another 12 to 16 minutes, or until the vegetables are tender.
Start cooking your rice concurrently with the other cookery, hopefully in a rice cooker. It's likely to be done before the other food is, which is fine, just fluff it, and set aside, covered, to keep warm.
While the veggies are simmering, make the curry paste, which starts with a dark brown roux. Melt the butter in a small saucepan over medium-high heat. When the foaming starts to subside, add the flour and begin stirring. You'll keep stirring it for what feels like forever but is really only about 7 minutes, at which point it'll start darkening. After that, it should take only another 3-4 minutes to darken to a milk chocolate or peanut butter color. At that point, turn off the heat, then quickly stir in the curry powder, garlic and ginger, which will foam a lot, and you will need to keep stirring until the paste cools, or they will burn.
If the simmering veggies are done, then stir in the mushrooms or peas, and the curry paste. Let simmer & thicken a little more, then take off heat and cover, letting it sit for at least 5 minutes.
While the curry is sitting, you can finish preparing your Crispy thing.
Serve in wide flat bowls, with rice on one side, curry on the other, and the Crispy Thing on top. Goes well with a yeasty lager or green tea.
Notes:
This recipe could easily be made vegan by swapping the butter for vegetable oil. Just toast the roux a little darker and nobody will be able to tell the difference.
For curry powder, you want a mild powder. I used Penzey's "sweet curry", which I'd recommend, but the traditional powder is S&B Oriental Curry Powder. Or you can make your own curry powder from spices and adjust it to your liking, as described in Gritzner's recipe.
This is a "winter" curry because it includes all vegetables that are available in winter. In the spring or summer, you'd use a different assortment of vegetables appropriate to the season.