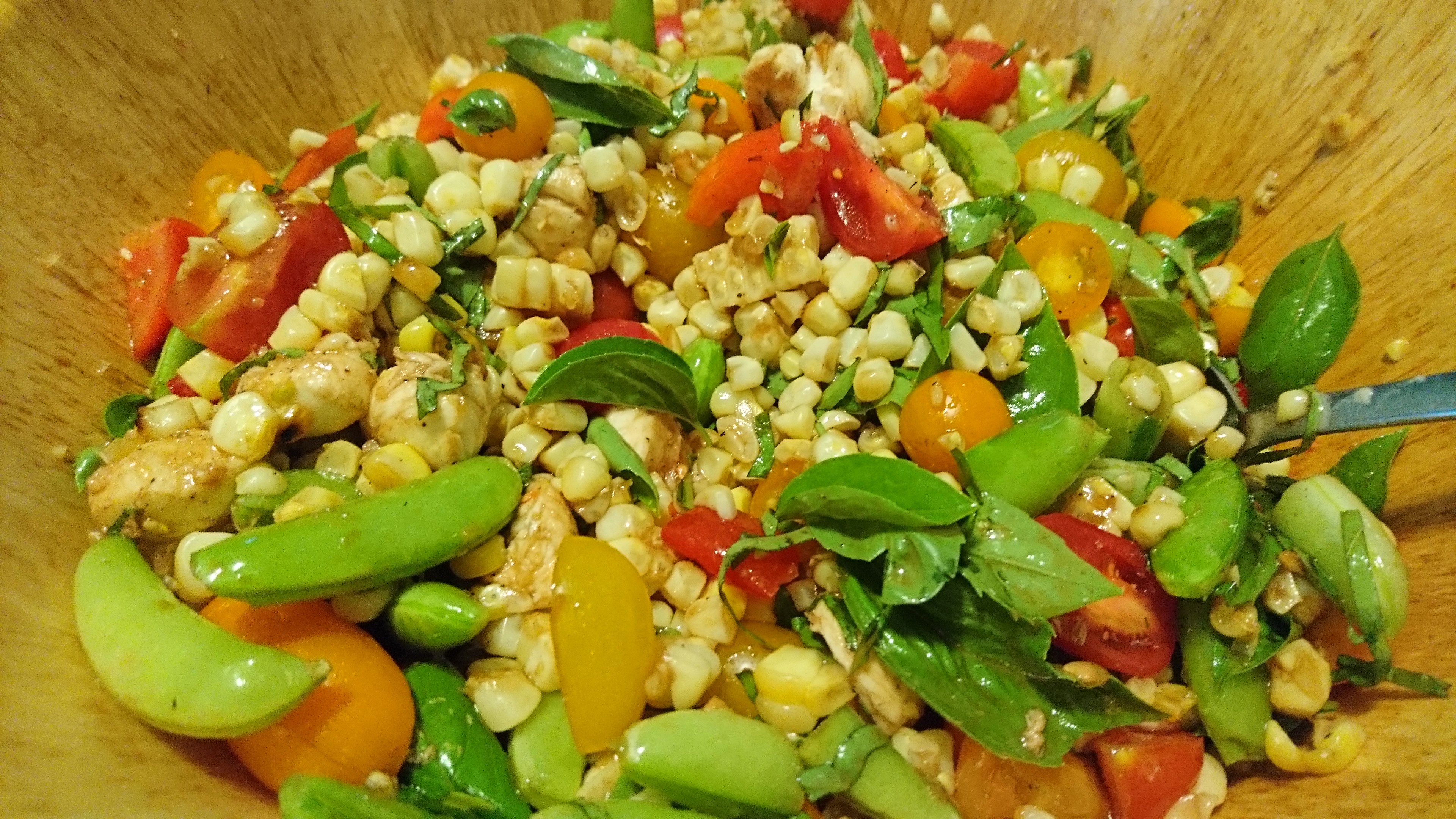 If you have a garden, there's a couple of weeks in July when the snap peas are still fruiting, the basil is tall and the tomatoes have started to ripen. Add that to good corn available at the store, and you have the makings of the most summery of summer salads.
We got this recipe years ago from a vegetarian magazine which is long out of print, so it's about time to share it with the internet. This salad is entirely dependent on the quality and freshness of its ingredients, so don't even try to make it off-season.
High Summer Salad
4 ears of corn
1 large basket of cherry tomatoes, about 2 cups
3/4 cup of loosely packed basil leaves
2 cups of freshly picked snap peas
8oz of mozzarella bocconcini
About 2 Tbs premium virgin olive oil
About 2 tsp real aged balsamic
Large-grain salt and ground black pepper
Steam, boil, or grill the corn, then allow to cool. Cut all the kernels off the cobs and break them up into individual kernels with your fingers.
Cut the cherry tomatoes in half. Leave any small basil leaves whole, but chiffonade (sliver) the large ones. Stem the snap peas, and cut any larger ones in half. Cut or tear the bocconcini in half or thirds.
Toss all the ingredients together in a large salad bowl. Let sit for 10-15 minutes for flavors to blend, then serve. Works as a meal salad for 4 people with a side dish, or as an appetizer for 6.
Substitutions: if you don't have garden-fresh snap peas, buy store ones and steam or blanch them briefly. Fake balsamic (most of what you find in the store) is OK with this, it just won't taste as good. If you can't get bocconcini, any fresh mozzarella that comes in a ball will be fine, just cut it into 1/2" cubes.