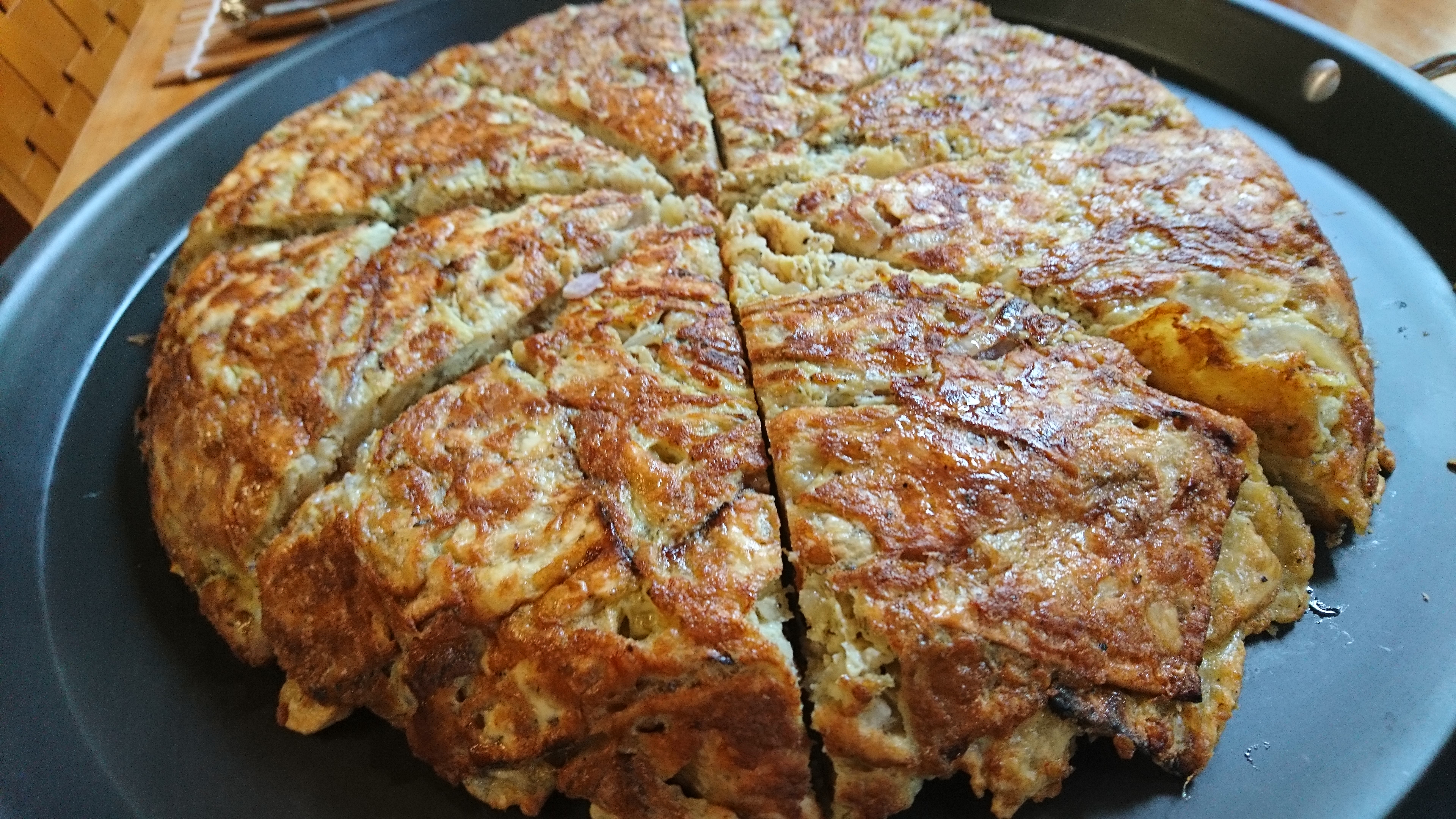 Now, I did mention that one of my favorite foods of Passover is matzoh brei, Passover's eggy answer to migas or French toast, depending on how you make it. It's your brunch go-to for the holiday, and if you don't get a chance by Thursday, then make it this weekend with all that matzoh you have left over!
This version is made kind of like a Spanish tortilla. It's loosely based on a recipe by Golda Meir (former PM of Israel), as detailed in the Bette's Diner Pancake Handbook. Her version is rather unseasoned, though, and meant to be eaten with jam. I wanted a version that was more savory and required no condiments.
Like other tortilla and frittata recipes, the tricky part about this matzoh brei is making sure the top is done. The difficult, cheffy way is to flip it, using a pot lid, baking sheet, or your sheer grace and dexterity to flip it in mid-air. The easy way is to put it under the broiler for 4-7 minutes. Guess which one I usually do?
savory matzoh brei
8-10 squares of matzoh
1 medium red onion (or 1/2 large one)
8 large eggs
1/2 to 1 tsp salt
1/2 tsp fresh ground black pepper
1/2 tsp dried thyme
1/2 tsp dried marjoram
2 tbs minced parsley
1 quart water
2 tbs butter or oil
Equipment: large (12" to 14") nonstick pan, large heatproof bowl (at least 3 qt), strainer, smaller bowl, whisk, knife, kettle, spatula
Break the matzoh into 2" to 3" squares and put it in the large bowl. Peel, and slice the onion very thin (1/8"), and put the slices in a heap on top of the matzoh. Put the water in the kettle to boil.
In the meantime, beat the eggs with the salt and spices.
Pour the boiling water over the onion and matzoh. Dump it in the strainer, drain, and then put the wet matzoh and onion back in the bowl. Mix with the seasoned eggs.
Put the butter or oil in the pan and heat over medium-high until a drop of egg in it sizzles. Pour in the matzoh/egg mixture, and mix for about one minute, stirring from the bottom so that cooked egg is mixed in. Press the mixture into a flat cake and turn the heat down to medium or medium-low. Cook for 6-9 minutes, by which time the edges should be browning, and the whole matzoh brei should be starting to firm, although still undercooked in the center.
Now, you need to decide how to finish cooking the top. There's a couple of methods:
Oven Method: put the pan under a medium broiler for 3-6 minutes. If the handle isn't safe with high heat, put it in a 400F convection oven for 10-12 minutes instead. Either way, when the top starts to brown slightly, you're done.
Flip Method: using a large platter, a large, flat pot lid, or a cookie sheet, flip out the brei. Slide it back into the pan, top-side-down.
Let the brei rest for 5 minutes off-heat. Then flip it out onto a platter or cutting board, and slice into wedges. Serve.
Works as a main course for brunch for four people. Could easily be cut in half to serve brunch for two.