one-pan tomato garlic salmon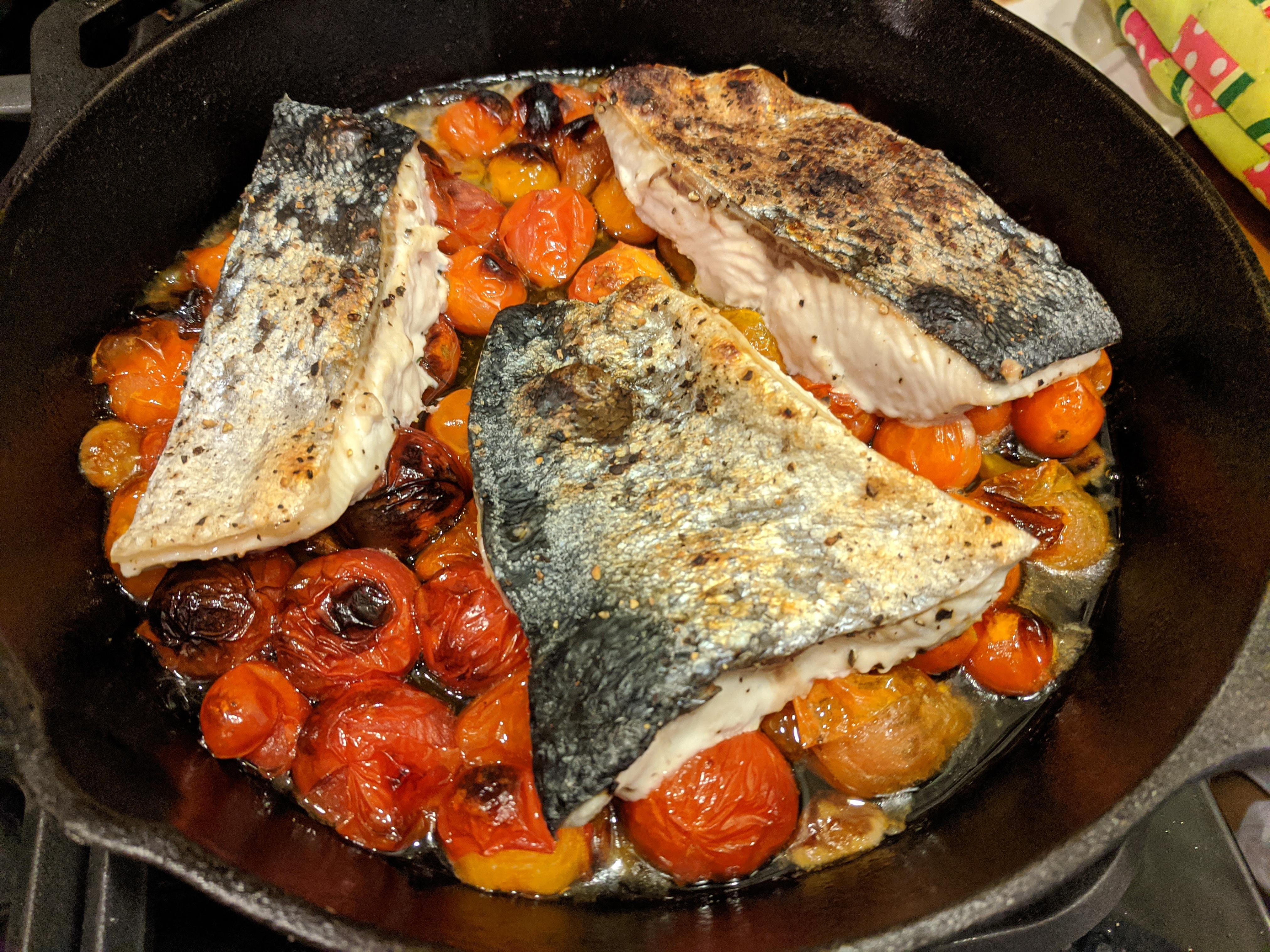 Believe it or not, one of the things we do when we stay in a small town vacationing is visit the local library. And in exceptionally nice cases -- and the library in Eastsound is exceptionally nice -- the library offers "guest cards" for a fee that let visitors like me check out a few books. The Orcas Island library did, and we did. This is how I got my hands on a cookbook called For Cod and Country.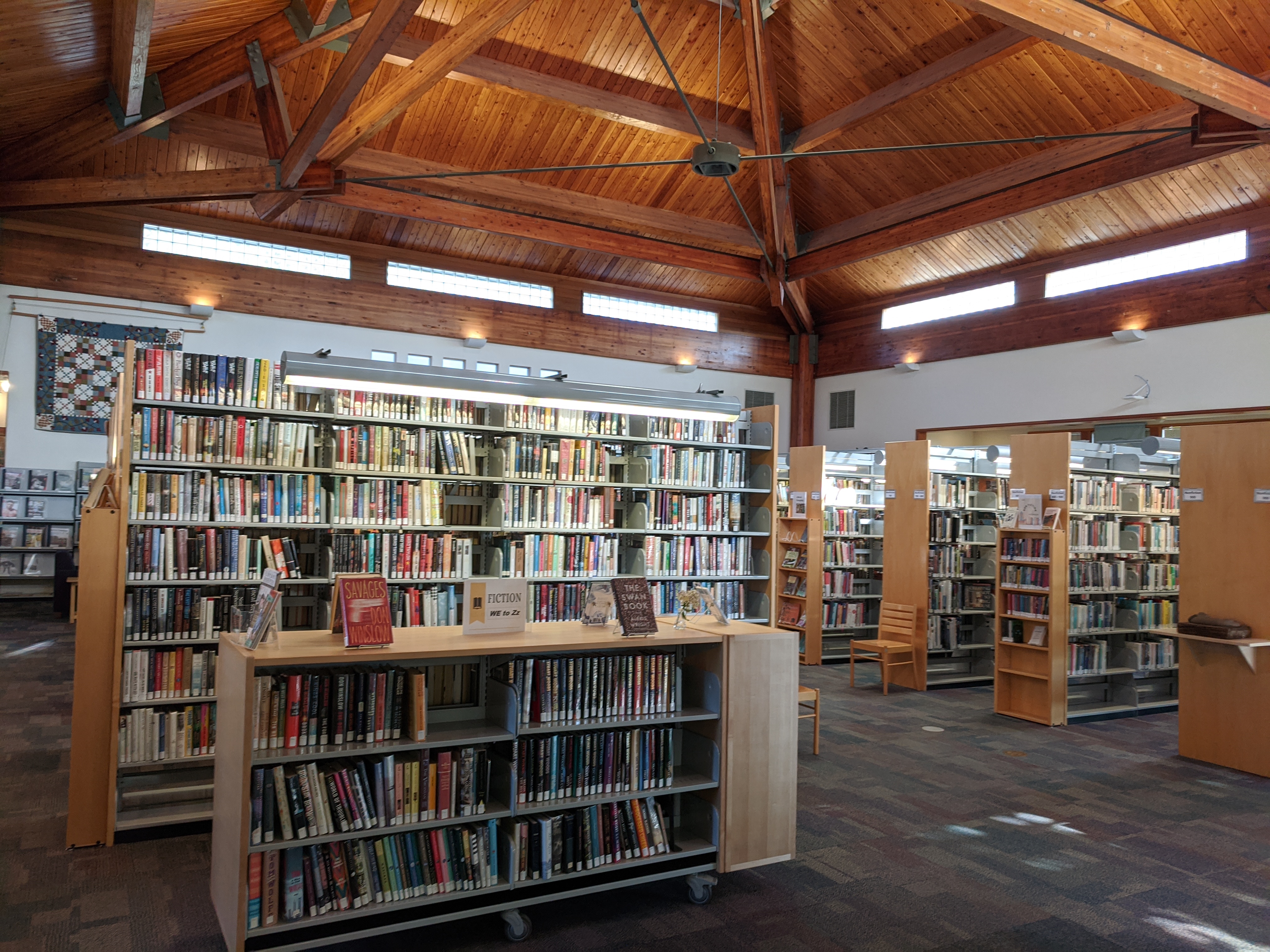 I'd been looking for a fish cookbook since it's salmon season in the San Juans and I was able to pick up some super-fresh salmon of several varieties. This book wasn't particular to West Coast seafood, but it had an advantage over the other fish cookbooks I looked at: it divides its recipes by season rather than by type of seafood, so I had a bunch of "summer" recipes all in one place. Most of them were for other fish, but I could adapt them to salmon, including this one. Even more importantly, many of he recipes were easy, one-pan meals. Including this one.
The salmon I cooked here is the so-called Ivory Salmon, which is King Salmon with a mutation so that it is white-fleshed rather than orange/red. This mutation only occurs in around 1 in 25 fish, and the Native Americans eat most of them, so you're probably not going to get your hands on any unless you're here in the Island Northwest. It's also milder-flavored than regular salmon, so you're actually looking for a fatty, mild salmon, or even another fish such as lingcod, barrimundi, rocfish, or even halibut. Because of the preparation, it needs to be a skin-on filet between 1/2 inch and 1 inch thick.
Also, the cherry tomatoes must be ripe summer fruit; the recipe will suck if you use those flavorless winter "grape" tomatoes. Once you've sourced your fish and your tomatoes, though, the rest is easy. It's so easy, in fact, that I've written it in Good First Recipe style, so if you're an experienced cook, you can skim the super-detailed directions.
Not that it doesn't require attention! Your total cooking time here is less than 20 minutes, but you should plan to spend that entire time in front of the oven, so that you don't burn anything.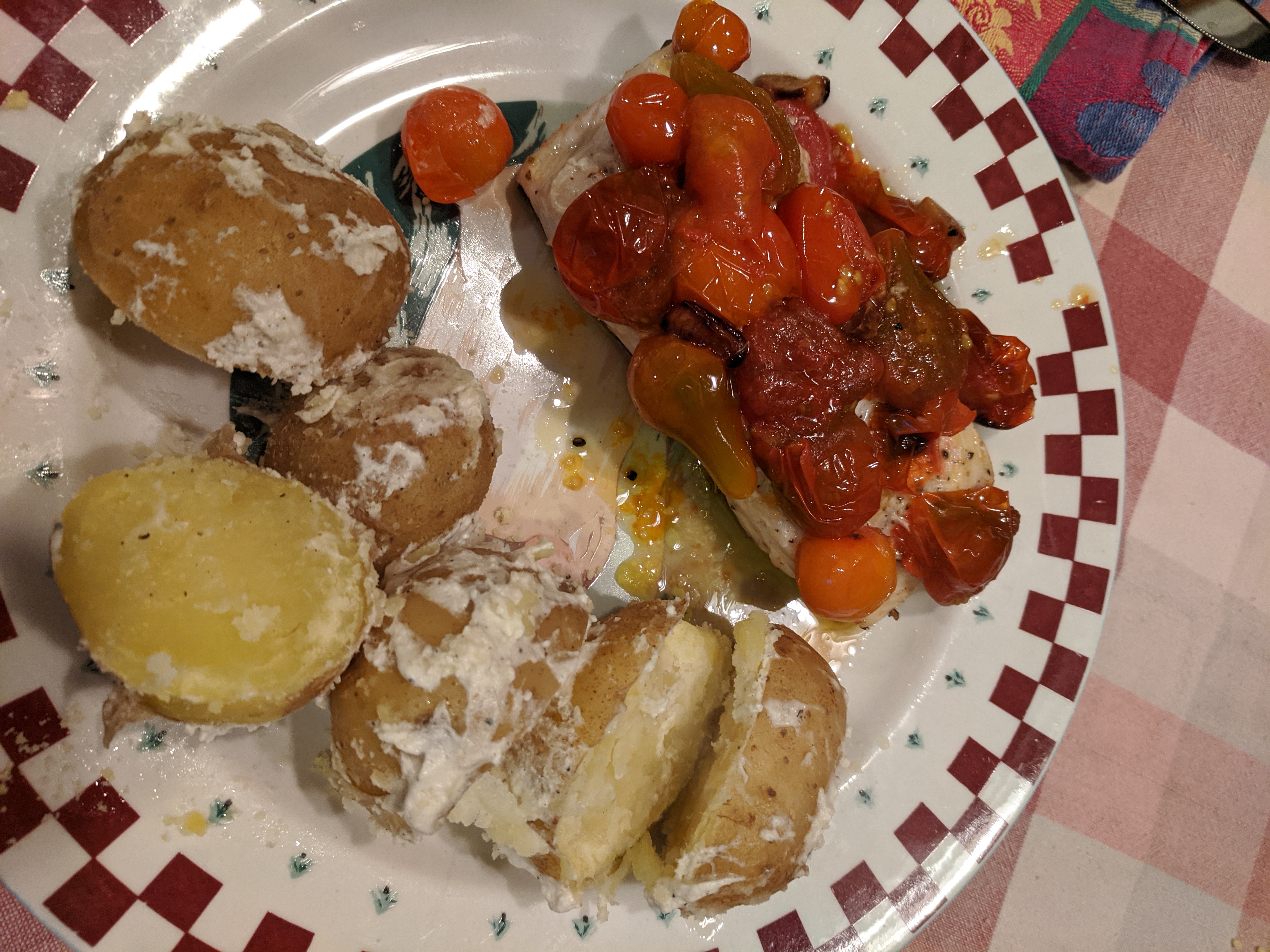 one pan salmon with cherry tomatoes and garlic
1lbs to 1.5lbs mild salmon, lingcod, or similar fish (see above), skin-on filet pieces of uniform thickness
1/4 cup olive oil
3-4 large cloves garlic, peeled and sliced thick
1/2 tsp salt
10-13 oz cherry tomatoes, whole (see note)
additional salt and pepper for fish and tomatoes
10.5" to 12" cast iron pan, or other broiler-proof pan
apron and oven mitts
Place an oven rack to bring the top of your pan within 3" of the broiler flame/element. Heat the broiler while you prepare the ingredients. Put on an apron.
Cut the salmon into individual portions, and rub each portion with a little of the olive oil, just enough to coat, around 1-2 tsp of the oil. Sprinkle lightly with salt and pepper on both sides. Set aside. Wash, stem, and completely dry the cherry tomatoes.
Pour the rest of the olive oil in the pan. Scatter the garlic slices across the bottom of the pan. Put the pan under the broiler for 3-7 minutes, until the oil is hot and the garlic is starting to brown. You'll probably need to pull it out each minute starting at minute 3, since broilers vary a lot. If the garlic isn't starting to sizzle and brown by minute 5, see if you can turn up the broiler or move the pan closer.
Take the pan out of the oven, place on the stovetop or a trivet, and -- carefully standing back -- dump the cherry tomatoes into the pan. This may spatter a bit, so oven mits wouldn't be a bad idea. Lightly sprinkle with salt and ground pepper. Put the pan back under the broiler for another 2-4 minutes, checking every minute starting a minute 3 like you did with the garlic.
The tomatoes are done when some of them have burst and all of them look slightly blistered on top. Even a little charring is good. When they're done, pull out the pan again and place the salmon portions, skin side up, distributed evenly around the top of the tomatoes. Put the pan back under the broiler for another 5-10 minutes, depending on the thickness of your salmon and how hot it is. The salmon will be done when the skin is browned and starting to blister.
Pull the pan from the oven and put it back on your heatproof surface. Slide a large spatula under the tomatoes beneath a piece of salmon, and invert the whole thing onto a diner's plate, with salmon on the bottom and tomatoes (proably stuck to the salmon) on top. Add a few more tomatoes and spoon over some juice and oil. Do the same for the other diners, distributing any extra tomatoes and juice that are left.
Serve with a salad, or corn, and some bread to mop us extra tomato juice.
You want ripe, summer, small-medium round cherry tomatoes for this, such as sungolds or sweet 100s. You need enough tomatoes to loosely cover the bottom of the pan, so check this before you start cooking, and use more tomatoes or a different size pan.