Scandinavian Thanksgiving, part 2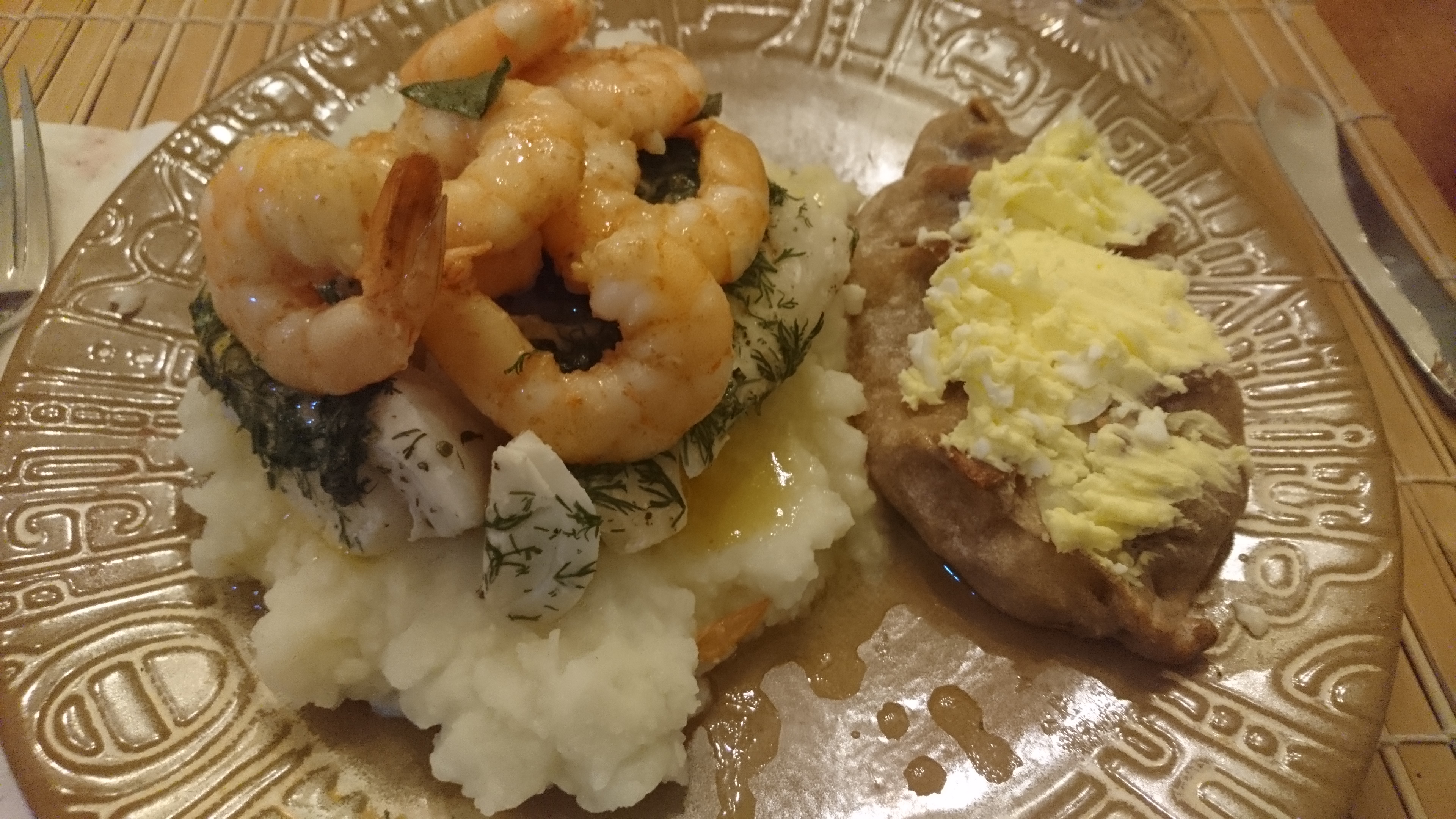 Having finished our salads, everone took a break while I finished cooking the main course. This took about 1/2 hour, giving everyone some time to digest.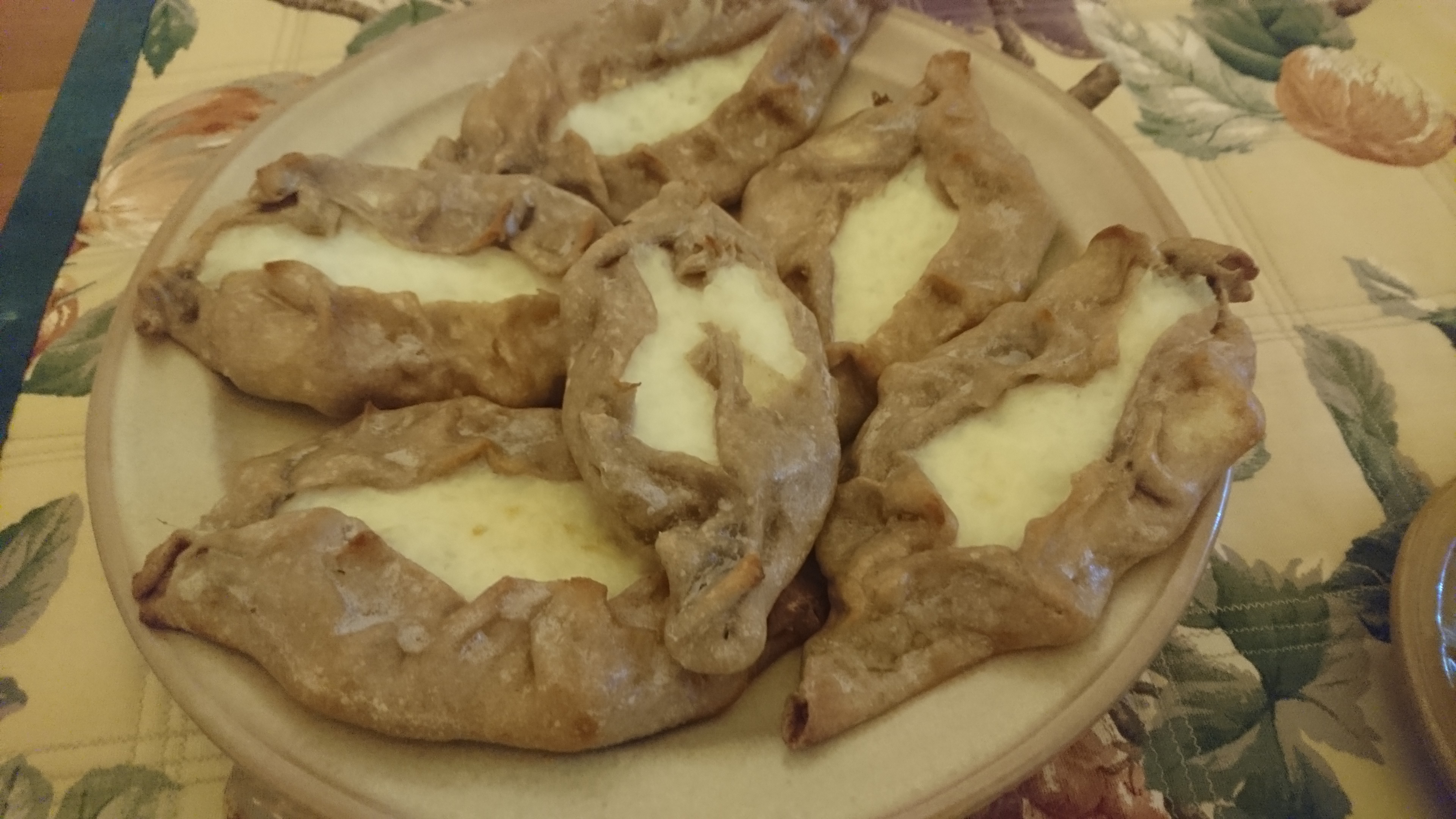 Instead of rolls this meal, we had Karelian pies, a traditional Finnish snack that my sweetie first tasted when she went to Tampere to sing with the Finnish National Orchestra. I'm pretty sure that the reason why she wanted to do Skandinavian this year was so she could make these again. She made them using the Beatrice Ojakangas recipe.
This traditional recipe is enough work to really make them a holiday food. It's also got to be holiday food considering the amount of milk and butter, and that you top them with mashed egg butter. They worked well for the low-salt diet we had to cook to, but would not have suited a low-cholesterol diet!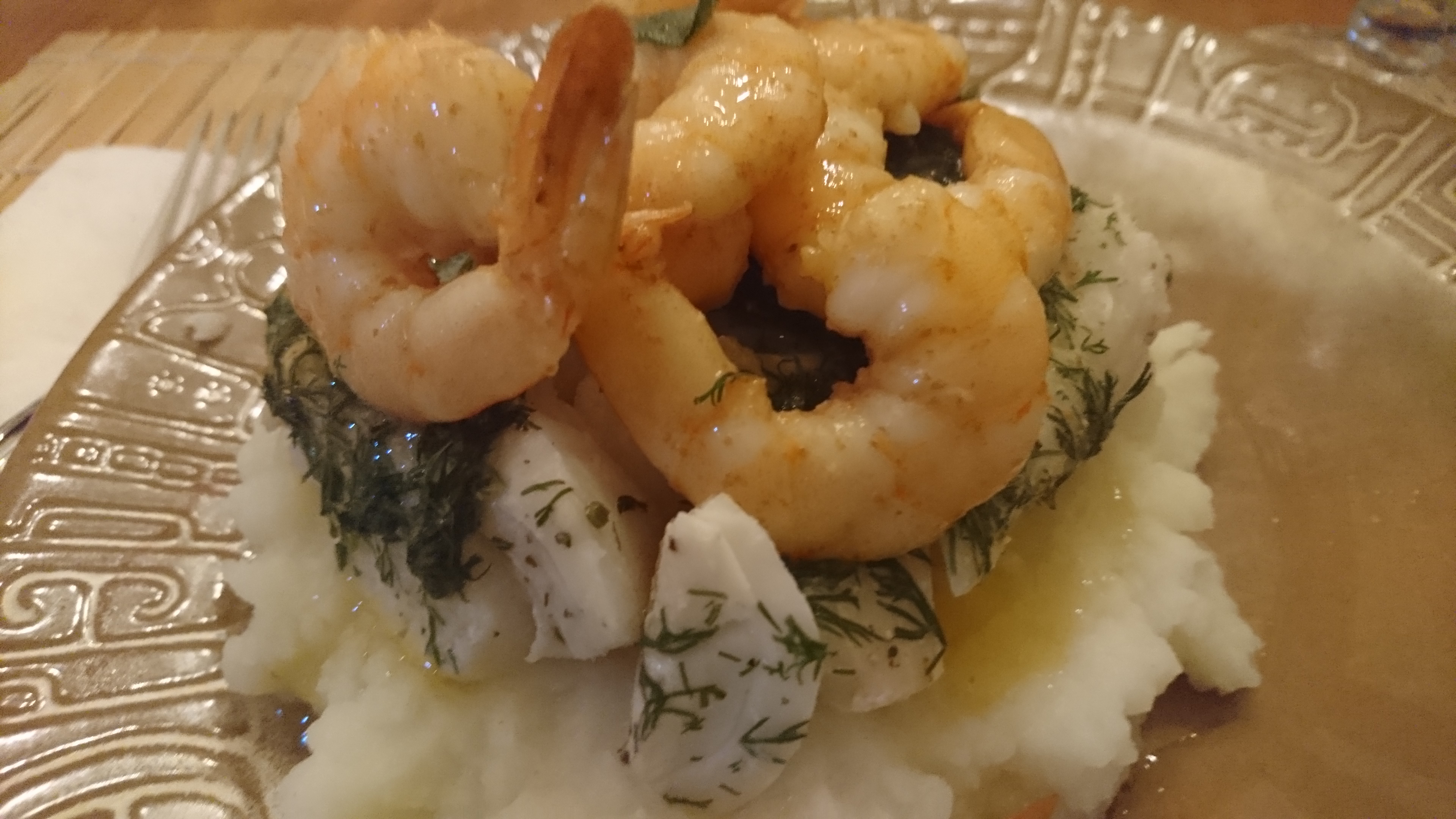 For the main course, I chose a recipe from Lagom that would make discrete servings (so as not to create leftovers), but would look dramatic and festive. And taste great, of course. What I settled on was this dish of cod with brown butter shimp. The stacking makes it look very restauranty, but shrimp and cod is a pretty standard Swedish combination.
In keeping with American traditions, the base is garlic mashed potatoes. On top of that is cod baked with lemon and dill, and that's topped with shrimp fried in browned butter with sage. The layered flavors of butter, sage, dill, and garlic really created a palate-pleaser, even though I made the whole thing low-salt.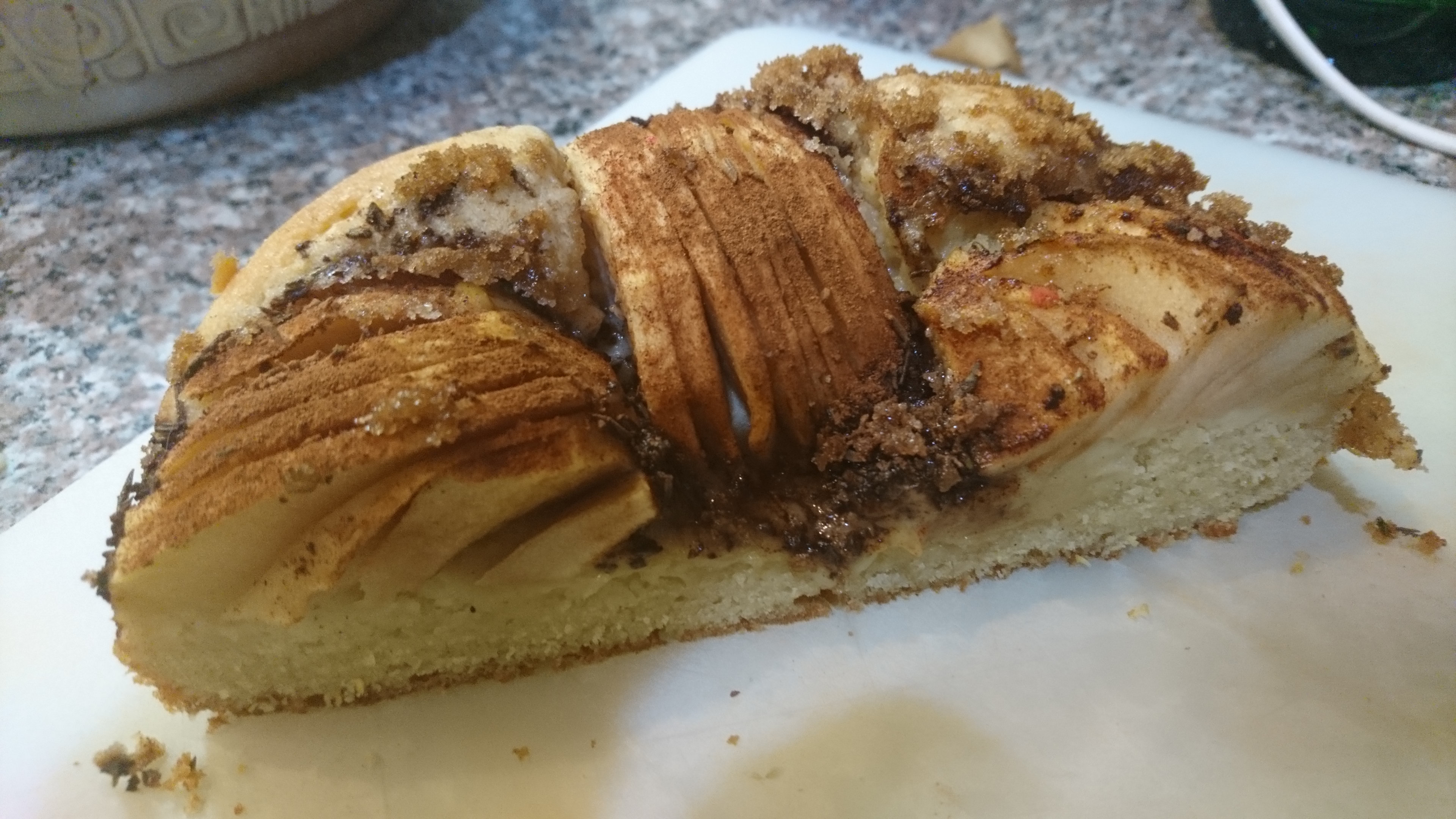 Finally, dessert. My sweetie combined a German apple cake recipe with the rosemary apple cake from Lagom. The result was amazing; you wouldn't think that rosemary would work with apples and cinnamon, but it really does. Since there were only the four of us, she made a half-recipe in a 6" baking pan, which meant one slice each.
So that was this year's non-traditional Thanksgiving. How was yours? Did you get creative, given this year's restrictions?
Petite Apple Cake with Cardamom and Rosemary
(based on Luisa Weiss's Versunkener Apfelkuchen from Classic German Baking and Steffi Knowles-Dellner's Apple Cake from Lagom)
1-1/2 medium apples (a good sweet-tart apple is best, or use a mix of sweet and tart)
Zest and juice of ¼ lemon (approximately)
¼ cup plus 1 tablespoon sugar 5 tablespoons unsalted butter, softened
¼ teaspoon vanilla 1-1/2 eggs (crack one egg into a bowl and beat it, then use about 2 tablespoons)
¾ c. flour 1 teaspoon baking powder
1/8 teaspoons salt
Heaping ¼ teaspoon cardamom
1 rosemary sprig, smallish, leaves stripped and chopped
¼ teaspoon ground cinnamon 2 tablespoons dark brown or demerara sugar
Heat your oven to 350 degrees, and line the bottom of a 6-inch cake pan with parchment paper, preferably one with "handles"—if you don't have that kind of parchment, use a 6-inch springform pan.
Peel, core, and quarter the apples. Thinly slice each quarter lengthwise, but don't cut all the way through, leaving the slices hinged together like a fan. Place them on a plate (keep the slices together) and set aside.
Zest the ¼ lemon into a mixing bowl, and squeeze the juice out into a small bowl and set aside.
Add the sugar and butter to the lemon zest in the bowl and beat either with a mixer or with a wooden spoon until fluffy and pale. Scrape down the sides of the bowl and add the vanilla; beat until incorporated. Add the whole egg and beat until combined, then add the ½ egg and beat again; scrape down the sides of the bowl and make sure it's well mixed.
Sift together the flour, baking powder, salt and cardamom. Beat the flour into the butter mixture in two additions just until combined, then beat in the reserved lemon juice.
Scrape the batter into the prepared pan and smooth the top. Sprinkle the apple slices with the rosemary and cinnamon, then place decoratively over the batter. Sprinkle with the sugar, and then with the pine nuts.
Bake for 10 minutes, rotate the pan, and continue baking until the cake is golden-brown and a tester inserted in the cake (not an apple) comes out clean, about another 10-15 minutes.
Place the pan on a wire rack to cool for 5 minutes; run a thin knife around the edge of the cake, then use the parchment "handles" to remove the cake from the pan (if you've used a springform pan, remove the ring of the springform). Let cool to room temperature.
Serve with whipped cream, if desired. Makes one six-inch cake, serving 4 generously, or 6 in small portions.