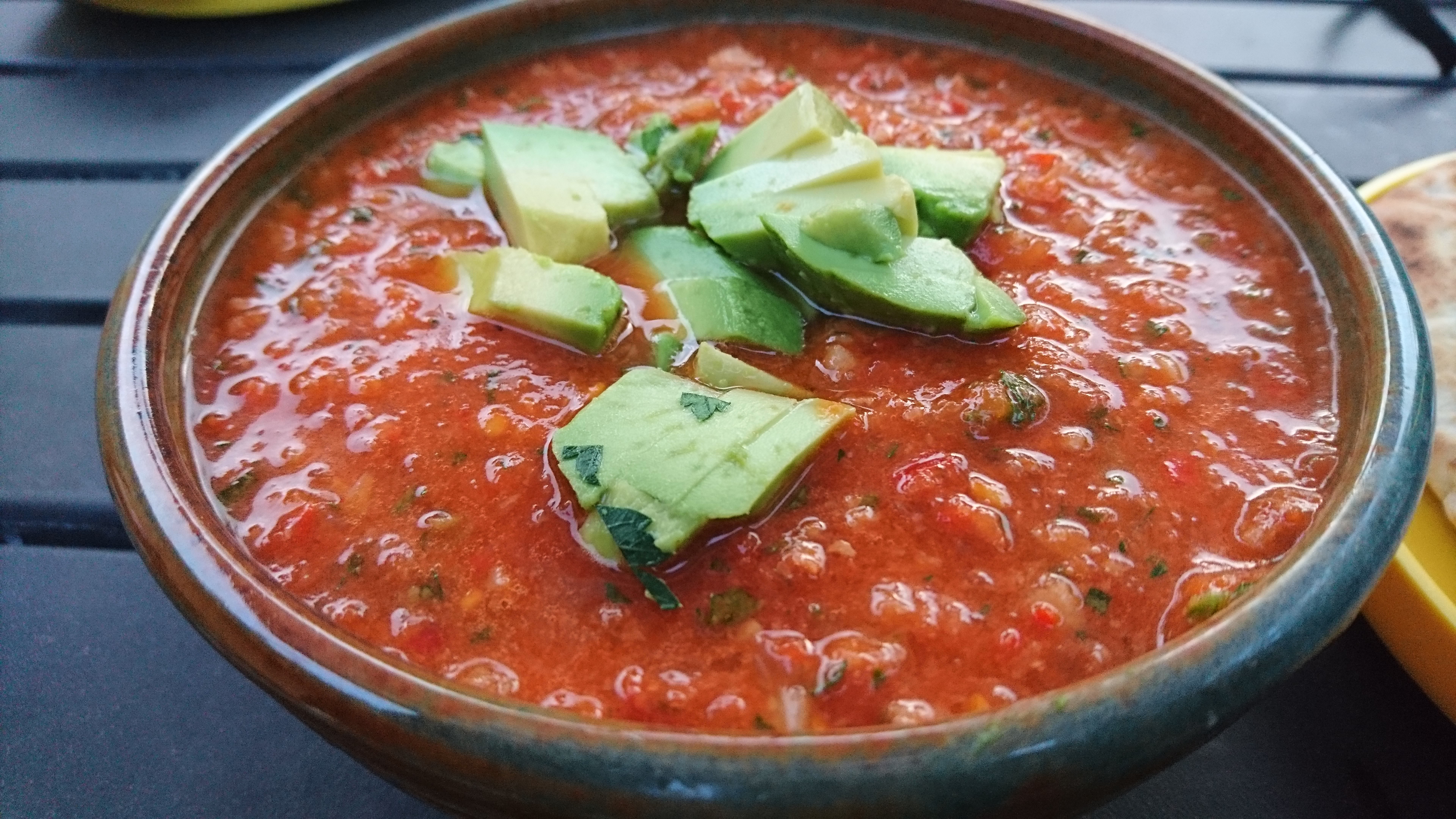 Gazpacho is probably the ultimate hot-weather meal; a cold, chopped tomato soup, usually served with room temperature sides, it's great when your AC isn't keeping up, and really can't be eaten on a day that isn't hot. Besides, for your tomato gazpacho to be good, you need garden-fresh produce. Winter gazpachos are better made from almonds and garlic.
I don't make any claims to "authenticity" in this recipe; this is my mother's recipe, and she's from Wisconsin. But it's easy and tastes really good, which is more important, after all.
The quantities of the various vegetables below are rough guides, and should be read more as ratios between the ingredients than exact measurements. You have quite a bit of leeway, as long as you make sure there's more tomatoes and peppers than anything else. For the chopping, you really need to use a food processor, so that you can get the right fine-minced texture. Blenders and food grinders will create a puree, which simply won't be as enjoyable to eat.
The main recipe does use a little heat to temper the garlic and onions, but see the notes for how to make a heat-free version.
gazpacho Berkus
1/2 lbs sweet or red onion
2-3 cloves garlic
2 tsp smoked Spanish paprika
2 Tbs high-quality olive oil, then 3 Tbs more
4-5 oz bread, crusts removed
1 lbs to 1.5 lbs ripe red sweet peppers (bells, Italian, etc.)
3 lbs ripe summer red tomatoes
1 lbs cucumber
parsley, about 3/4 cup chopped and loosely packed
2-3 tsp sherry vinegar
1/2 to 1 tsp salt, plus more
1 ripe avocado
Peel and roughly chop or slice the onion. Peel and slice the garlic. Heat 2 Tbs of the olive oil in a small pan, and saute the garlic and onion until they soften (this is to take the "bite" out). Add the paprika, cook for around 20 seconds more, then take off heat and let cool.
Next you're going to be dicing a lot of vegetables before they go into the food processor. In order to get a nice even chop in the processor, you'll want everything to be about the same medium-small size, like a 1/2" cube of tomato or a 1/3" thick slice of cucumber.
Cube the bread. Core the peppers and cut them into large dice. Core and cut the tomatoes into large dice, making sure to capture the tomato juice running off the cutting board (pour it over the bread cubes). Peel and slice or dice the cucumber. Chop the parsley.
Put stuff in the food processor in this order: bread cubes, onion & garlic mixture, everything else. You'll probably have to do 2 or 3 batches, so divide things up accordingly. Add the remaining 3 Tbs olive oil, 2 tsp sherry vinegar, and salt. Pulse the food processor until the mixture is reduced to a very very fine mince, but stop short of pureeing it.
Taste to see if you want a little more sherry vinegar or salt. Let sit for 15 minutes for the flavors to blend.
Serve topped with a little diced avocado. Accompany with slices of bread topped with Manchego or other Spanish cheese. Serves 4 as a main course, or up to 8 as a first course.
Notes: To make a heat-free version, slice the onion, and soak it in cold water for at least 2 hours before making the recipe, or lightly salt the onion and the toss it with a little of the vinegar and leave it for 20 minutes. Only use 1/2 clove garlic, mashed, and 1 tsp paprika if you're not going to cook it.
You can use charred and peeled red peppers in this and that gives it a little extra flavor. The bread is just here to stabilize the soup and keep it from being too watery, so gluten-free bread should work fine.
Keeps in the fridge for up to a week as leftovers. Do not freeze, as the water will separate out.