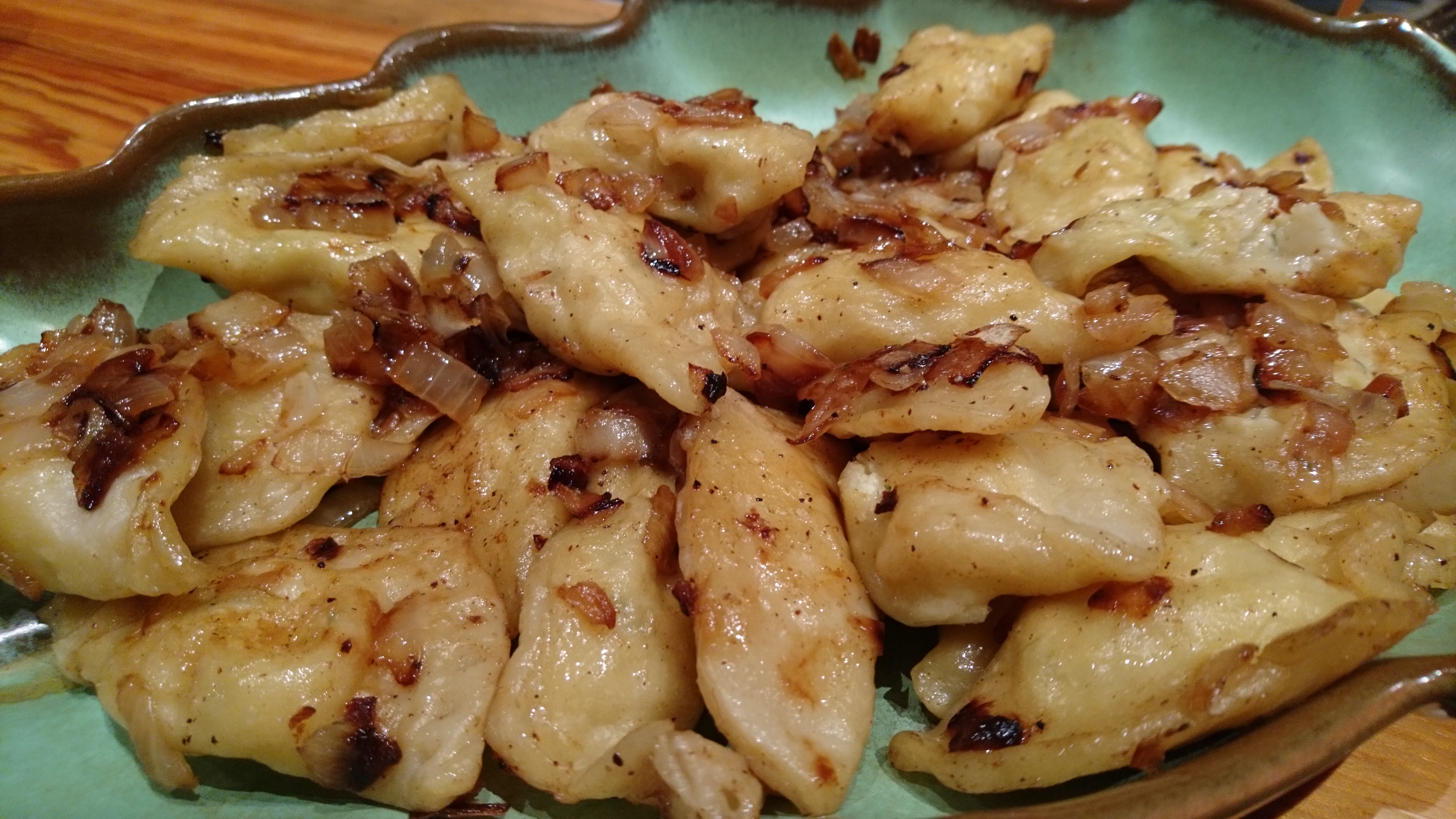 New Year's is the big winter holiday in Russia, because of decades of Soviet history during which celebrating Christmas was suspect. If you want to celebrate in Russian style, there's still enough time to make vareniki.
Only just, though. Like other dumplings, making vareniki is a labor of love, or at least binge-watching Iron Chef in the kitchen, because stuffing all of these is going to take you some time, to say nothing of the cleanup afterwards. So, better get started now.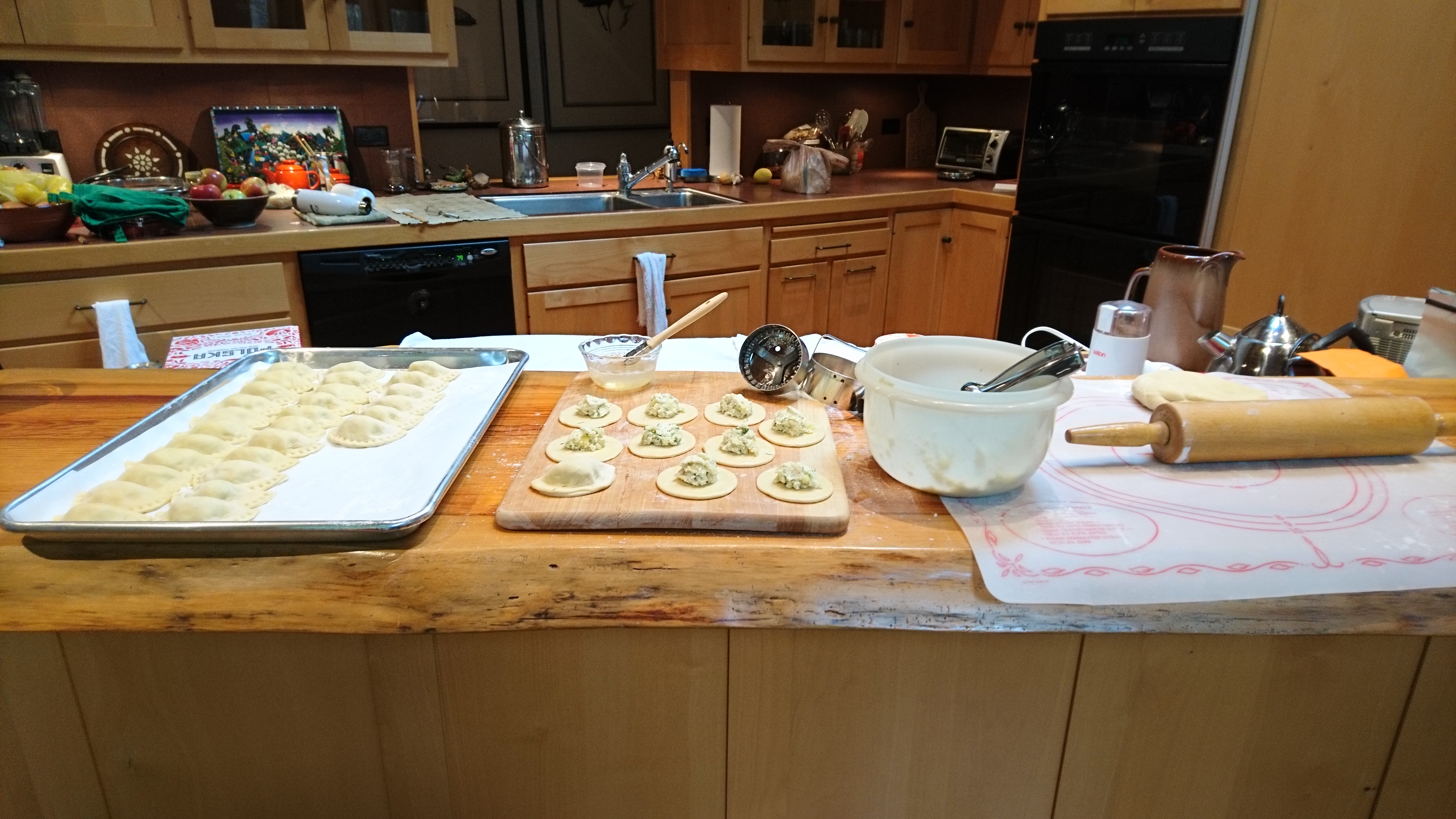 vareniki/pelmeni dough
3 1/2 cups all-purpose flour
2 teaspoons salt
2 eggs
Slight less than 1 cup water
Separate the eggs. Beat the yolks. Save the whites aside for sealing the vareniki later.
Mix the salt in the flour. Add the eggs, then the water. Mix until a dough forms. Knead until smooth, about 10 minutes. Cover tightly (e.g. wrap in plastic wrap) and set aside to rest for at least one hour (or overnight in the fridge). In the meantime, make the filling.
savory potato-cheese filling
1 large russet or 2-3 yukon gold potatoes, about 1 lbs
8oz tvarog (farmer's cheese)
2 Tbs thick (Greek) yogurt
1 large egg
1/2 cup minced fresh dill
1/2 tsp salt
Peel and slice the potatoes thick. Place them in a small pot, cover with lightly salted water, heat, and then simmer for 20 minutes. Drain, then mash into coarse lumps with a fork or hand-masher.
Mash the other ingredients into the filling.
Get out a large breadboard or rolling mat and roll out the dough to between 1/8" and 3/16" thick, about the thickness of a hardback book cover. Using a 3" circle cutter, cut this dough into many, many rounds. Knead and re-roll any scraps to make a few more.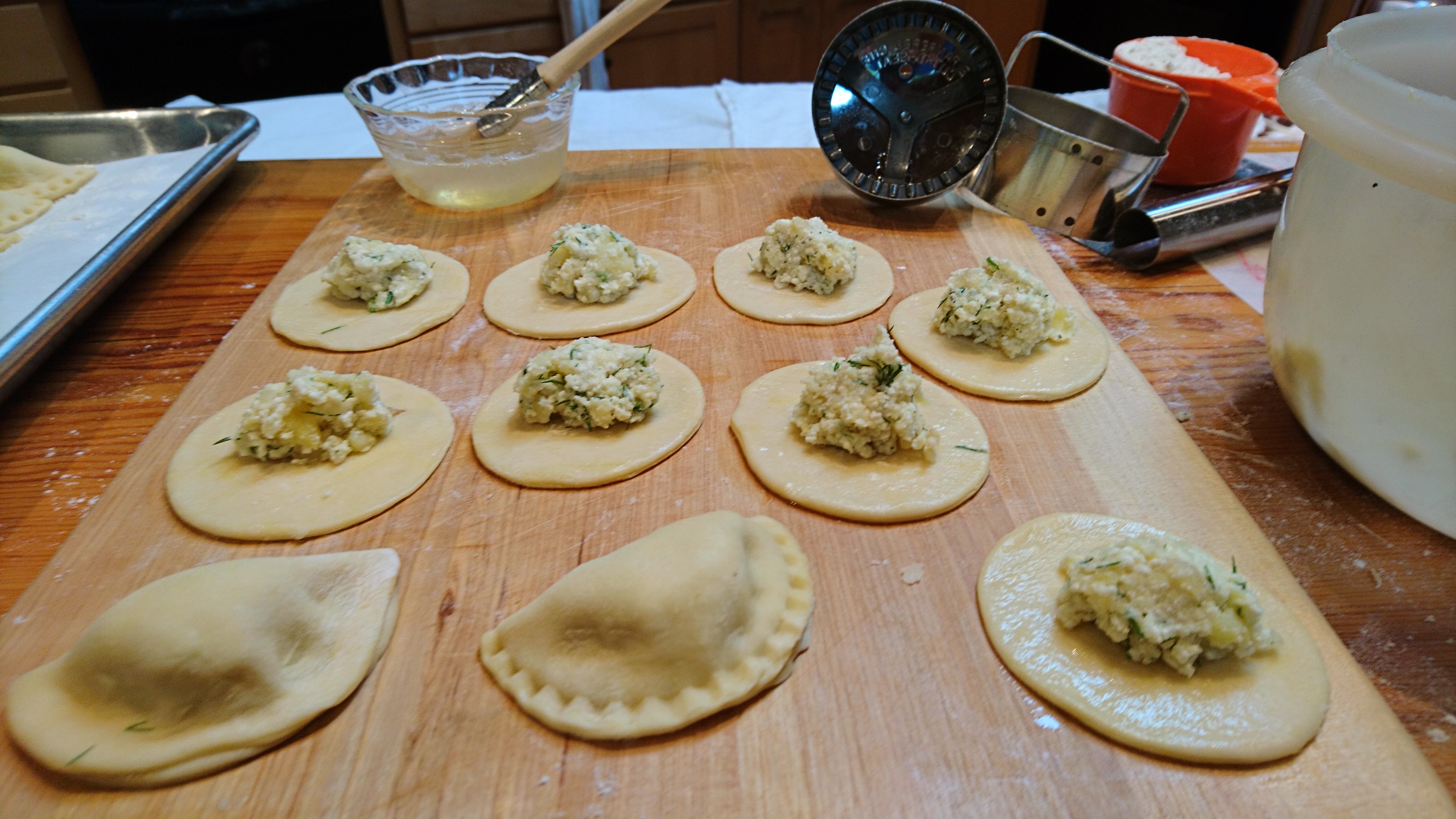 Mix the reserved egg whites with 2 Tbs water, and use to paint the edges of each circle for sealing. Fill each dough wrapper with about 1 Tbs of filling. Fold over and seal; hopefully you have a dumpling-sealer for this (like the one pictured). Otherwise, use your fingers.
At this point, the vareniki can be reserved aside until the day of the meal. Line them up on a heavily floured baking sheet (use more flour than I did), and refrigerate for up to a couple of days, or freeze for months.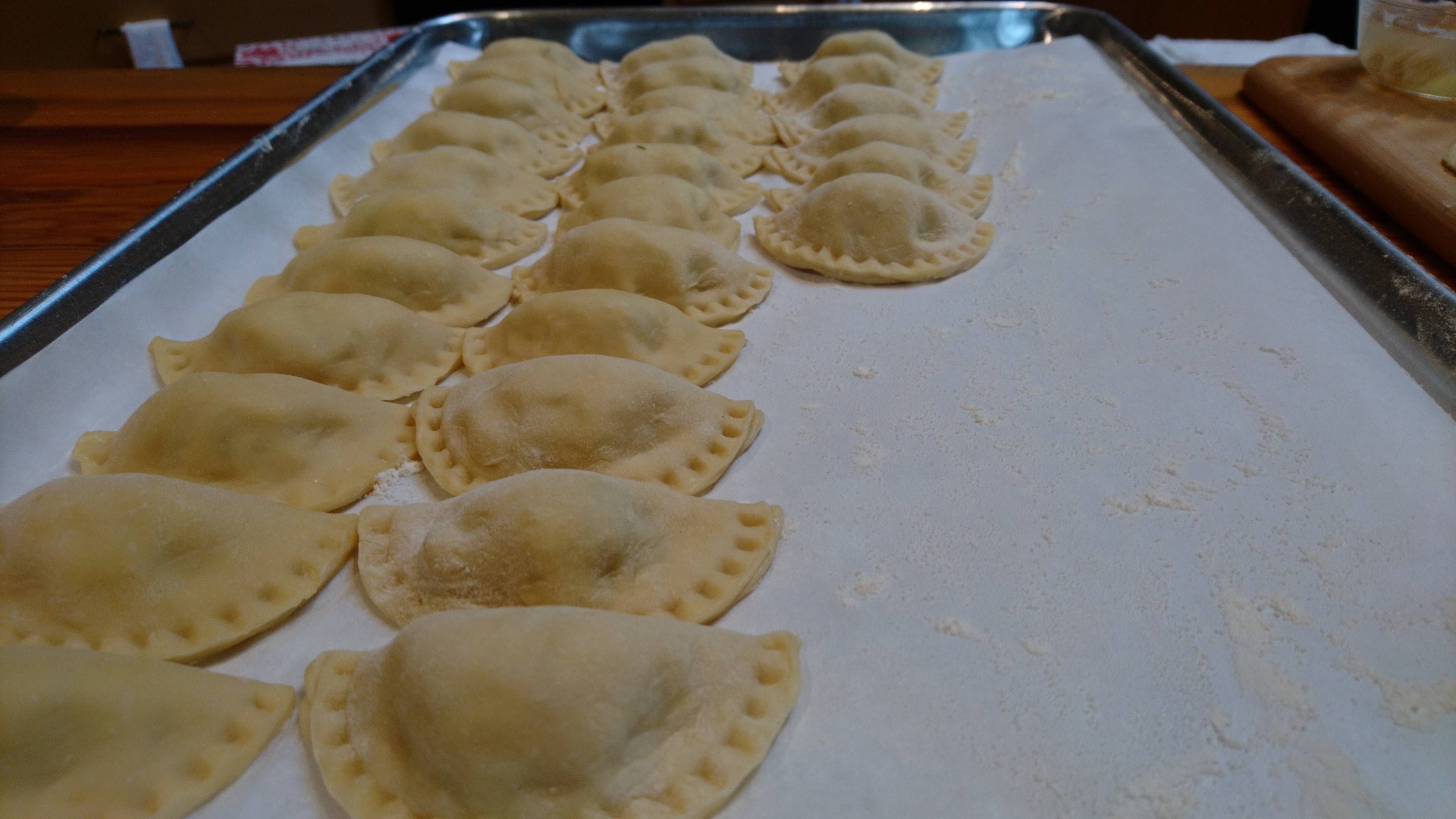 cooking and serving potato-cheese vareniki
4 oz butter
2 large onions, chopped small
Heat a large pot of salted water for boiling the vareniki. While it heats, make the dressing.
In a wide, deep pan, melt the butter. Add the onions and cook, stirring, until they are brown and nearly caramelized, maybe 15 minutes. Lower heat to very low. By now, the water should be boiling.
Drop the vareniki into the water and cook for about 2 minutes, at which point all of them should float to the top. Skim them out using a large skimmer or slotted spoon. Add them to the pan of onions, and toss them in the onion-butter.
Serve on a large platter. Makes 40 to 48 dumplings, enough for 4 to 6 people as a main course, and 6 to 8 as a first course or side dish. Serve with vodka.
с новым годом!