carbonnade flamande sans gluten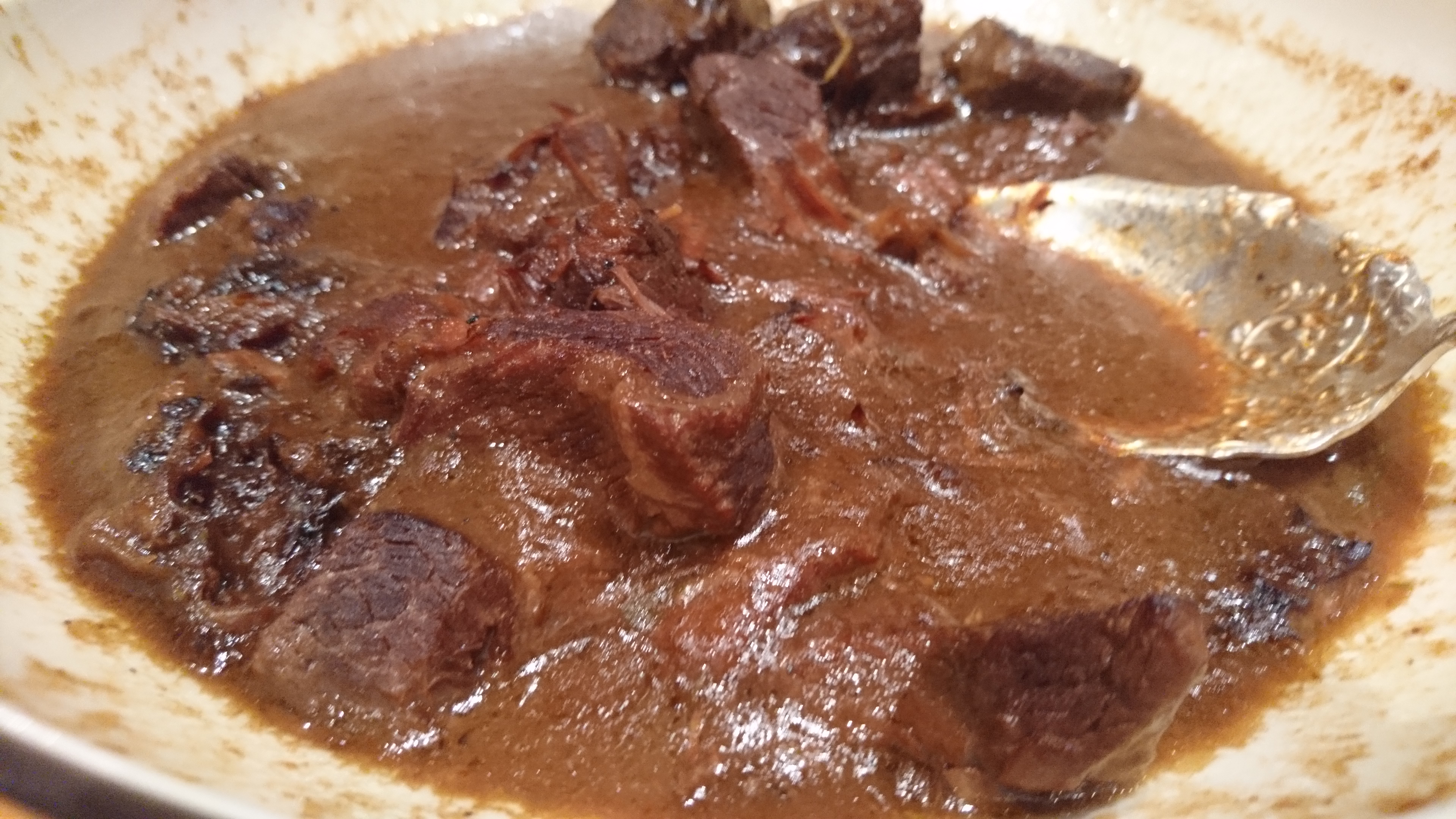 In the before-times, I had the pleasure of making Christmas Eve dinner both for someone who can't eat fish and for a celiac sufferer. I say pleasure because I actually enjoy these kinds of cooking challenges; it's more fun than just following a recipe. But if you don't enjoy them, then here's my recipe for you to follow.
Carbonnade Flamande is probably the ultimate beef stew. Arguably Flanders' national dish, it's a slow-cooked pot of large beef cubes simmered in Belgian beer and spices. Which you might think would make it out of the question for anyone on a gluten-free diet. But, you've reckoned without the creativity of the modern craft beer movement: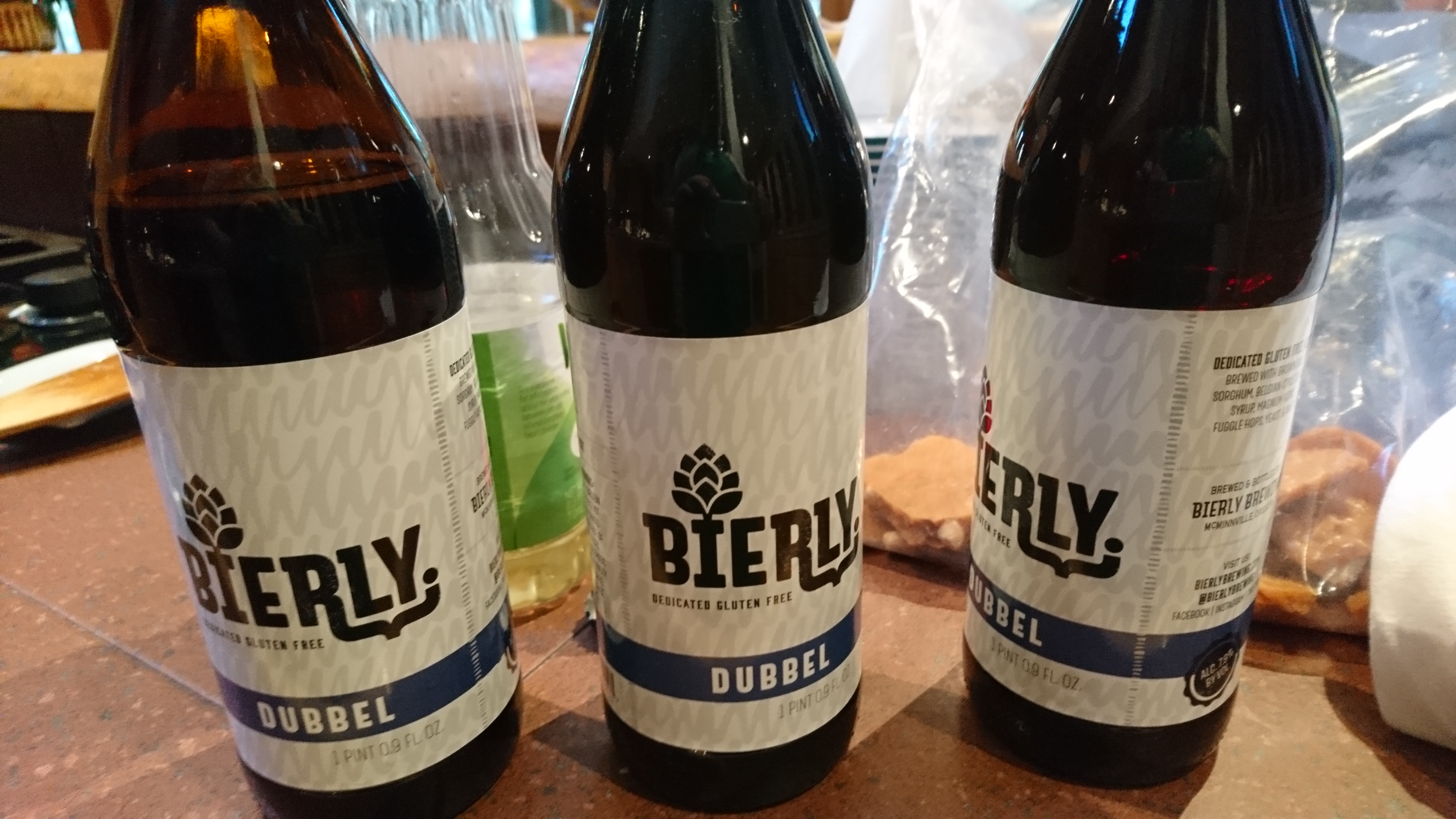 This is what you're going to have to locate first: gluten-free Belgian-style beer. I highly recommend this one from Bierly, if you can get it; not only did it work a treat in this dish, but it was just good beer period. In a blind tasting, I'd have identified it as a dubbel, but not even known that it was gluten-free. If you're in Europe, there's Green's.
Then, equipped with a recipe from the delightful cookbook Everybody Eats Well In Belgium plus 4lbs of large pieces of stew beef, I was ready to proceed.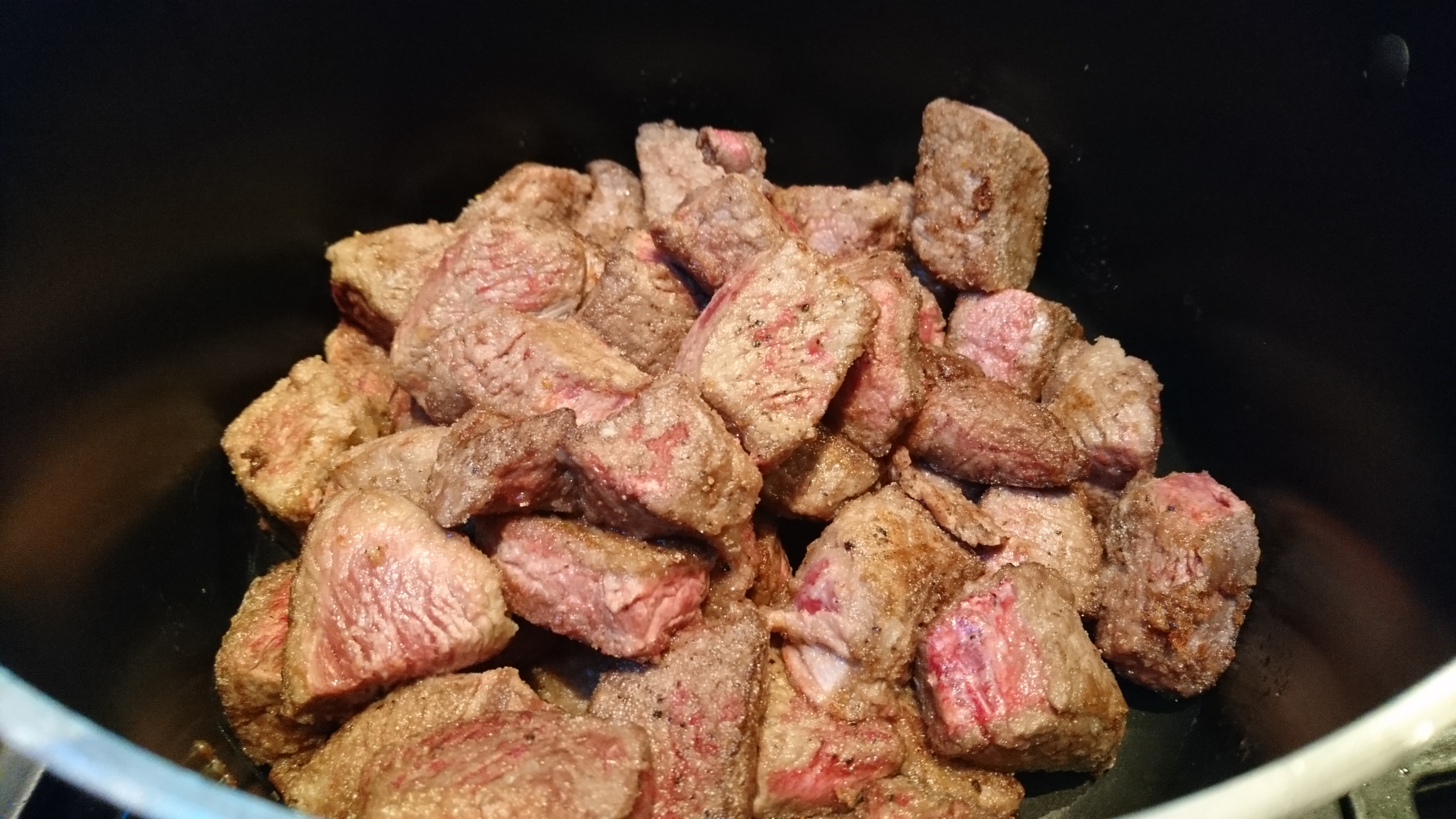 Normally carbonnade flamande starts by coating the beef in flour before frying it in butter until the outside is browned. For this version, I used 1/3 cup mixture of 50% rice flour with 50% tapioca starch. This worked great.
The rest of the recipe was more-or-less as written, so I'll give you the full instructions:
carbonnade flamande sans gluten
4lbs stew beef (like chuck) cut into 2-inch cubes
salt & pepper
1/3 cup 50/50 mix of rice and tapioca flour
6-7 Tbs butter
2-3 large onions, sliced, about 4 cups
2x19oz bottles of gluten-free Belgian-style beer
2 tsp dried thyme
2 bay leaves
2 Tbs tart jelly, ideally redcurrant
1 Tbs grainy or dijon mustard (GF)
equipment: cutting board & large knife, large bowl, stock pot or dutch oven, 6-10qt
Cube the beef. Lightly season it with salt and pepper. Toss it in a bowl with the flour, until all of the pieces are lightly coated.
Heat 4 Tbs of the butter in the pot until foamy. Drop in the beef. Fry it, letting it sit for 30-40 seconds in each spot to brown, then stirring it, until most pieces are browned on at least 3 sides. Put the beef back in the bowl.
Add the additional 2 Tbs of butter and put the onions in the pot. Turn it down to medium, and cook the onions, stirring once a minute or so, until they are completely soft and brown, 10-14 minutes.
Deglaze the pot with the beer. Add the beef back in, and the thyme and bay leaf, along with around 1 tsp of salt. Bring to a bare simmer, then cover and turn down to low. Simmer for 2 hours, until the beef is very tender.
Uncover, and add the jelly and mustard, and stir in. Simmer for another 5 minutes. Check to see if it needs more salt (likely), and if so add it.
Serve, together with frites and more gluten-free beer. Serves 6 to 8 people.
Notes: If you're not on a GF diet, then the ideal beer to use is a Flemish Red or Sour ale. It's also customary to finish the stew with pieces of bread coated in jam or mustard that dissolve into it, but that seemed risky with GF bread. For the jelly, I used a fairly tart plum jelly; anything with a very acidic fruit will do.