challah on the table in 2 hours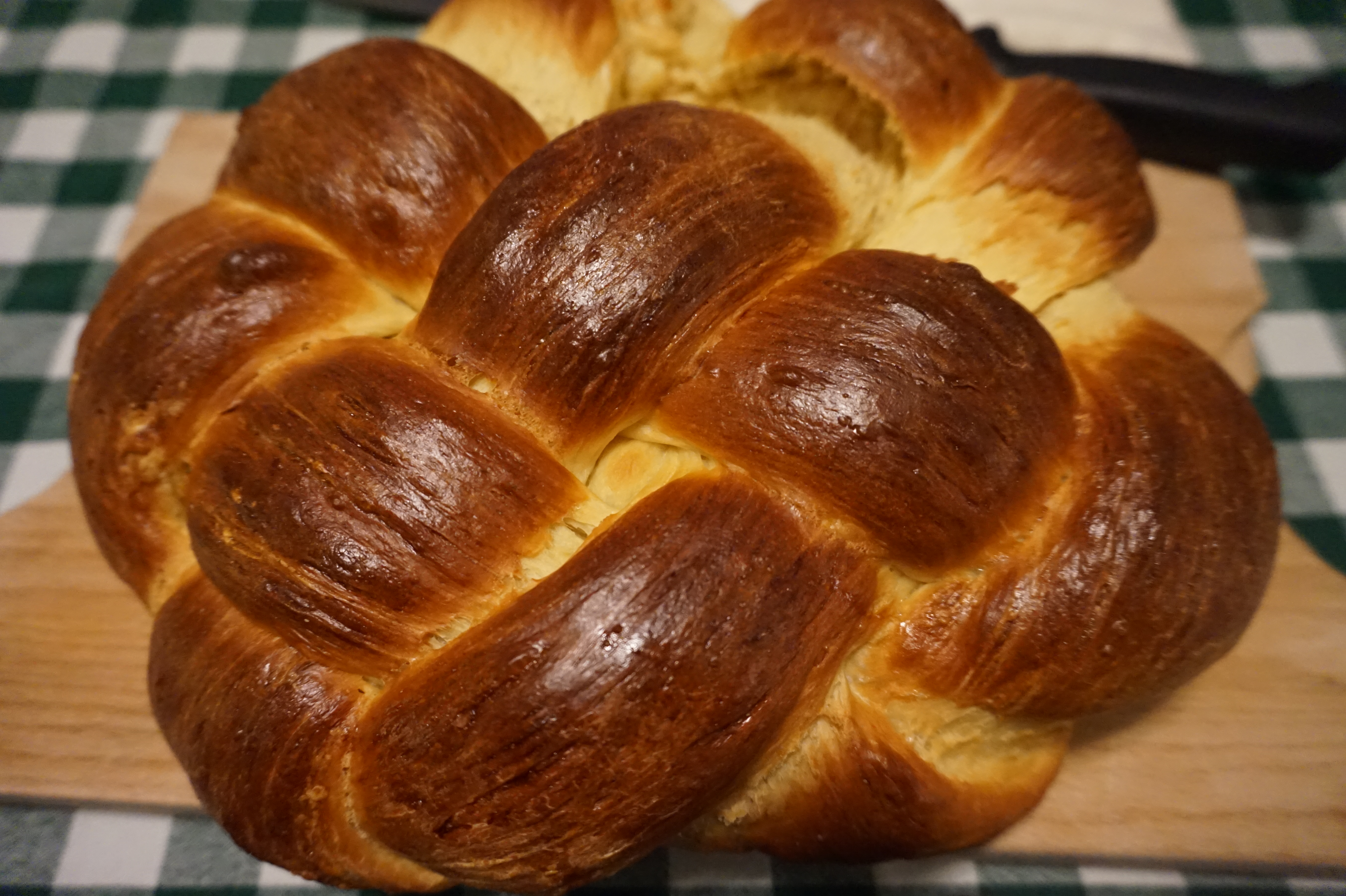 There aren't a lot of foods specific to Rosh Hashana (the Jewish New Year), but one of the critical ones is a big round challah bread. Of course, I planned to bake. Between one thing and another, though, we ended up getting home on erev Rosh Hashana at 4pm. Could I get a challah on the table for a 6:30 dinner starting at 4:15?
My first thought was to run out and buy, but as you can imagine by 4pm everyone was sold out. So baking it is. But our family challah recipe takes 1 1/2 hours just for the first rising. We were looking at a challahless Yom Tov.
Then I remembered a recipe which my sweetie had made, for lagniappe rolls which due to editing errors had much too much yeast (2 Tbs instead of 2 tsp). Those rolls rose really fast, in like 20 minutes, and actually still tasted OK. Could I do something similar, maybe more controlled, with the challah recipe?
My first step was to double the usual amount of yeast, from 2 tsp to 4 tsp. I use high-quality active dry yeast, refrigerated, from Red Star, so it's more potent than supermarket yeast in any case; if you're using Fleishmann's, you may need to triple it. I then dissolved 3 1/2 Tbs honey in a cup of 95F water, and then proofed the yeast in it while I mixed the dry ingredients, really getting it going.
Once the dough was together, I put it in a plastic dough bucket (for some reason, dough rises faster in plastic than metal). I heated the oven, turning it off when it reached 120F and put the dough bucket inside. This cut the initial rising to 25 minutes.
With the shorter rises, I was able to make the 6:30 dinnertime with five minutes to spare. 20 minutes mixing, 25 for first rise, 10 minutes braiding, 15 for second rise, 30 minutes baking, and 15 to cool. Surprisingly, the challah didn't even taste yeasty. Rosh Hashana dinner was saved!
Berkus Family Challah (fast rise version)
1 cup water at 90F to 100F
3 ½ tablespoons honey
4 generous teaspoons active dry yeast (2+ packets)
5 cups all-purpose flour
2 teaspoons salt (1 if using salted butter)
¼ cup melted butter (or margarine)
2 large eggs + 1 yolk, beaten
Oil sprayer
1 egg white beaten with 2 tbs water or milk for an egg wash
Large bowl, dough rising bucket, dough scraper, bread board, cookie sheet, baking parchment, plastic wrap pastry brush.
Mix the honey into the warm water. Add the yeast.
While the yeast proofs, mix the salt and flour in a large bowl. Melt the butter, and beat the eggs plus yolk, reserving the white.
Turn your oven on to its lowest temperature setting. You're going to turn it off when it reaches between 100F and 120F, so if you can't set that, keep an eye on it.
Pour first the yeast mixture, then the butter, then the eggs, into the flour bowl. Mix until everything is incorporated into a sticky mass. Knead briefly (maybe 3 minutes); kneading in the bowl is fine. Shape into a large ball.
Spray the sides and bottom of the dough bucket with oil. Put the dough in, spray it, and then put the lid on the bucket. Put the bucket in the oven and close the door. Let rise until more than doubled in size, 20 to 30 minutes.
Dump the dough out on a bread board. Cut into 3 to 6 portions depending on what kind of challah you're making. Braid. Place on parchment on the cookie sheet, and cover loosely with oiled plastic wrap. Put in a warm, draft-free place for a 2nd rise, 15-20 minutes. While it's rising, heat the oven to 375F.
Remove the plastic wrap. Whisk the reserved egg white with water and paint the egg wash on the top of the challah with a pastry brush. Bake for 25 to 35 minutes. You'll know it's done when the tops of the braids are dark brown, the bottom is light brown, and the cracks between braids are no longer "doughy".
Cool 10-15 minutes, then serve. With apples and honey, of course!
Makes a 2lbs loaf.
L'shana Tovah!