consider a Cuban Christmas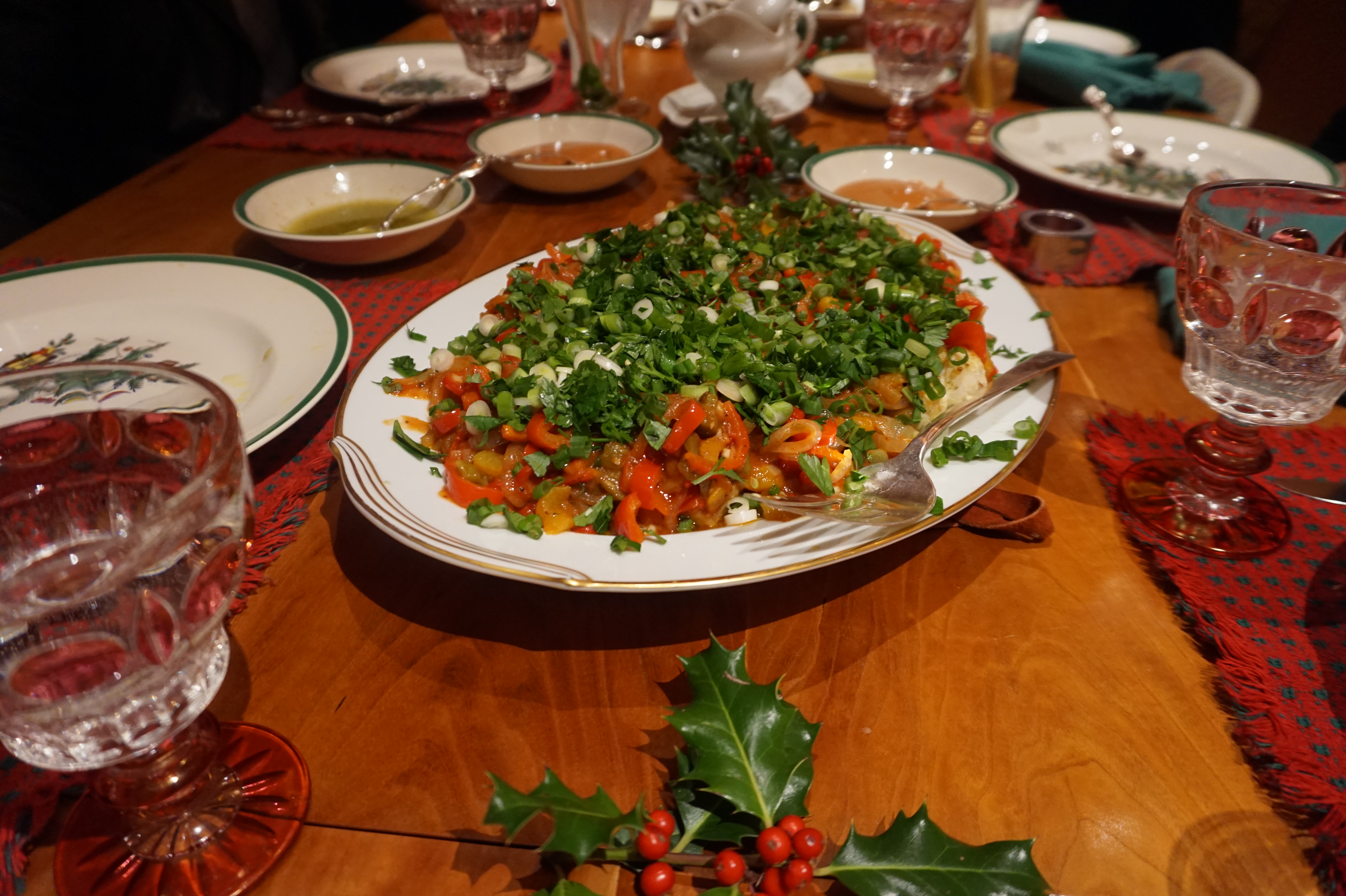 In the last few years, it's become my responsibility to feed family and Southern Oregon friends Christmas Eve dinner, and then we go to a friend's house for Christmas day.
Yes, Christmas. My sweetie's family isn't Jewish, and I'm fine cooking for the holiday because, after all, my real religion is Feastitarianism*. There's also gonna be pork in this blog post, so be prepared.
Anyway, we have a couple special diets in the group, including one person who is allergic to fish and another one who has celiac. This has meant being fairly creative, especially since I still prefer doing ethnically themed meals. So last year, I chose Cuban food, and I'm posting this before Christmas in case you want a Cuban Christmas too. And you should! It's so colorful, and so tasty!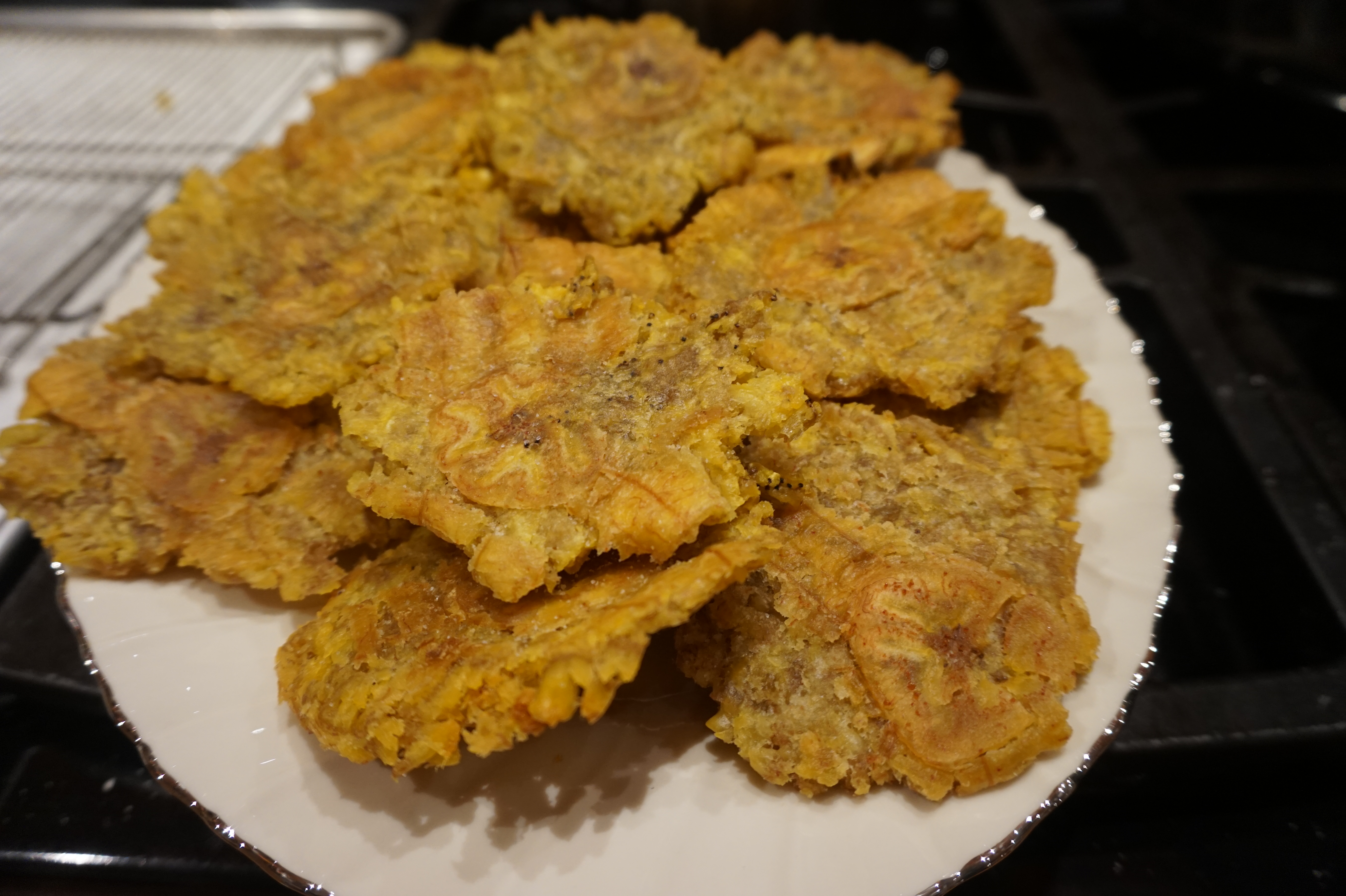 First course was appetizers, and if it's Cuban or Puerto Rican food you know we're going to have tostones. These are a delicious fritter made with green plantains, bought when they're hard and starchy and you have to peel them with a knife.
tostones
2-4 green plantains
2 cups peanut oil
salt
Peel the plantains, then cut them into 2-3" chunks (for large tostones) or 1-2" pieces (for small ones). Heat half the peanut oil in a large, deep pan to low frying heat (300-325F) and shallow-fry them, turning them with tongs, until the chunks are brown on all sides. This will take around 10-12 minutes per batch; cook multiple batches rather than crowding them.
Drain the fried plantain and let it cool to room temperature. Then mash them flat, thin as you can make them (I use a tortilla press). Turn up the heat on the oil (350-380F) and fry them in batches until crisp drain them, blot dry, and salt them while they're still hot.
Of course, with the tostones I had to serve some sauces: mojo de ajo sauce and banana ketchup.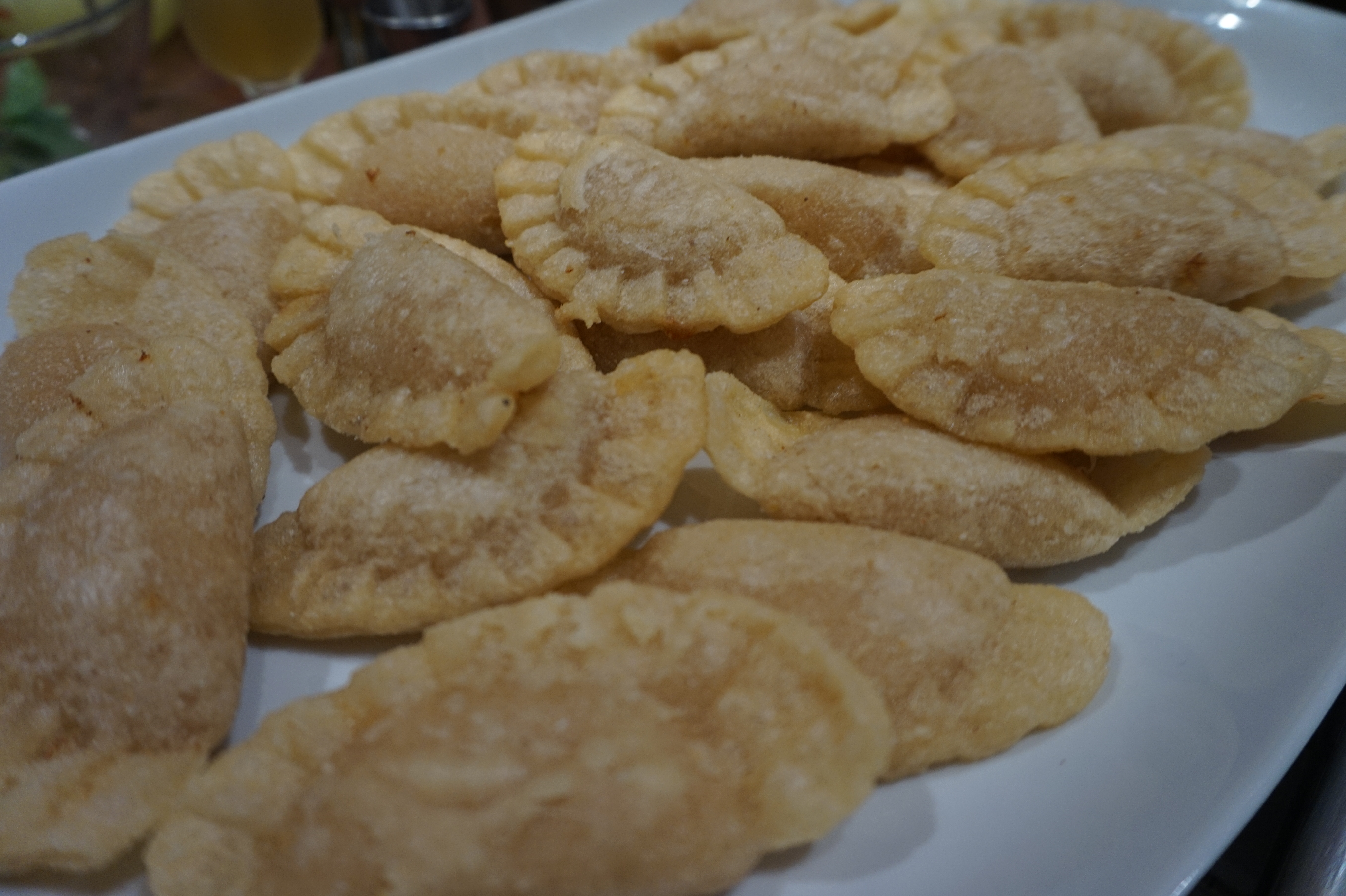 Now, I mentioned the gluten-free nature of the dinner, which led to some experiments -- such as these cheese empanadas, made with cassava flour dough. These are technically Dominican cuisine rather than Cuban, but they were perfect for the meal.
I experimented both with frozen cassava pulp, and with flour, and found the flour much easier to work with, so that's what I recommend. They fried up beautifully, and the cassava dough was light and airy, almost like some kind of puff instead of dough. I'd make these again even if I wasn't serving a gluten-free meal.
Now, on to the salad course: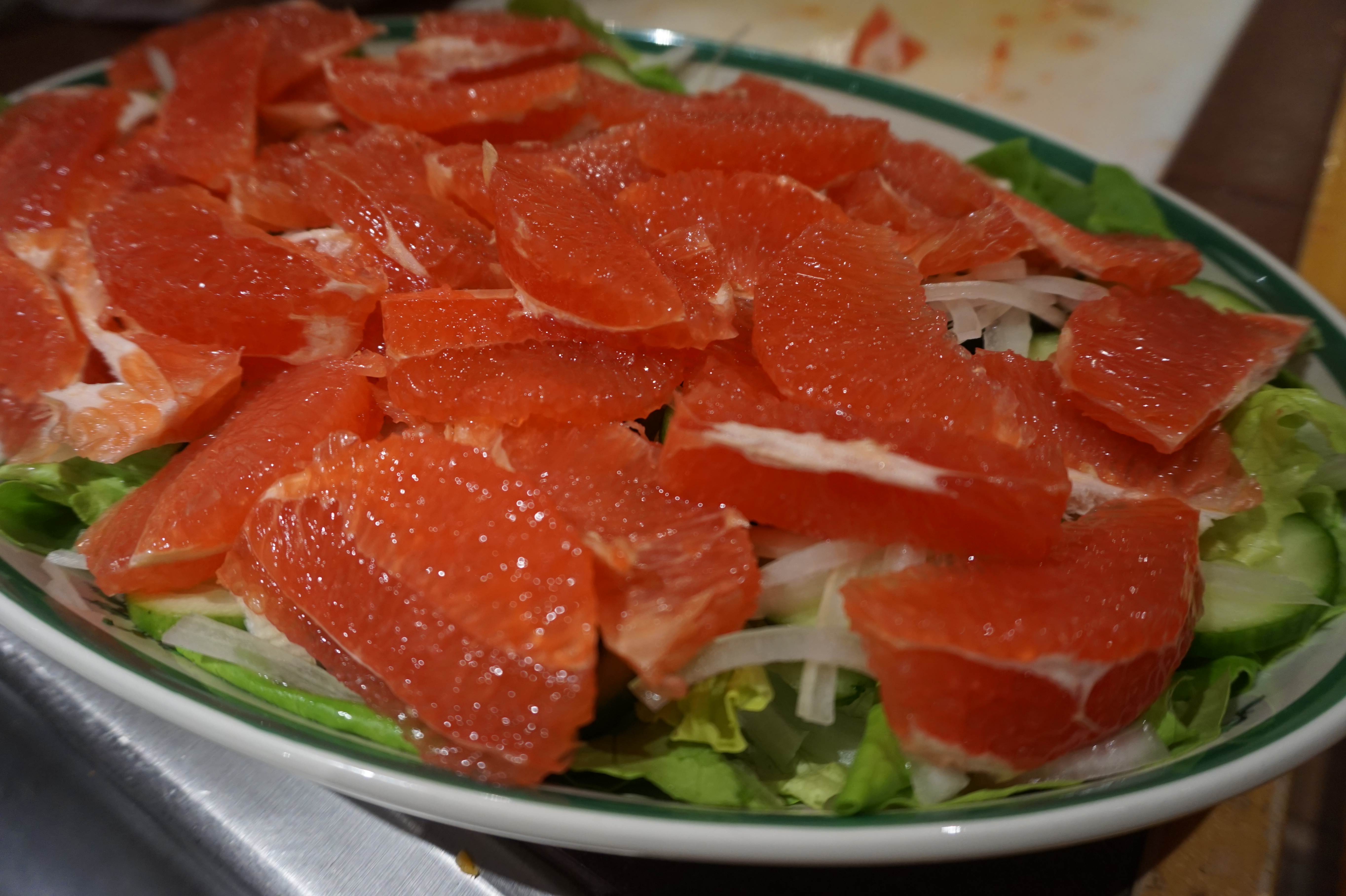 Every year my dad, who lives in South Texas, sends me a box of the amazing ruby-red grapefruit they grow there for Hanukkah. So of course I needed to make a grapefruit salad! This one has butter lettuce, sweet onions, and cucumbers.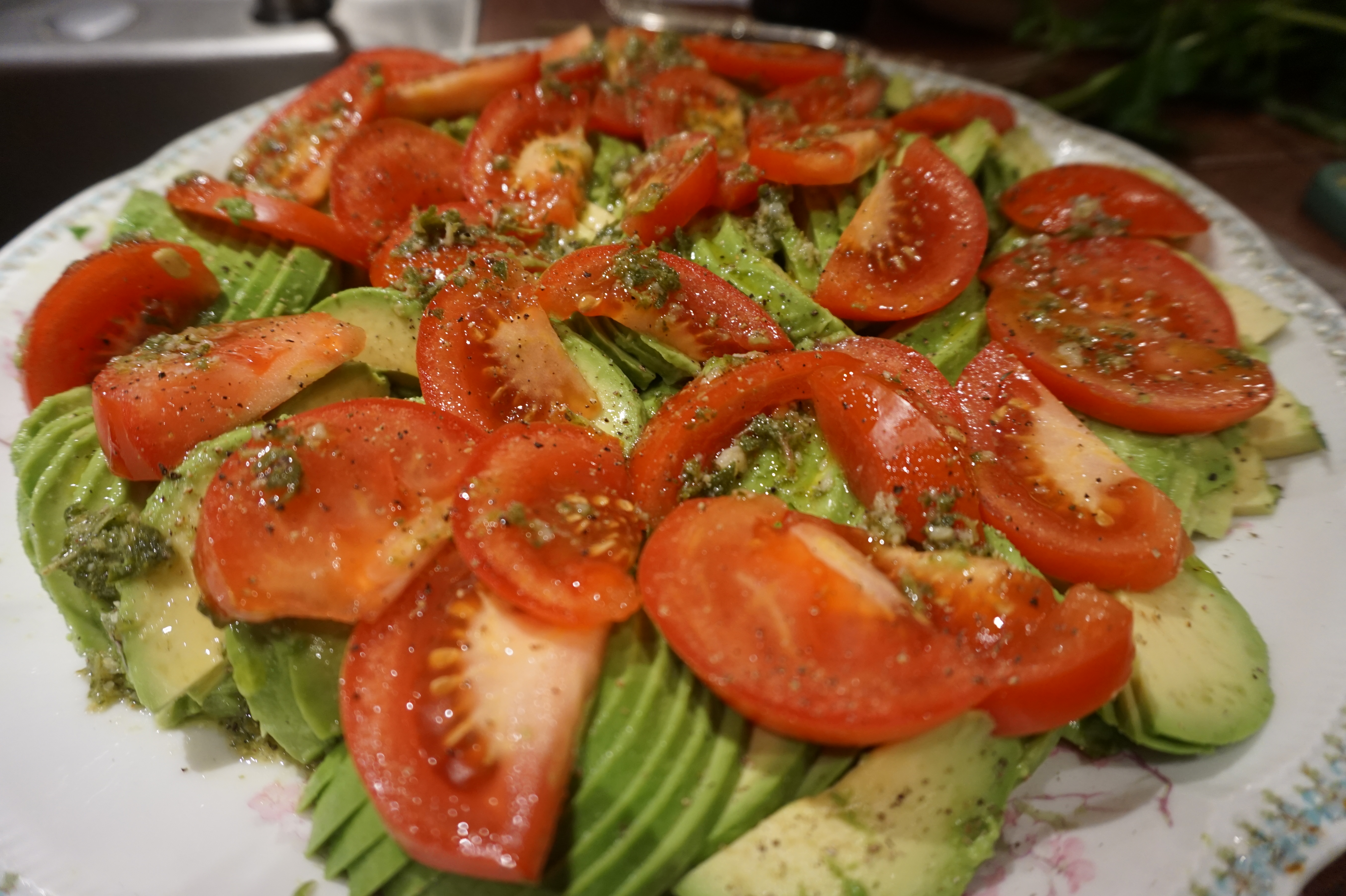 Now, as far as my sweetie is concerned one of the main reasons to eat Cuban is to have an avocado salad. This is a classic one, with sliced avocados, hothouse tomatoes, and a garlic, olive oil, and fresh oregano dressing.
That's enough for today. Tommorrow we'll get into the main course, and The Pork That Cooked For Two Days.
(* Feastitarianism: you belong to whatever religion is currently having a feast day, today)