napa cabbage salad with raspberry dressing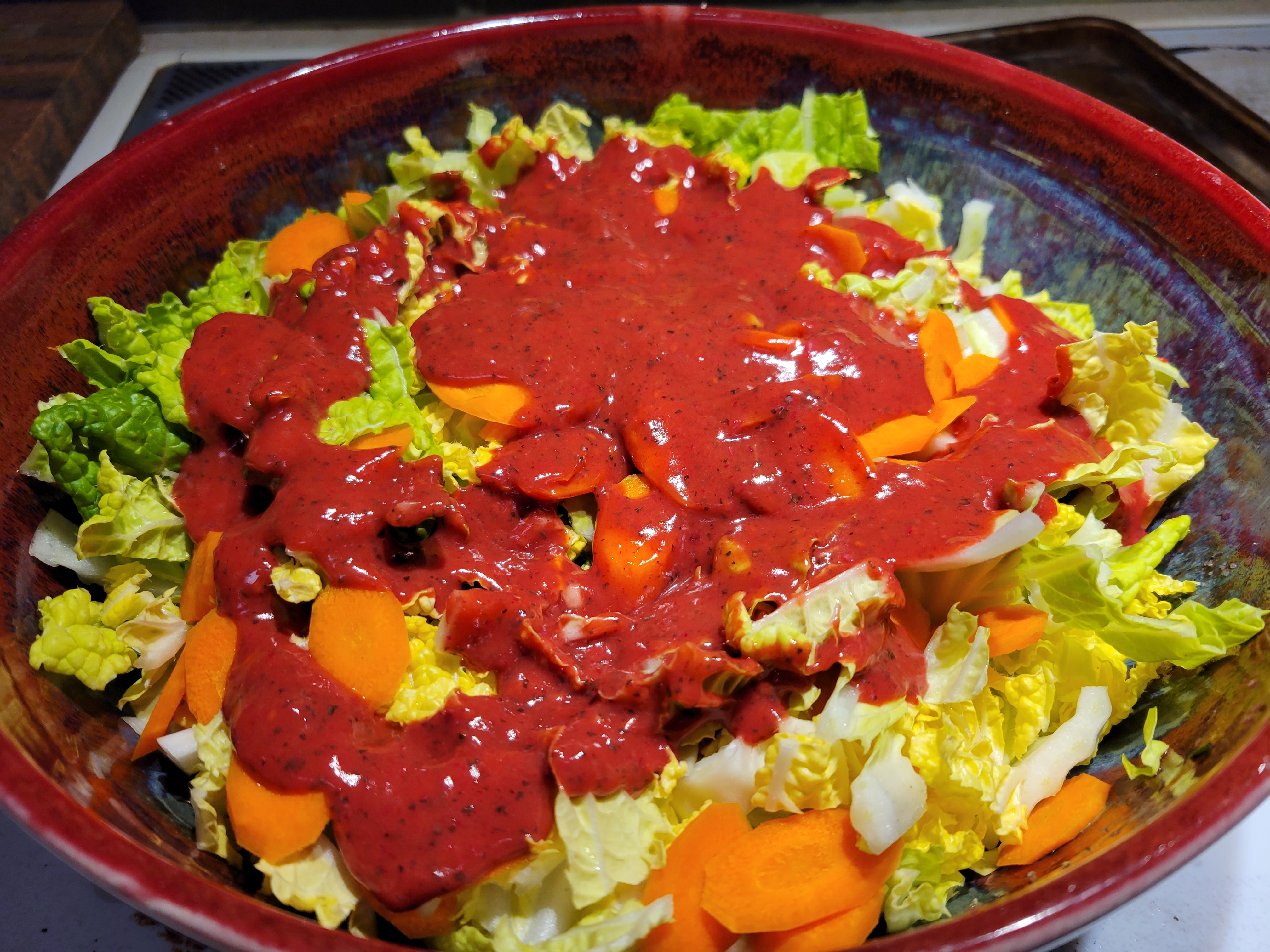 Now that the raspberries are coming in, we need something to do with the excess -- particularly the ones that are a bit squished and won't keep in the fridge. One way to use those up is a fresh raspberry salad dressing (also works fine with thawed frozen raspberries).
We got this recipe 20 years ago from a retirement home chef who was doing cooking demos at the Sonoma-Marin County Fair (now, that's a retirement home I'd like). It's a wonderful alternative to lettuce salads, while still relying mostly on cheaper produce. The combination of super-crunchy veggies with the tart raspberry dressing makes it a great side for any kind of grilled or roasted meat or fish.
The one tricky thing is finding a small enough napa cabbage; most of the ones sold here on the West Coast are big enough for three salads! Aside from the cabbage, you'll want some other crunchy salad veggies, sliced thin. Optinonally, you can also include croutons.
napa cabbage salad
Dressing:
1/4 cup olive oil
3-4 cloves roasted/toasted garlic
1/2 tsp salt
1/2 tsp sugar
2 tsp lemon juice
2 Tbs red wine or cider vinegar
1/4 cup mashed raspberries
1 tsp dried basil (or 1 Tbs minced fresh)
Salad:
1 small napa cabbage, around 1 lbs
Fresh ground pepper
Optional extra ingredients, any of:

3/4 cup croutons
2 carrots, peeled and sliced, around 2/3 cup
1 cucumber, peeled and diced, around 1/2 cup
1 bell pepper, sliced
Other crunchy veggies, such as radishes, celery, etc.
Equipment: large salad bowl, salad spinner, measuring cup, immersion blender
To make the dressing, first thaw the raspberries if frozen. Toast the garlic cloves (see below). Put all of the dressing ingredients together in the measuring cup, and then puree them with the immersion blender (you can use a regular blender instead if that's what you have). Set aside.
Separate the leaves of the cabbage. Slice any large leaves in half or thirds lengthwise. Slice them crosswise, 1/4" to 1/3" wide (around 1cm). Wash and dry. Put the napa cabbage in the salad bowl, together with any of the optional ingredients you're using.
Toss with the dressing and ground pepper to your taste. Serve within 1 hour of making it (after that, it gets soggy).
Toasting garlic cloves: if you don't have already-roasted garlic on hand, drop a few skin-on cloves of garlic in a small, dry, hot pan on the stove. Toast them on one side for a minute or two -- until the skin scortches -- and then flip them and toast on the other side. Then peel and use.
Substitutions: might work with iceberg lettuce. Would not really work with other varieties of cabbage; their taste is too strong. Could work with other berries, like marionberries, although most would need to be seeded.