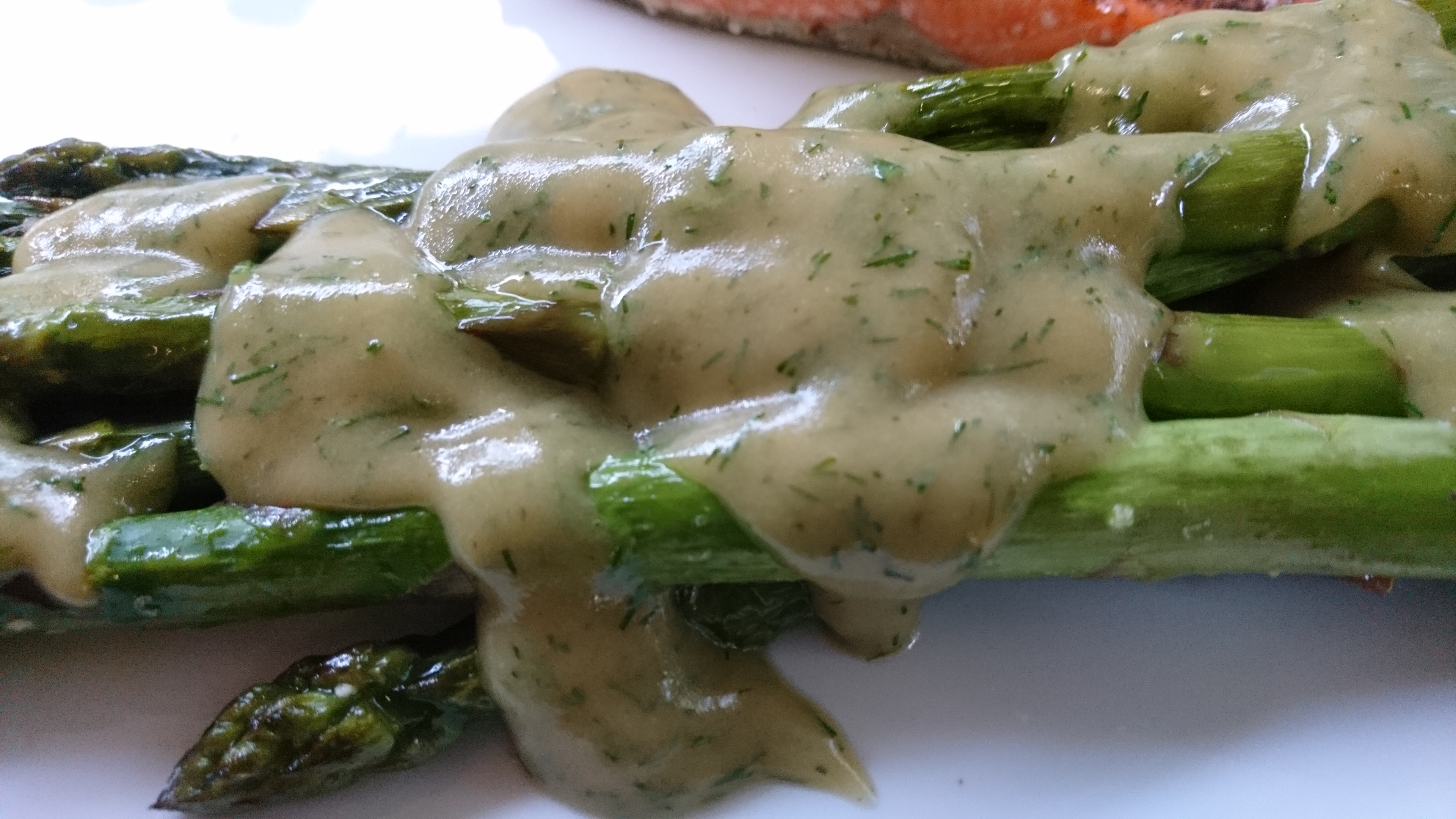 Given how hot it is in so much of the Northern hemisphere right now, nobody wants to get out a pan to make a finishing sauce for dinner, particularly after cooking everything on the grill so that you don't heat up your house. But dinner needs a little something to elevate it from just food to cuisine.
Behold! This traditional Skandanavian sauce is one of the easiest, most useful things you will ever make. It's good on fish and vegetables, especially asparagus, which is still available here on the West coast, at least (traditionally, it's served with gravlax or herring). It comes together without any heat or power tools, uses inexpensive common ingredients, and will keep in the fridge for several months, so feel free to scale it up for the whole summer. While based on mustard, it's mild and balanced so that even non-mustard-lovers are good with it. It's also vegan.
Ready? This'll take just five minutes.
simple mustard-dill sauce
3 Tbs Dijon mustard
2 tsp dry yellow mustard
2 Tbs sugar (possibly more)
2 Tbs white wine vinegar (or rice or apple vinegar)
1/2 cup vegetable oil
1/4 cup minced fresh dill (or 1 Tbs dried)
equipment: medium bowl, whisk, measuring cup with pouring spout
Whisk together the mustard, dry mustard, sugar and vinegar in a bowl, until homogenous.
Pour the vegetable oil into the bowl in a stream, and whisk the mixture with your other hand; this will produce an emulsified sauce with a texture like mayonnaise. If you have trouble doing it two-handed like this, then just add 2 Tbs of oil at a time, whisk it in, and then add another 2 Tbs.
When all of the oil is incorporated, mix in the dill. Taste it; if it's too sharp for your taste, add a couple teaspoons more sugar. Let sit at least 1/2 hour for best flavor.
Makes about 1 cup, enough sauce for fish/vegetables for 4-6 people. Store leftovers in the fridge, keeps for up to 4 months.
While you can make this sauce with dried dill, get fresh if it's not too hard to find, it does make a difference.