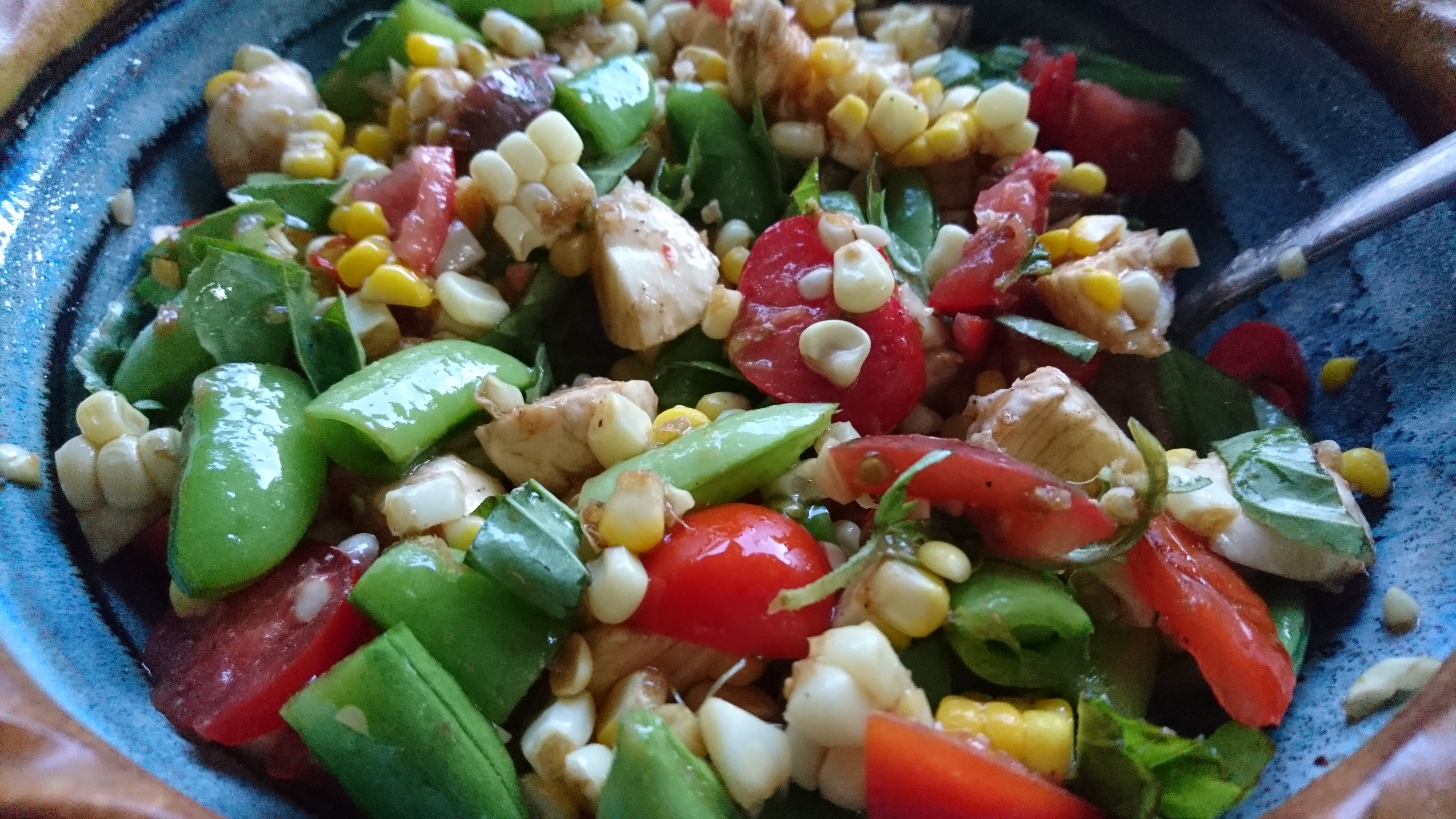 There is a brief window in the middle of the summer, when the snap peas are producing their last pods before they dry up, and the early tomatoes and corn start to come in. It's during that week or two that you must -- simply must -- make this salad. Here in Portland, that window is now, so don't wait on it.
The salad is a variation on a caprese salad that was the single good recipe we got out of a vegetarian magazine subscription a relative gifted us. While most of the other recipes were brown-things-for-health, this one was delightful and we've been making it every summer since.
I mean what I said about only doing this during the right couple of weeks in summer; the salad will not work with winter tomatoes, starchy corn, or frozen snap peas. Ideally, make it out of your own garden.
snap pea, tomato, and corn salad
two ears sweet corn
1 lbs ripe cherry tomatoes, or small salad tomatoes
1/2 lbs snap peas (around 1 1/2 cups)
8-12 basil leaves
6 oz fresh, water-packed mozzarella, such as bocconcini
2-3 tsp high-quality, "fruity" olive oil
1 to 1.5 tsp balsamic vinegar
fresh ground pepper
a few pinches of salt
Strip and blanch the corn, either by steaming or in the microwave. When it cools, cut the kernels off the cob and break them up in a medium salad bowl.
If using cherry tomatoes, cut them in half. If using salad tomatoes, dice them into large (1/2") dice. Remove stems and strings (if any) from the snap peas, and cut them in half. Mince or chiffonade the basil. Cut the mozarrella into 1/2" or smaller pieces.
Toss all this together with the corn in the bowl. Drizzle the olive oil and balsamic over the top, add several grinds of pepper and a few pinches of salt, and toss again, gently. Let sit for 15 minutes, then serve.
Serves 4 as a appetizer, and 2 as a main course (with bread). Leftovers will be OK in the fridge for a couple of days, but let them warm to room temperature before eating.
Notes: because it uses such small quantities, this salad is a good place to use fine, expensive oil and vinegar. Ideally, use real balsamic, the kind that comes in tiny costly bottles. It's also a good target for any fancy sea salt you have around. Do not use "paste" tomatoes such as Romas, because you need the acidity from sharper tomatoes. Vegan Adaptation: substitute diced avocado for the mozzarella.
To steam corn in the microwave, strip the ears and them wrap them in plastic wrap. Microwave in bursts of 30-40 seconds until they get really really hot; usually 2-3 bursts does it. Cut off the plastic and let them cool.