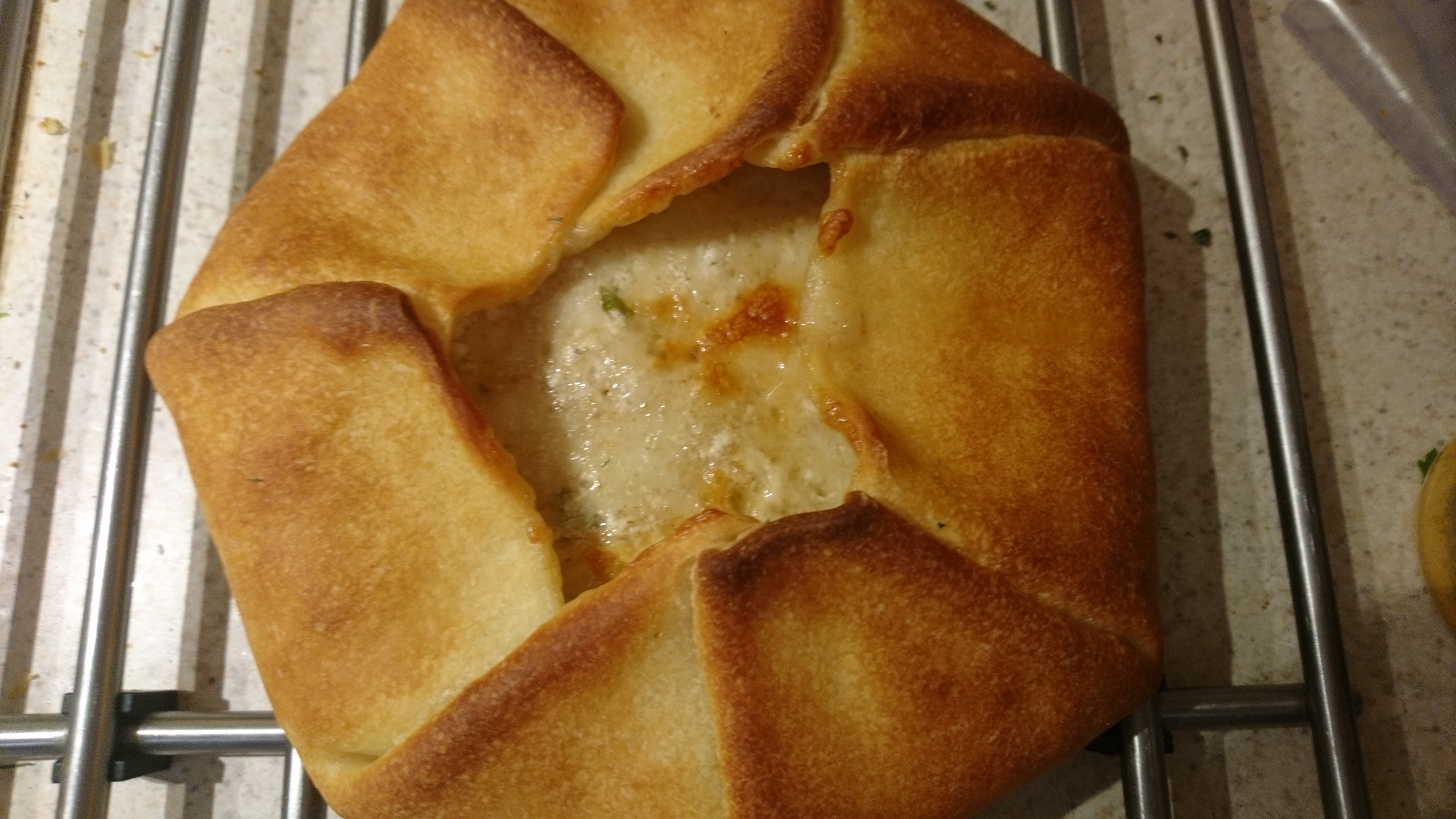 Thanks to Portland's large Slavic population, I've been able to readily buy sulguni cheese for the first time in my life. This has me wanting to make khachipuri, the famous "Georgian Pizza", frequently. However, while the cheese is readily available, dough is another thing entirely, until I found a shortcut for weeknight dinners.
Imeretian Khachipuri, which is a disk of dough, stuffed with cheese, with a small hole in the top, is my favorite kind, probably because that's the first type I had in Moscow. I have two dough recipes for it, one is a yeasted dough that takes 1.5 hours, and one is a yogurt-based dough that's faster, but finicky delicate and hard to work with. Neither was really suitable for a weeknight dinner of khachipuri and lobio, starting cooking at 7. And then, at Albertson's, I discovered this: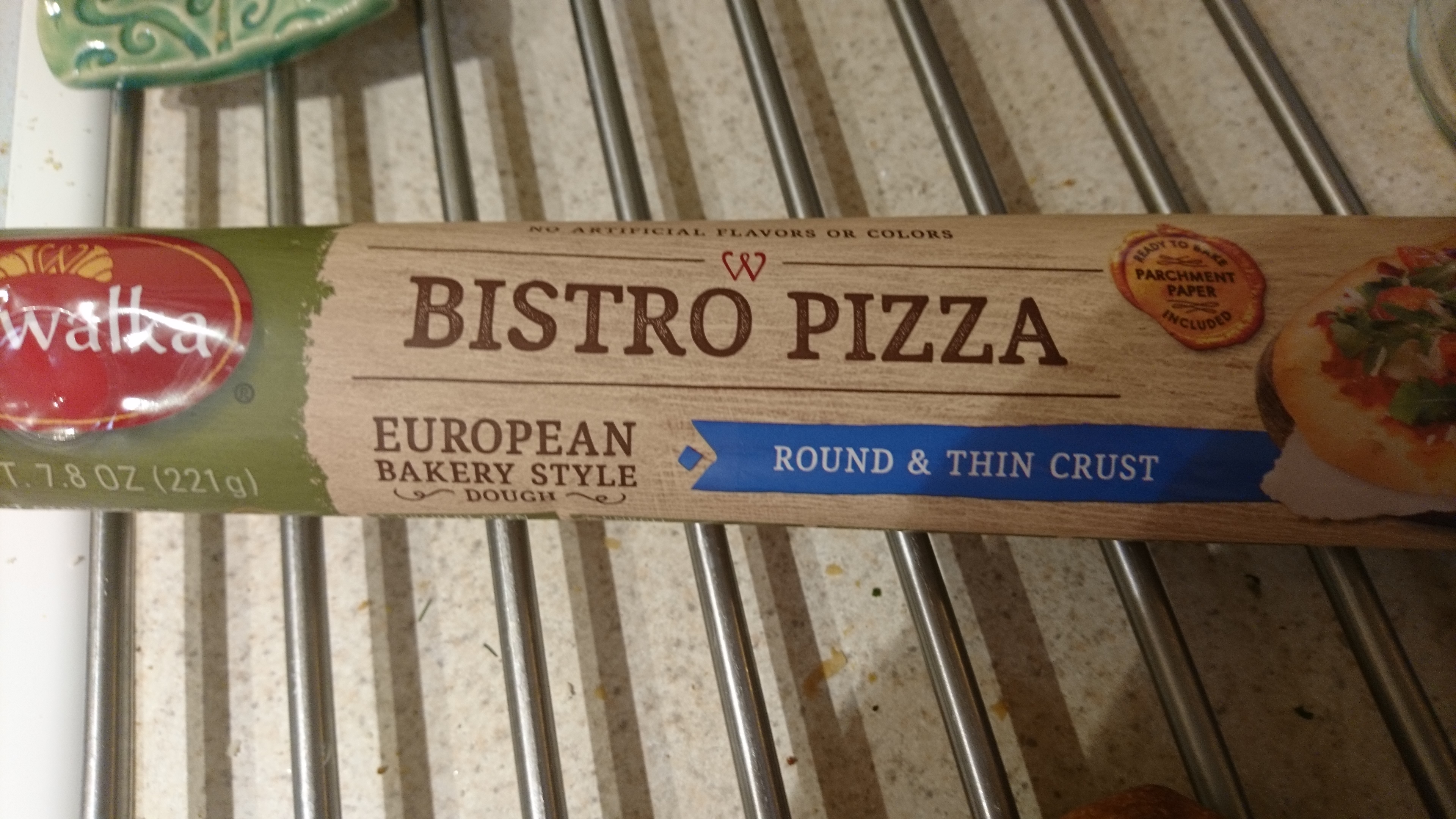 Thin-crust, prerolled pizza dough, like they sell in many parts of Europe. It's not a very good pizza dough, but it makes an excellent yeasted dough wrapper for empanadas, and for other things. Like khachipuri!
Since then, we've had more "weeknight khachipuri" than is really good for my chloresterol level.
Now, a note on the cheese: if you can get sulguni, do use it for this. Most folks can't, though, so a good substitute is 2-3 parts dry part-skim mozzarella (but not pre-shredded) to 1 part crumbled feta cheese. In the recipe below, that would be 3oz dry mozz, and 1-2 oz feta. In a pinch, just dry mozz or even Monterey Jack would work.
weeknight khachipuri
4-5oz sulguni cheese, or substitute
3 Tbs minced cilantro, parsley, or green onion
1/2 tsp ground coriander, unless using cilantro
1 egg
2-3 Tbs greek yogurt
1 thin-crust "European style" prerolled pizza dough
Place a baking stone, or inverted cookie sheet, into your oven and heat it to 475F.
Grate the cheese on the large holes of a grater. Mix with the egg, yogurt, minced herb, and coriander (if using).
Unwrap the pizza dough and unroll it, smoothing it out. Make a circular heap of the cheese mixture in the middle of the dough, and then press it into a compact disk. The cheese should only cover about the middle 1/2 of the dough.
Fold the dough over the cheese, turning it 1/8 with each fold, so eventually you have an octagon of folds. The edges should not quite meet in the center; you want to leave a hole that's 1-2" wide.
Trim the baking parchment the pizza dough comes on so that it's not a lot wider than the khachipuri. Slide the khachipuri onto the baking stone (or sheet). Switch the oven to convection (if you can). Cook for 11 to 15 minutes, until the dough is brown and the cheese is foaming and threatening to bubble out of the hole.
Take the khachipuri out of the oven and put it on a rack to cool for 5-10 minutes; you want it hot, but you don't want to destroy your mouth. Cut into 4-6 wedges and share.
Note: Pillsbury also sells "prerolled pizza dough" in a carboard cannister. This is not suitiable for this recipe, or much of anything else either; it has a texture like factory biscuits.