zaatar squash from Persiana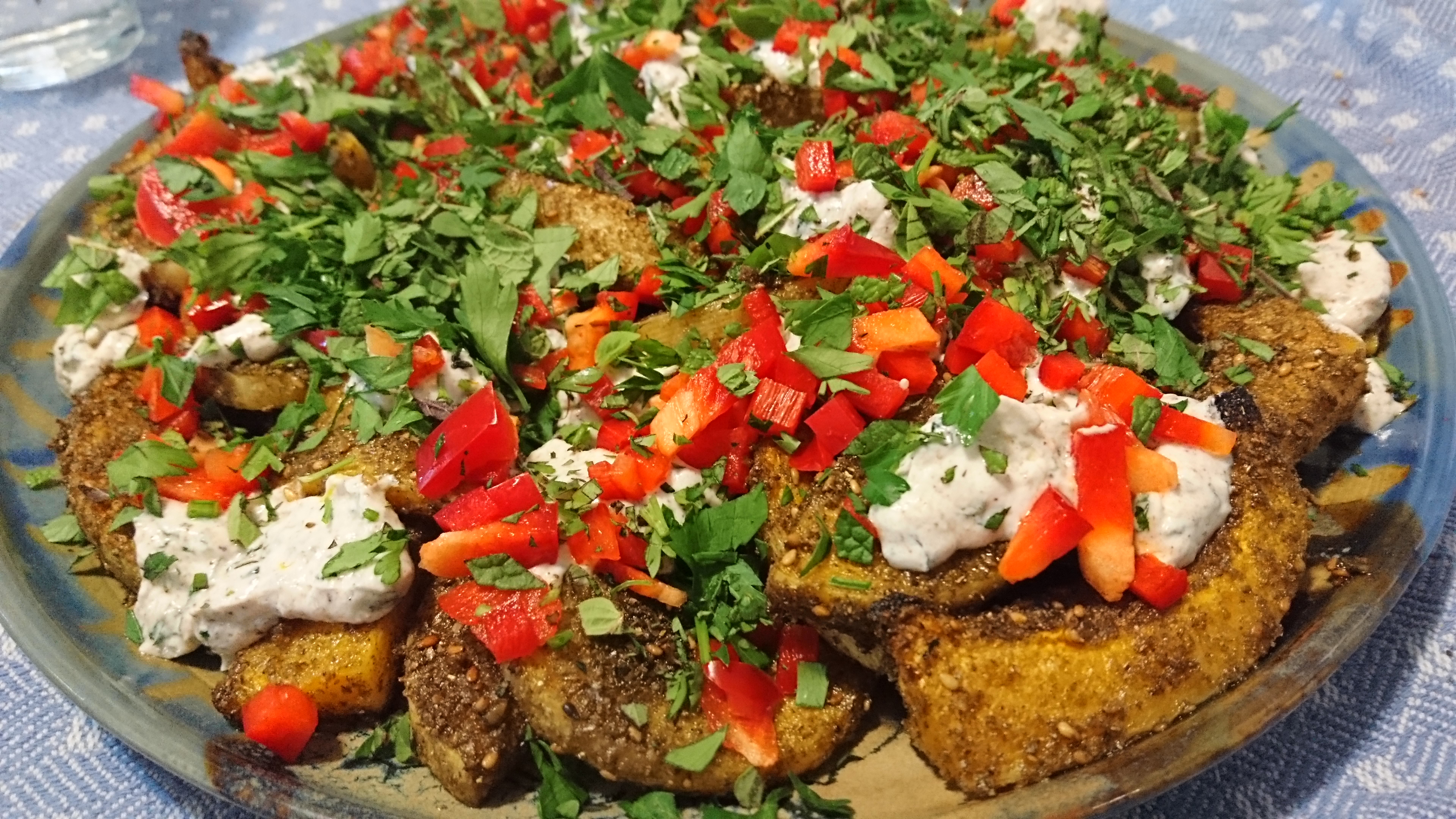 What if I told you I was going to share a recipe that was delicious and great-looking, healthful, vegetarian, gluten-free, and very low salt, and can be made year-round as either a main dish or side dish?
"What's the catch?" you'd ask.
The catch is one ingredient you need that isn't easily available to everyone: za'atar spice mix. And not just za'atar, but good za'atar, and lots of it ... 1/3 of a cup, or more. Yes, really, but it's what makes this recipe work. I'll have some advice on buying or even making a good za'atar below.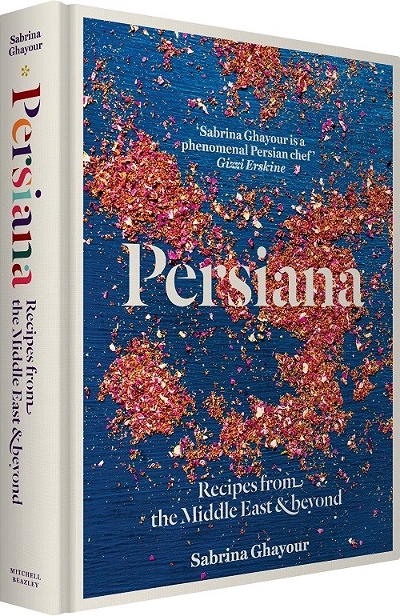 The recipe is from Persiana by Sabrina Ghayour, an Iranian cookbook I borrowed from the library just before shutdown, so I have it until the libraries reopen. I would strongly recommend this cookbook for anyone who likes Middle Eastern food; as you're about to find out the flavors are very bold and the book is full of inventive food, including vegetarian dishes.
Now, as usual, I've taken some liberties with the recipe, including increasing the amount of za'atar and swapping the hot peppers for sweet peppers, but it all works. In the notes, I'll also explain the other changes you could make to the recipe depending on what ingredients you have around.
Now, about the za'atar: you'll want a "Jordanian" or "Palenstinian" style za'atar, which you can pick out because they are very green in color, not the muddy brown of a za'atar mix that has as much sumac as za'atar herb. Unfortunately, the "zaatar" sold by Western brands is generally terrible, including that sold by Penzey's. You need an actual imported brand, such as Mid East Jordanian Zaatar, Sadaf Green Zaatar, or Canaan Za'atar. If you can find a real middle eastern market, you'll find that the spice there costs a fraction of what it sells for in upscale supermarkets.
Alternately, you can make your own "fake za'atar" that will still work; look for the recipe at the bottom of my potato cake recipe
za'atar squash
1 large butternut squash, 2-3lbs
3 tbs to 1/4 cup olive oil (good Greek or Arabic oil)
1/4 to 1/3 cup za'atar
1 cup Greek-style yogurt
2 Tbs olive oil
1/2 tsp salt
1/3 cup minced fresh mint, or 2 Tbs dried mint
2 tsp ground coriander
2 tsp ground sumac
zest and juice of 1 lemon
1/3 to 1/2 cup finely diced bell pepper (about 1/2 pepper) (but also see below)
2-3 Tbs minced parsley (optional)
1 Tbs nigella seed (optional)
Equipment: large rimmed baking sheet (half sheet pan), foil or parchment, large bowl, large flat spatula, platter for serving
Peel the squash, quarter it lengthwise, seed it, then slice it into pieces that are around 3/8" thick (1cm). Put the pieces in a large bowl, then toss them with the olive oil until completely coated. Follow that with the za'atar, tossing until the squash is all coated and the za'atar is saturated with oil and sticking to the squash. If the za'atar is too dry, add a little oil, and if the squash isn't coated, add a little more za'atar.
Heat the oven to 450F. Line the rimmed baking sheet with parchment or foil. Carefully spread the squash across it, so as much squash as possible is in a single layer, or at least not overlapping very much. If there's zaatar-oil mix on the bottom of the bowl, drizzle this onto the squash. Put the baking sheet in the oven and bake for around 40 minutes, until many peices of the squash are brown on the edges. If you have an electric oven, switch to convection for the last 15 minutes of cooking.
While the squash is cooking, create the yogurt mixture. Mix the mint, salt, 2 Tbs olive oil, the sumac, the lemon zest and lemon juice, and the ground coriander into the yogurt until homogenized. If the yogurt is still very clumpy, add a little more oil and/or a little water.
Take the squash out of the oven. With a large, flat spatula, carefully lift the squash and arrange it in a single to double layer on the platter. Dot the squash with large spoonfulls of the yogurt mix, then sprinkle the diced pepper, parsley, and/or nigella seeds over the top.
Serves 2-3 as a main dish, and up to 6 as a side dish.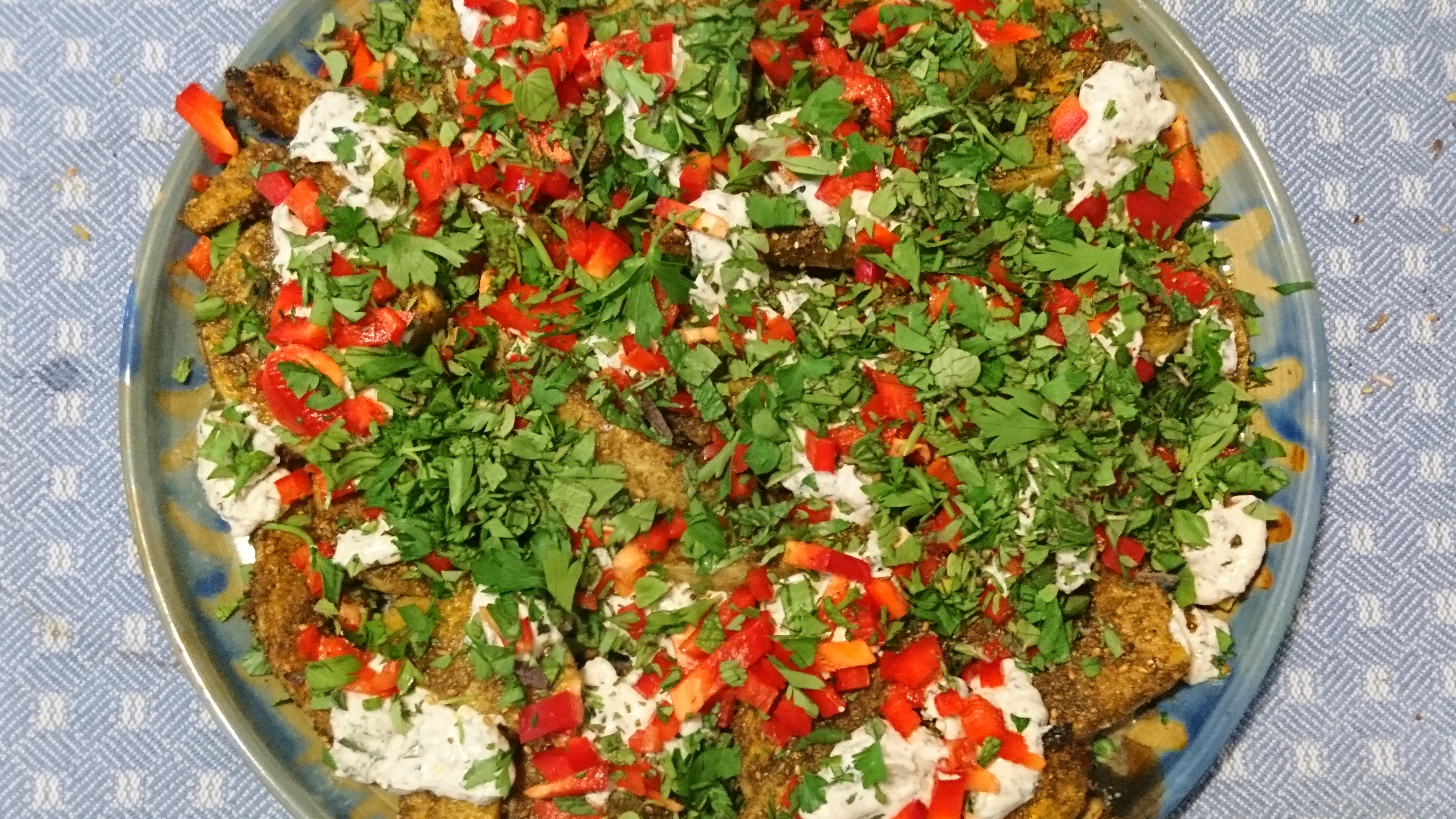 Notes:
In my version, I substituted diced bell pepper for the sliced hot red pickled peppers that Ghayour calls for. You could do those, or jarred roasted bell pepper, or even pomegranate seeds. Anything red and brightly acidic should work.
You could also make this with other winter squashes, as long as they are not stringy or too wet, such as delecata squash or sugar pumpkin. It would be interesting to try it with sweet potatoes.