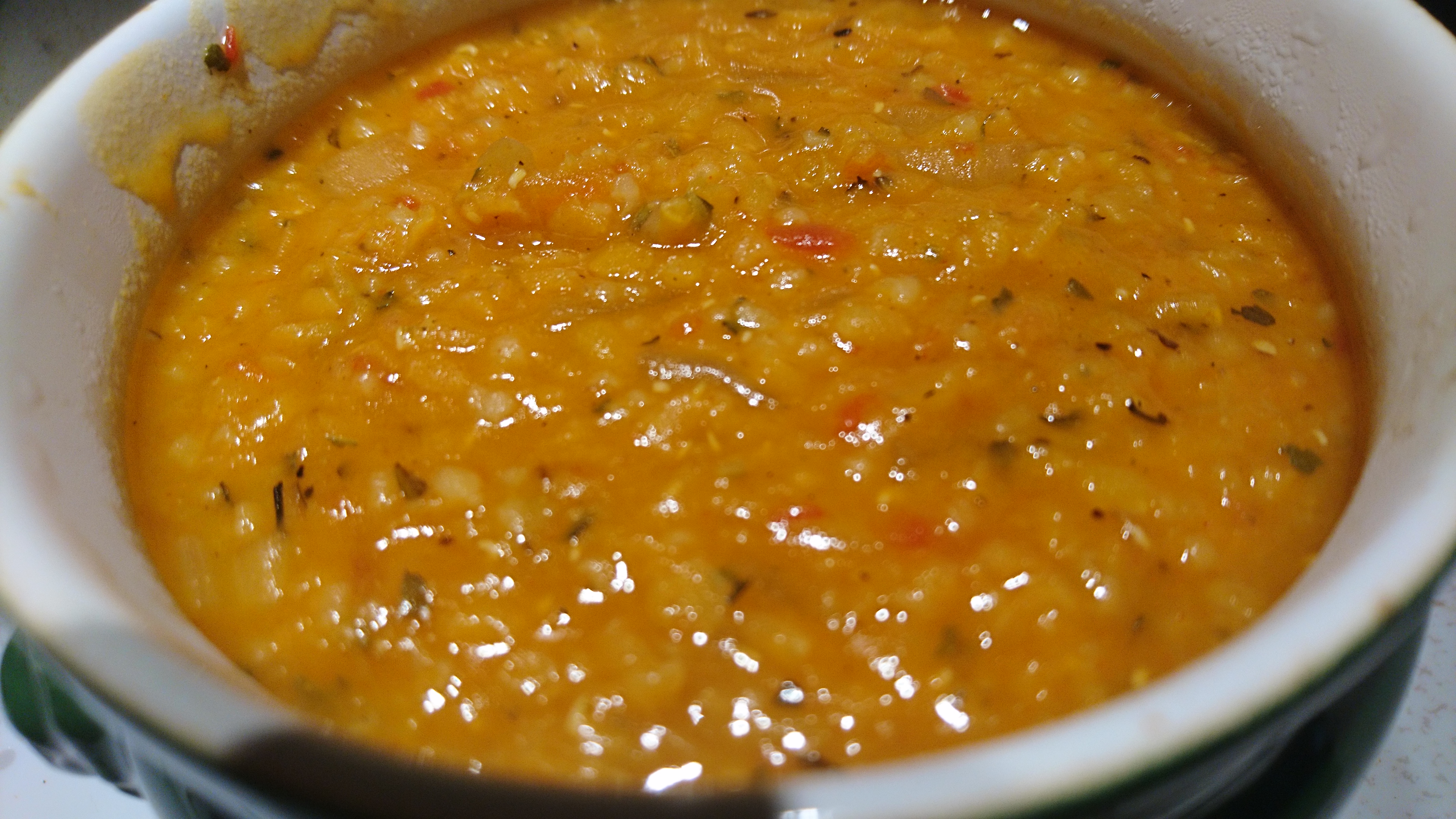 Everyone should have a few recipes where you can always have the ingredients on hand, especially for dinners where your original plans didn't work out or you can't think of anything else. This recipe is one such, nutritious, tasty, and from pantry to table in 45 minutes or less.
I first got this very traditional recipe from a little cookbook my relatives brought back from Kapadokya in Turkey. The name of the soup has, in typical Turkish fashion, a tragic story attached to it which has two or three different versions. Tragic or not, the soup is really good and one of the easiest things you'll ever prepare, so I've marked it Good First Recipe.
I'm going to start with the version that's mostly ingredients that are simple to obtain in the US, and give you some notes on more Turkish ingredients.
daughter-in-law soup
4 tbs butter (or olive oil)
1 onion, chopped
3 tbs tomato paste
2 tsp paprika (but see below)
1 cup red lentils, rinsed
4 cups stock
2 tbs fine bulgur wheat (#1)
½ tsp salt, plus up to 1 tsp more to taste Mint, 2 tsp dried or 2 tbs chopped fresh
4qt or larger pot, with lid
Heat the butter (or oil) in the pot. Fry the onion until translucent, stirring, then add the paste and saute for 2-3 minutes, until it separates and turns oily. Add the paprika or other pepper and cook for 30 seconds more.
Add the lentils, ½ tsp salt, bulgur and stock. Bring to boil, cover and simmer over low heat for about ½ hour, or until the soup is creamy and the lentils are soft. It should be a porrigelike consistency, but add some hot water if you feel it's too thick. Taste and see if you need to add more salt. Add mint, simmer for 5 minutes more, then let cool enough to serve. (usually about 10 minutes).
Serve with bread and cheese. Makes 6 cups, enough for a first course for 4-6 people or a main course for 2-3. Keeps up to a week in the fridge, and freezes fairly well.
Notes:
For an even faster version which is almost as good, forget about frying the onions and just simmer everything together.
You must use red lentils for this. Other varieties of lentils take an hour to cook, and don't look nearly as pretty.
For stock, you can use canned or boxed stock, instant stock, bullion, or in a pinch salted water. If you have a choice, vegetable or beef stock is preferable to chicken.
Fine bulgur, also known as instant bulgur, is the same grind you'd use to make tabouleh, tiny grains the size of coarse salt. Either instant couscous or whole wheat bread crumbs would work as a substitute. Bob's Red Mill "bulgur", which is actually cracked wheat, will not work.
If you can get Turkish ingredients, use red pepper paste instead of tomato paste, and 1 tsp Aleppo or Urfa pepper instead of the paprika. Note that Aleppo and Urfa are hotter than paprika, so use some discretion in how much to add.