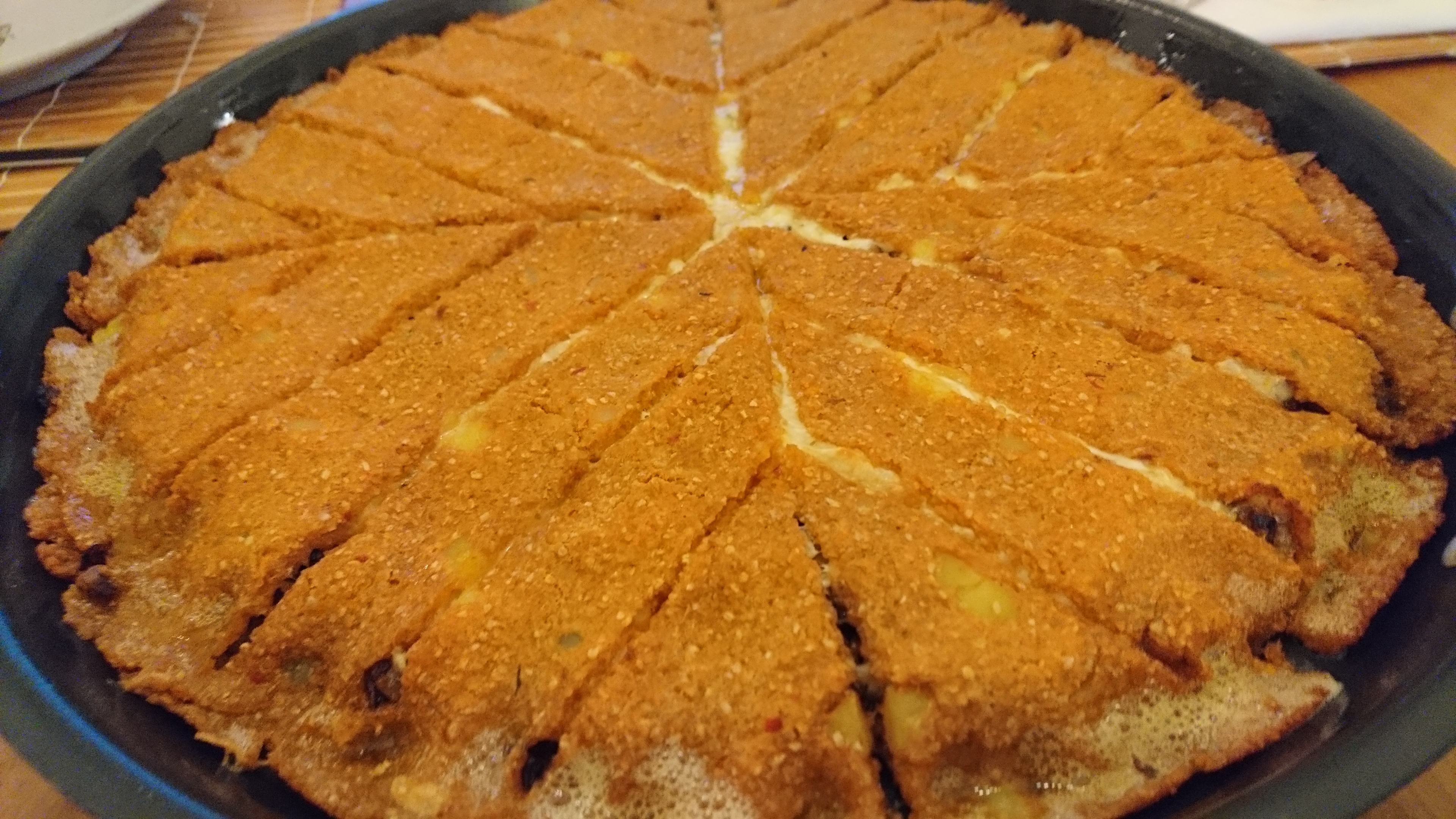 One of our recent FoodTube discoveries is Refika's Kitchen. Refika is a successful Turkish television chef (and celebrity chef in general), and shortly after lockdown started, she launched a channel to broadcast cooking shows in English as well. This has been truly great, because she is really into Turkish and Cypriot food, and shows a lot on-screen about exact techniques and textures. Like after watching her segment on kisir, I made the first kisir I've actually liked ... despite having three recipes for it in different cookbooks.
Another recipe she made that I would never have attempted without watching her do it on video was Sini Köftesi, otherwise known as "tray kibbeh" because of how you cook it. I have recipes for this in books, too, but they honestly sounded pretty daunting and I never imagined that I could make it come out well. Thanks to watching Refika, though, I made a beautiful (and delicious) tray kibbeh on my first try! You should make one too.
Now, I'm not gonna show a step-by-step for this because you should just watch the video. However, Refika does mention a vegetarian variant on her lamb-based Sini Köftesi, but doesn't really lay out a recipe for it. My sweetie and I worked out the veggie version based on her comments in the video, and it's that version I'll give you a recipe for below.
There's two important pieces of special equipment you need for this recipe. The first is a tray to bake it in; the ideal tray is around 12"-13" in diameter with 1/2" to 1" sides. If you don't have anything of the sort, then your best bet is a quarter-sheet baking pan (9"x13"), again with 1/2" high sides (do not use a rimless one). It'll be harder to press out the dough into a rectangle, but most folks I know outside the Near East just don't have large round baking pans. The second piece of equipment is a roll of large, wide, extra-strong plastic wrap (watch the video).
Your special ingredients include fine bulgur, otherwise known as #1 bulgur, instant bulgur, or "tabouleh" bulgur. This is bulgur wheat with grains about the same size as polenta. Do not use larger-grained bulgur, it will not work. The recipe also calls for Turkish pepper paste; if you can't get this, then use an equal quantity of tomato paste plus a teaspoon of olive oil. Or you can make your own. The cheese should be any mild, middle eastern, melty cheese, such as Syrian cheese, village cheese, sulguni, kefalotyri, or kasseri. Use dry mozzarella if you can't get any of those.
This recipe sounds like a lot of steps, and it is, but each of the steps is fairly easy. And the result is spectacular.
vegetarian tray kibbeh
dough:
1lbs to 1.25lbs yellow potatoes
1 1/4 cups water
1 cup fine bulgur
1 tsp ground cumin
1 tsp sweet paprika
1/4 - 1 tsp Urfa, Aleppo, or Italian pepper flakes (to taste)
1/2 tsp salt
2 Tbs Turkish pepper paste (mild)
1 whole egg, beaten
Scattering of black pepper
filling:
two medium-large onions, diced small, 3-4 cups
3/4 cup raw unsalted pistachios, walnuts, or almonds, roughly chopped
1/2 tsp salt
1/4 tsp black pepper
3-4 Tbs butter
2 tsp pomegranate syrup (subs 1 tsp lemon juice)
8-10oz grated mild middle eastern cheese
Peel the potatoes and slice them 1/4" thick. Pack them into the bottom of a medium pot, and cover with the water. Bring to a boil, then simmer, covered, for around 20 minutes, or until they are very tender and soft. Turn off, pour the water on top of the wet potatoes in the pan, and mash them around a bit with a big fork or potato masher. Cover again, and set aside for 15-20 minutes.
Turn the oven on to heat to 375F.
In the meantime, make the filling. Melt 2 Tbs butter in a large pan. Fry the onions over medium-high heat, stirring frequently, until they turn golden, around 7 minutes. Drop in the nuts, salt, and pepper, and fry for another minute or so. Turn off heat, and add the remaining 1 or 2 tablespoons butter (to taste) and the pomegranate syrup. Set aside to cool down to room temperature.
The bulgur should be soft now. Turn the bulgur/potato mixture out into a large bowl and finish mashing it until any large pieces of potato are gone. Add the spices to the dough, the pepper paste, and the egg. Now knead the mixture until it makes a sticky paste. The best way to do this is to squish it with wet hands like Refika does. Also, see the video on how to determine whether the mixture is too wet or too dry.
Divide the dough into two balls, one slightly larger than the other ... a 60%/40% split. Lightly coat your tray with olive oil, and the press the larger of the two dough balls out with your fingers until the bottom of the tray is completely and evenly covered. Patch any holes.
Cover the bottom dough evenly with the onion/nut mixture, leaving 1/2" around the outside edge bare. Add the grated cheese, covering the same area.
Now, spread out 1-2 sheets of plastic wrap on the counter, making a surface larger than your tray. Using fingers, press out the smaller ball of dough on this wrap until it forms a thin, even layer the size of your tray. Place the tray next to the wrap, and carefully pull up the wrap and flip the bulgur layer on top of the fillings. If it's a bit off-center, tug the plastic wrap to get it into place. Then peel back the wrap, leaving the top crust in place. It sounds tricky, but this really works.
Seal the edges of the kibbeh by pressing or crimping the dough layers together. Then, using a wet paring knife, cut the kibbeh into decorative serving portions. These can be any design you like, but watch the video for how to make a beautiful diamond design.
Place in the oven and bake for 30-40 minutes. When the kibbeh is done, the crust will be firm and not at all sticky, and some of the cheese will be bubbling up through the cuts.
Remove from the oven and let cool for 5-10 minutes. Serve, offering each diner some Greek-style yogurt as a topping.