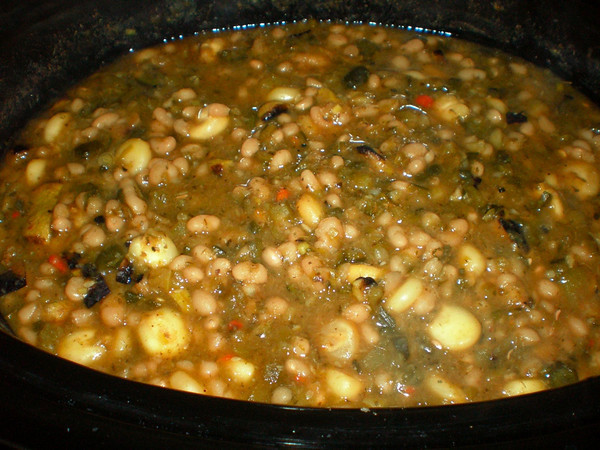 A friend was having a discussion about vegetarian chili on Facebook, and asked for a recipe "with no kale or sweet potatoes". I had to agree; those are two ingredients that never belong in anything called "chili".
Still, as a non-meat-eater, I can't prepare proper San Antonio "chile con carne", since without the carne it's not much of a dish. However, New Mexico chile stews have a more varied set of ingredients, making them more adaptable to vegetarians. And, unlike the Texas version, New Mexico chile stew has beans.
So here's my version of a Santa Fe "bowl of green", without the pork.
crockpot green chile stew
This is for the folks at Tazz's chili cookoff ... and for Frank. A New Mexico "bowl of green" has always appealed to me, except for the pork. This is my vegetarian version, with a holy trinity of Southwestern vegetables, only mildly spicy to appeal to as broad an audience as possible.
2 cups navy beans or black-eyed peas
1 cup dried giant corn (see note)
3 green bell peppers
3 green poblano or pasilla peppers
4 hatch chiles, green anaheim, or banana peppers
2 bunches green onions
3-4 cloves garlic
1 1/2 lbs green squash, pattypan, chayote or zucchini
2 tsp hickory smoke salt
4 tsp dried epazote
1 tsp oregano
2 tsp cumin
water, salt, oil
slow cooker, cookie sheet, foil, broiler, large clean paper bag
Toppings:
1 bunch cilantro, chopped
1/2 lbs Monterrey Jack cheese, grated
green hot sauce (such as Tabasco jalapeño or El Yucateco)
The night before: soak the beans and corn (together) in at least 7 cups of cold water.
Chop 1/2 of the green onion, white and green parts. Dice small one squash (no more than 1/2 lbs), then seed and dice one bell pepper and one of each of the other peppers. Put these in the slow cooker. Drain the beans and the corn, and add these to the slow cooker. Add 2 tsp of the epazote and the hickory smoke salt.
Add enough warm water to almost, but not quite, cover the vegetables and beans; it should take between 2 1/2 cups and 3 1/2 cups. Stir, then cover the slow cooker and set on High for 5 hours.
Some time while the beans are cooking, heat the broiler and cover the cookie sheet with foil and lightly grease it. Halve each of the remaining peppers and seed them. In batches, place the peppers cut-side-down on the cookie sheet and broil them until their skins turn black. Put the blackened peppers (while still hot) into the paper back and fold the top shut. Leave these to cool.
Slice the squash 3/4" thick, oil it lightly, and broil it until it's charred in spots. Set it aside to cool.
When the peppers and squash are cool (about 1/2 hour) peel the blackened skin off the peppers and discard. Chop the peppers. Dice the broiled squash. Mince the remaining green onions.
After the beans have cooked for 5 hours, add the peppers, squash, onions, cumin, oregano, and the rest of the epazote. Stir together. Cook on High for one more hour.
Turn off. Taste for salt, and add more if necessary. Let sit for at least 1 hour before serving. Serve with the toppings available on the side, as well as a pan of unsweetened cornbread. Serves 4 to 6.
Notes:
Giant corn, the same kind used for Posole, is from Central and South America and is available in many Latin markets. If you can't find it, substitute one can white hominy kernels, drained, and added at the same time as the 2nd batch of peppers.
To kick the heat up a notch, replace all of the milder peppers with hatch chiles, or if you can't find those, add 3 jalapeño and 3 serrano peppers, broiled, skinned and chopped with the others.