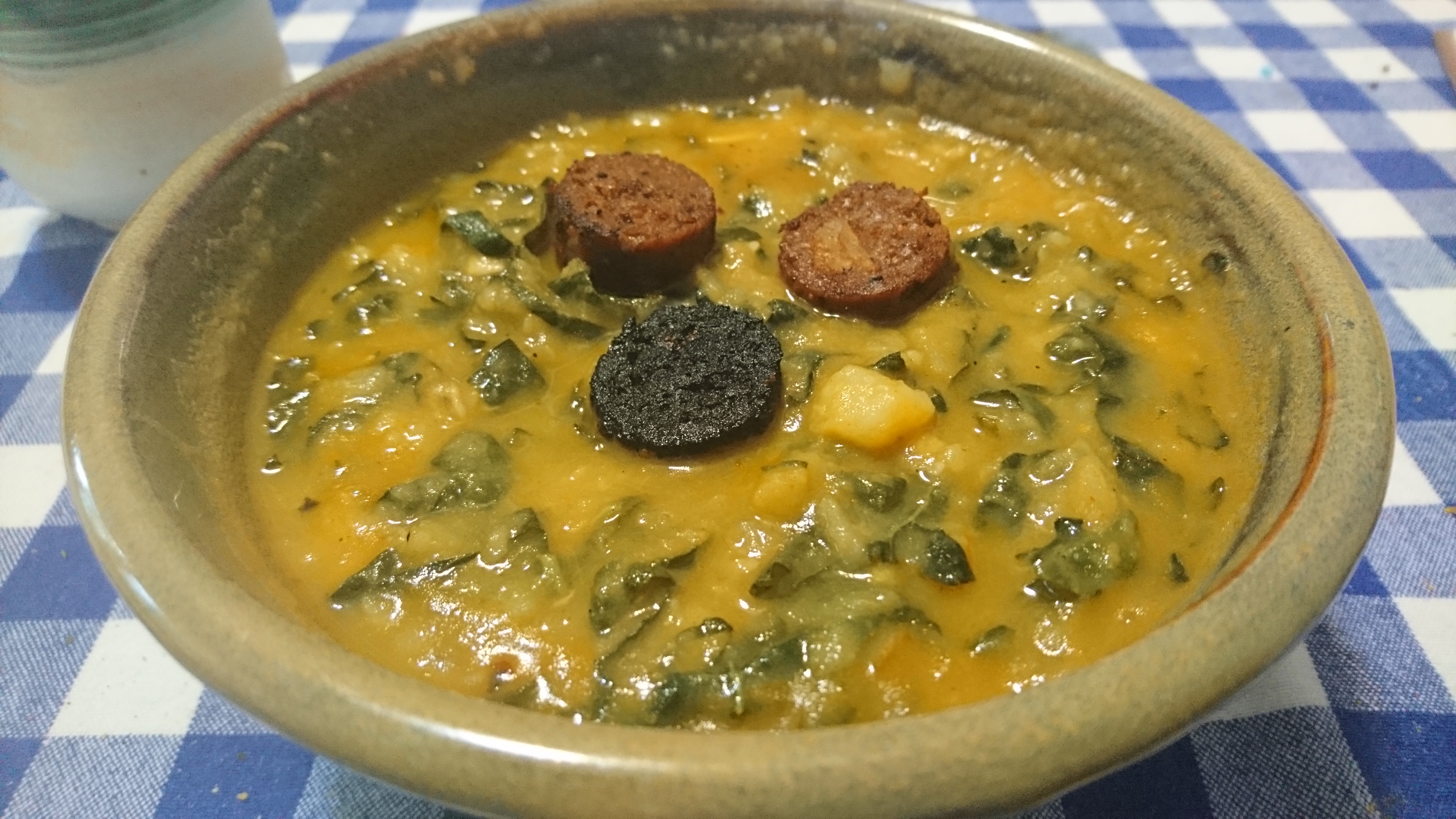 2021 or not, it's still winter, and we're still in quarantine, so it's time for another simple recipe. Whether you're a new cook, or just tired and want something easy to make, caldo verde is it.
This potato-and-kale stew is the unofficial national dish of Portugal. You can see why: it's simple, homey, adaptable, nutritious, tasty, and filling. I also realized this week that it was easy to modify to make it vegan, without losing any of the flavor that it's known for.
Making it vegan means using some vegan fake sausage, though. The classic sausages for caldo verde are chouriço or linguiça, both very firm-textured garlicky Portuguese dry sausages. Their texture isn't that different from many vegetarian sausages, though. For flavor, you want to find something that's garlicky, spicy, and maybe even smoked. My suggestions in preference order are: Field Roast Chipotle, Tofurky Andouille, Field Roast Garlic & Fennel, Tofurky Kielbasa, Beyond Sausage Hot Italian, or LightLife Italian. If you want this to be vegetarian and don't care about vegan, though, Lightlife has a fake Chorizo which would be perfect (do not use Soyrizo, which is soft and too spicy).
The second part of caldo verde is the kale. In Portugal, they use a particular kind of dark-green kale or cabbage similar to collards, but just a bit lighter. In the US, I'd recommend using either dino-kale (cavalo nero), or collard greens. Curly green kale would work OK, though.
Now that you've found those, you can get on with the recipe.
vegan caldo verde
4-6 Tbs olive oil
3-4 vegan sausages
1 large or 2 small onions, about 3/4 lbs
2-4 cloves garlic
1/2 to 1.5 tsp smoked paprika
3-4 lbs russet, Yukon, or other starchy potatoes
1-2 tsp salt
1 qt vegetarian broth or stock
2 medium bunches kale (around 8 cups when sliced)
Equipment: a larger stew pot than you think you need, probably your largest. Large sharp knife, long-handled potato masher.
Peel the potatoes and cut them into 1/2" to 1" chunks. Dice the onion(s) small. Peel and mince the garlic. Wash the kale leaves and set them aside to dry. Peel off any casing from the sausages, and slice them into 1/2" thick rounds.
Heat 1-2 Tbs oil at the bottom of a large stew pot. When shimmering, place the rounds of veggie sausage on in the oil, lying flat. Fry for 1-2 minutes, until they are well-browned, then flip them and brown the other side. Remove them from the oil and set aside.
Add 1-3 more tablespoons of olive oil depending on whether the sausages gave off any fat of their own; you want a good 1/8" slick of oil on the bottom of the pan. Add the onions and garlic, and fry, stirring, until the onions become translucent.
How much paprika you add depends on whether your veggie sausages had peppers in them or not. If they did (like the Chipotle ones) then just add 1/2 to 1 teaspoon, depending on how peppery the oil is. If not, use 1.5 tsp. Add it, stir for only around 30s, and dump in the potato chunks. Stir them up to coat them, then add the veggie stock.
Finally, add 3 cups more water, plus the 1-2 tsp of salt (depending on how salty your stock is). Turn the heat down to low, and cover.
Simmer for 25-30 minutes, until the potatoes are easy mashed into paste with a spoon.
While the potatoes are cooking it's time to prepare the kale. A key element of caldo verde is the hair-thin ribbons of kale, so you're gonna get your knife work in. Remove the stems from the kale or collards, then stack bunches of leaves, and cut them crossways as thin as you can ... like 1/16" wouldn't be too thin here if you can manage it (usually I can't).
When the potatoes are done simmering, turn off the heat and mash them in the stock using the potato masher (or a large spoon if you don't have one). Smush them up until all of the chunks of potato are gone and you're left with a pot full of very soupy mashed potatoes.
Turn the stove back on to low, and stir in the thinly sliced kale, a handful at a time, until it's all in there. Let simmer for around 5 minutes more, then turn off the heat. Taste; see if it needs a little more salt. Let sit for 10 minutes.
Serve the soup in large bowls with several slices of the fried veggie sausage on top. This recipe makes about 6 meal-sized servings, and keeps in the fridge for up to a week.
Notes: for a little extra flavor, replace 1/2 to 1 tsp of the salt with smoked salt. You can use water and a couple bay leaves instead of veggie stock, if you don't have any.