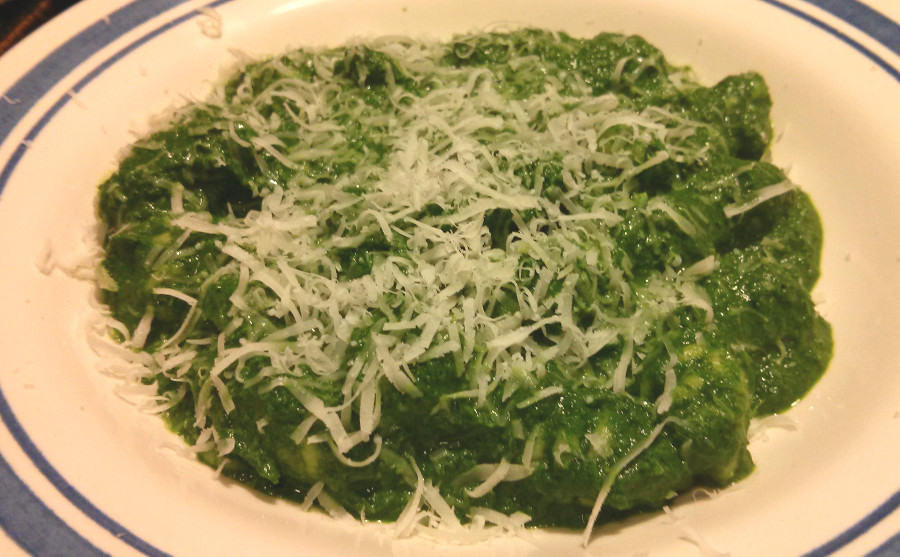 I think you can see where this dish got its name. It's actually quite a delicious kale pesto, but the color is quite luridly Hulk-green. It's based on a recipe from the excellent Venetian cookbook Polpo, which I recommend checking out.
1 bunch Tuscan cabbage (lacinato kale), about 1lbs (400g)
4-6 cloves garlic (depending on size), peeled whole
1/4 cup good olive oil
1 lemon
1 tsp or so salt
1/2 tsp nutmeg
pepper grinder
3 to 6oz parmigiano, pecorino romano, or similar Italian grating cheese
1lbs (400g) potato gnocchi (store bought or home-made)
two large pots, skewer, cheese grater, blender/food processor, cup measure
Fill both pots with warm water and put them on the stove to heat. One is for the gnocchi; salt the water as you normally would. The other is for the kale; salt it substantially, with at least 1 tsp salt.
Trim, chop and wash the kale. While the kale is soaking, but the garlic cloves on the skewer and poach them in the kale cooking pot for about 4 minutes. This will tame their flavor; otherwise you will end up with "gnocchi al Hulk".
When the garlic is poached, put the kale in the water and cook it for 1 to two minutes. If you are looking to preserve the brightest color scoop it out and dunk it in cold water. Otherwise, just drain the pot, reserving 1 cup of the salty kale water.
Put the blanched kale, garlic, olive oil, 1 squeeze of lemon (around 1 tsp), nutmeg, and several grinds of pepper (around 1/4 tsp) in the blender or food processor. Puree until reduced to a sauce consistency; if it's too thick, add the reserved kale water a little at a time until it's fairly smooth. Adjust seasonings for balance, using salt, pepper, and additional squeezes of lemon juice if required.
Cook the gnocchi in the other pot. Drain and toss the gnocchi with the pesto. Serve, and top with generous gratings of the cheese, or better: hand your guests the cheese and a hand-grater to serve themselves.
Variations:
Spring version: replace the garlic cloves with 3-4 stalks blanched green garlic.
Creamy version: add 1 cup ricotta cheese to the pesto when pureeing.
Nutty version: add 1/2 cup toasted pine nuts or almonds to the pesto while pureeing.