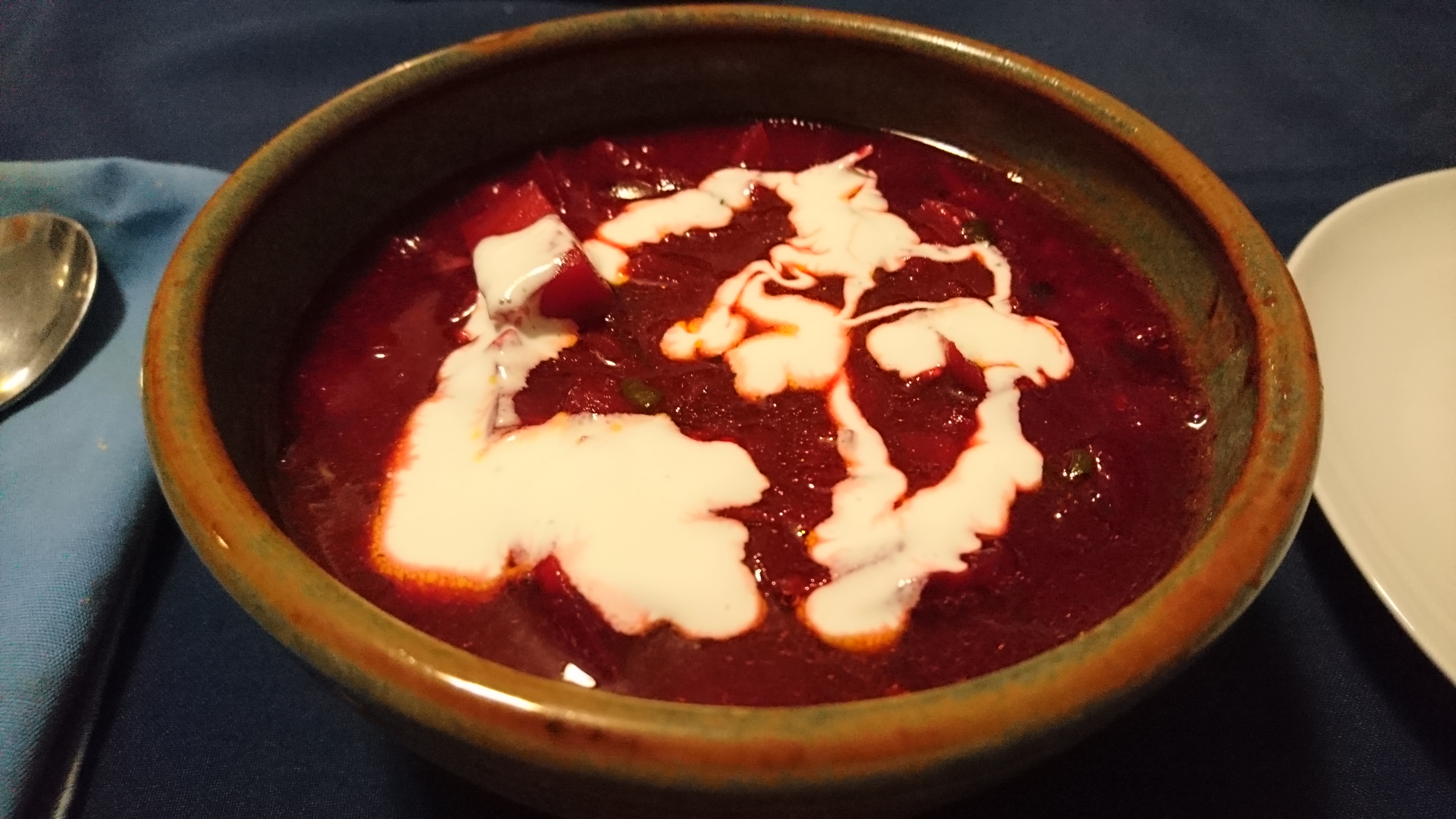 Given what's going on in Europe right now, it seemed like time to share a Ukrainian recipe. Ukrainian, at least, courtesy of my great-grandmother the Ukrainian Jew, who emigrated to the US as a young child fleeing a Tsar-ordered Russian Cossack pogrom. Hmmm, seems familiar somehow.
Of course, me being me, I've modified the recipe some. Fortunately, my great-grandmother is long gone so she can't berate me for corrupting her recipe.
First, I made it vegetarian (vegan if you omit/swap the sour cream). Second, I simplified the recipe via a "four bowl" system. Since there are a lot of ingredients in this one, I've made it easier to track what goes in when by prepping everything into bowls of ingredients that go in at the same time. I also switched to grating the beets, which eliminates the requirement to par-cook the beets as you would with diced beets.
This is a hot borscht, suitable for eating, well, now, when it's cold and wet and wintry out (offer not valid in Australia). If I could ship some over to the Ukrainian refugees I would, but I'll settle for donating to WCK instead.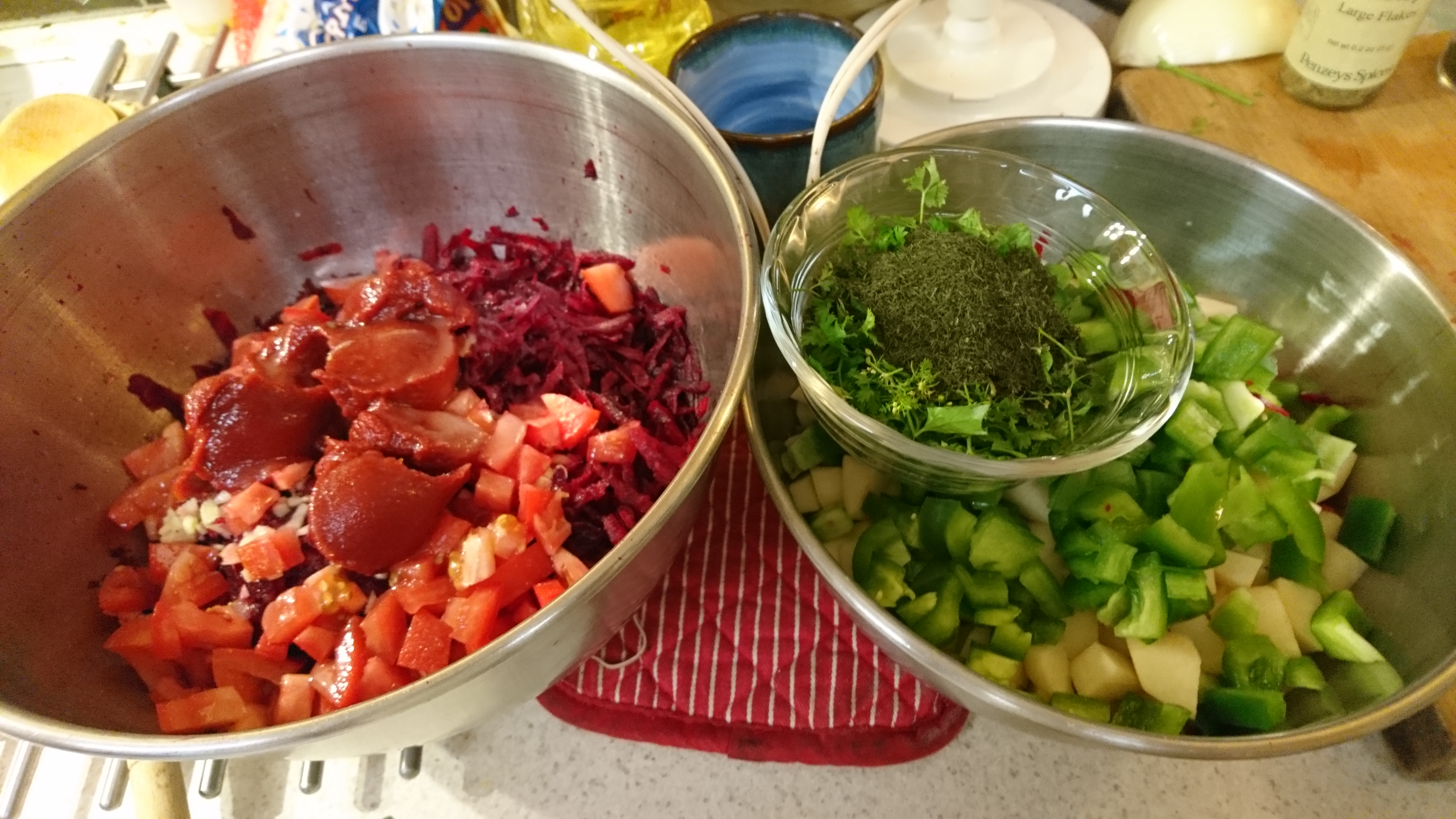 Hot Borscht
Prep Bowl #1 for Stock:
3 cups low-salt vegetable stock
3 cups water
Skin from the onion (below)
2 bay leaves
1 tsp smoke salt
1 medium white or red potato, sliced
6 dried mushrooms
Soup:
3-4 tbs sunflower oil
Prep Bowl #2
1 large yellow onion, chopped
2 large carrots, diced
1 green pepper, diced
2 medium white or red potatoes, diced
Prep Bowl #3
2 to 2 1/2 lbs beets, peeled and grated
3 cloves garlic, smashed or minced
2 plum or small tomatoes, diced
3 tbs tomato paste
Juice of 1-2 lemons (about 1/4 cup)
2 Tbs sugar
Prep Bowl #4
1 tsp smoked salt
1/2 cup minced parsley
1/2 cup chopped fresh dill, or 1.5 tbs dried dill
Additional salt to taste
At the table:
1 cup sour cream
Equipment
1 3qt pot, 1 6qt pot, strainer, box grater, four bowls of assorted sizes
Pour the ingredients of bowl #1 into a 3qt or larger pot, bring to a boil, and simmer for 15 to 25 minutes. While the stock is simmering, chop and grate the rest of the vegetables.
Heat the oil in a large soup pot (5qt or more) over a medium-high flame.   Throw in the contents of prep bowl #2, and stir occassionally until the onions wilt and the carrots sweat, about 10 minutes.  Dump in the contents of Prep Bowl #3 and strain the hot stock in to the large pot.  Stir, then cover.
Turn down the heat as soon as the soup begins to boil.   Simmer for 25 minutes. Pour in the ingredients in Prep Bowl #4, stir in contents and then turn off heat. Taste for salt and add more as required. Let sit uncovered for 10 minutes.
Serve in wide soup bowls, with the sour cream at the table for diners to add as they please.  Serve with rye bread to make a meal for 4 or a first course for 8.
Notes
If you omit the sour cream, or use plant-based sour cream, this recipe is vegan.
Smoked salt replaces the roasted flavor sometimes added to borscht via pork or beef fats. It is available from various specialty markets. I recommend salt smoked with lighter woods over hickory, which tends to be a bit much.
The three cups of packaged veggie broth can either plan broth or mushroom broth, or it can be beef broth if you're not vegetarian. It can also be replaced with instant stock and water, but if your instant stock is high-salt you'll want to cut the smoked salt.
If you can get quality unrefined sunflower oil for this soup, it adds a nice flavor.