St. Nicholas' feast, part 2
(Continued from part 1)
Since our first course was fairly substantial, we took a break followed by a palate-cleansing "pomegranate soup". This soup was truly amazing for something with so few ingredients and steps involved. I really recommend that you keep the recipe (at the bottom of this post) available during pomegrante season because it is so easy and yet so tasty. Really. Until you try making it, you won't believe that anything this simple can taste this good, but it does.
And then it was time for the manti. Manti are tiny dumpings popular throughout Central and near-Eastern Asia, including Turkey, Armenia, Uzbekistan. While exact fillings and shapes differ a little, they're always tiny and labor-intensive, and served with yogurt and tomato or pepper sauce. In Armenia, lamb manti are a traditional dish for Christmas eve, so I thought they would be perfect for this meal. I'm gonna show you how labor-intensive these are, which is why I'm giving you a recipe for the soup and not for the manti. Face it, you're not making these; I'm not making them again either.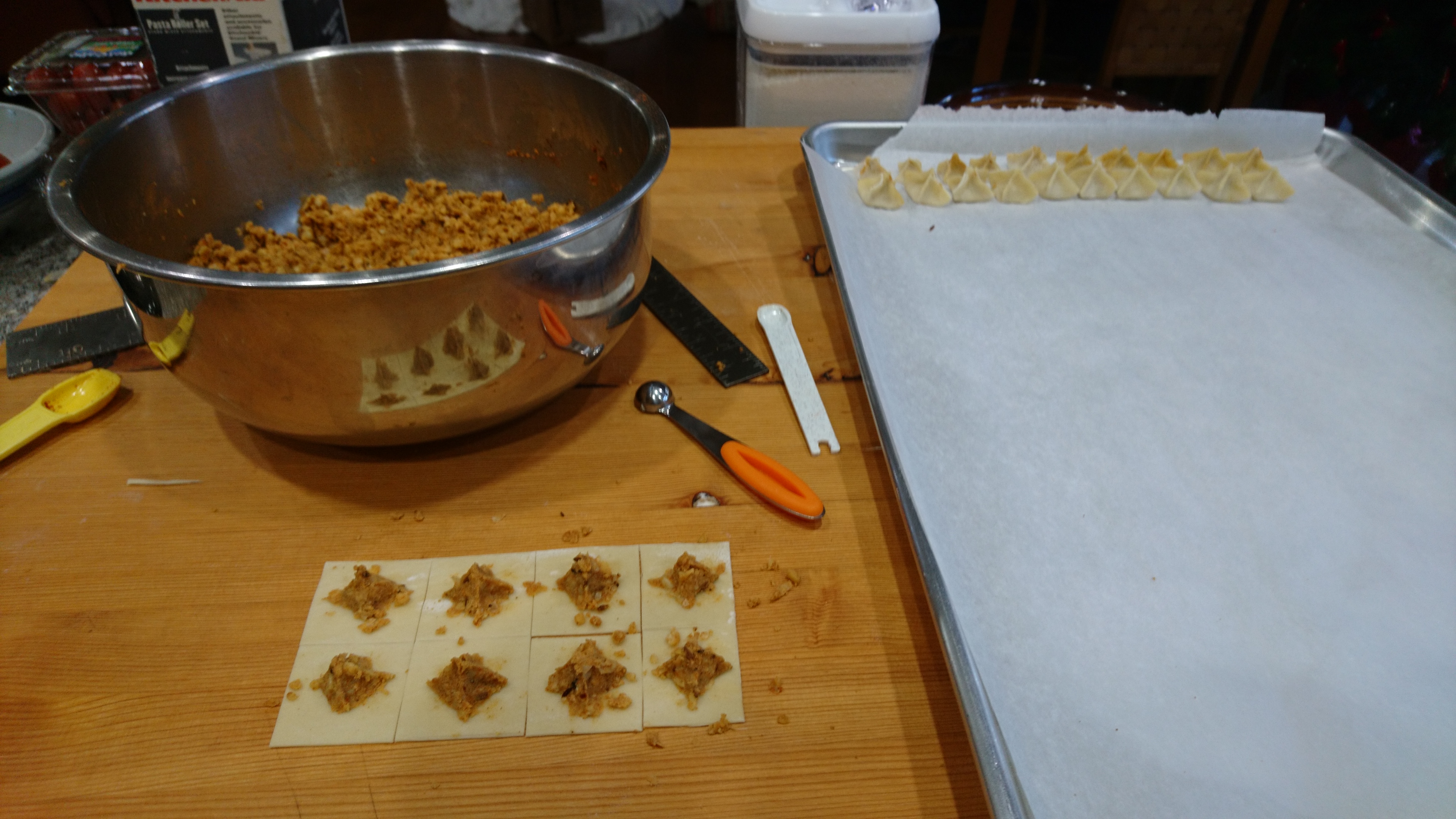 Now, one of the reasons I wanted to try making these is that, while you can sometimes find lamb or beef filled manti frozen or in fancy Turkish or Armenian restaurants, you never ever see vegetarian manti in the US, despite chickpeas being a standard filling in Turkey. So I made a paste from cooked chickpeas, onions, and spices, and set out filling a bunch of tiny pastries. The dough is a white-flour pasta dough, you roll it thing and cut it into 1.5cm squares, and fold it into a little four-cornered hat. Then repeat 200 times, because you need 25-40 of these tiny dumplings for each diner.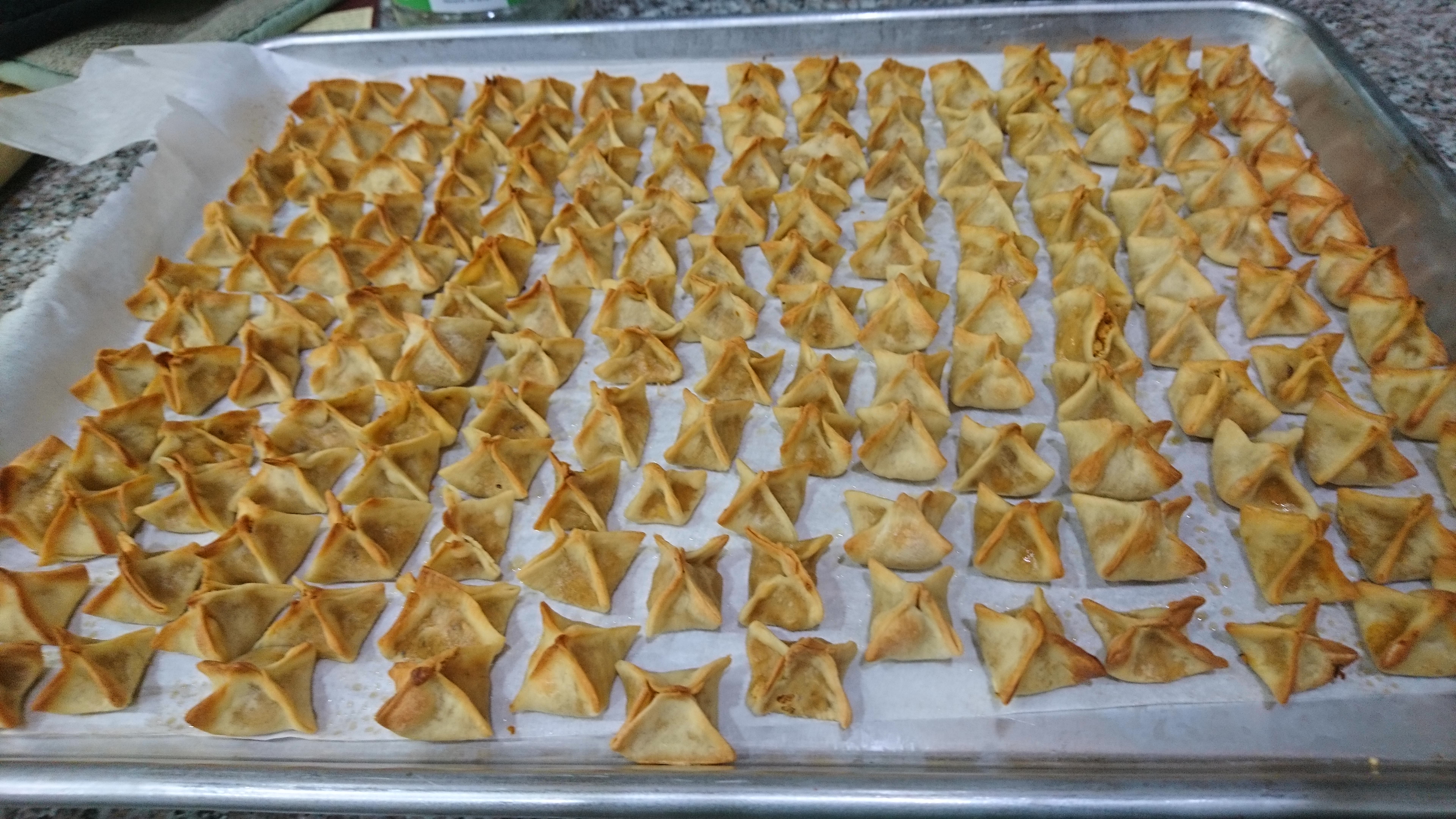 Due to the Armenian influence, I didn't just boil the Manti. I first baked them until lightly browned. This both adds to texture and prevents them from splitting open when boiled or steamed, which was definitely a good thing because the seals on the little dumplings were none to great. I'm not sure I'd recommend that for the chickpea manti, though; it also made them pretty dry inside, which was not a good thing. The dish up to this point having taken three hours, I put them away for the night.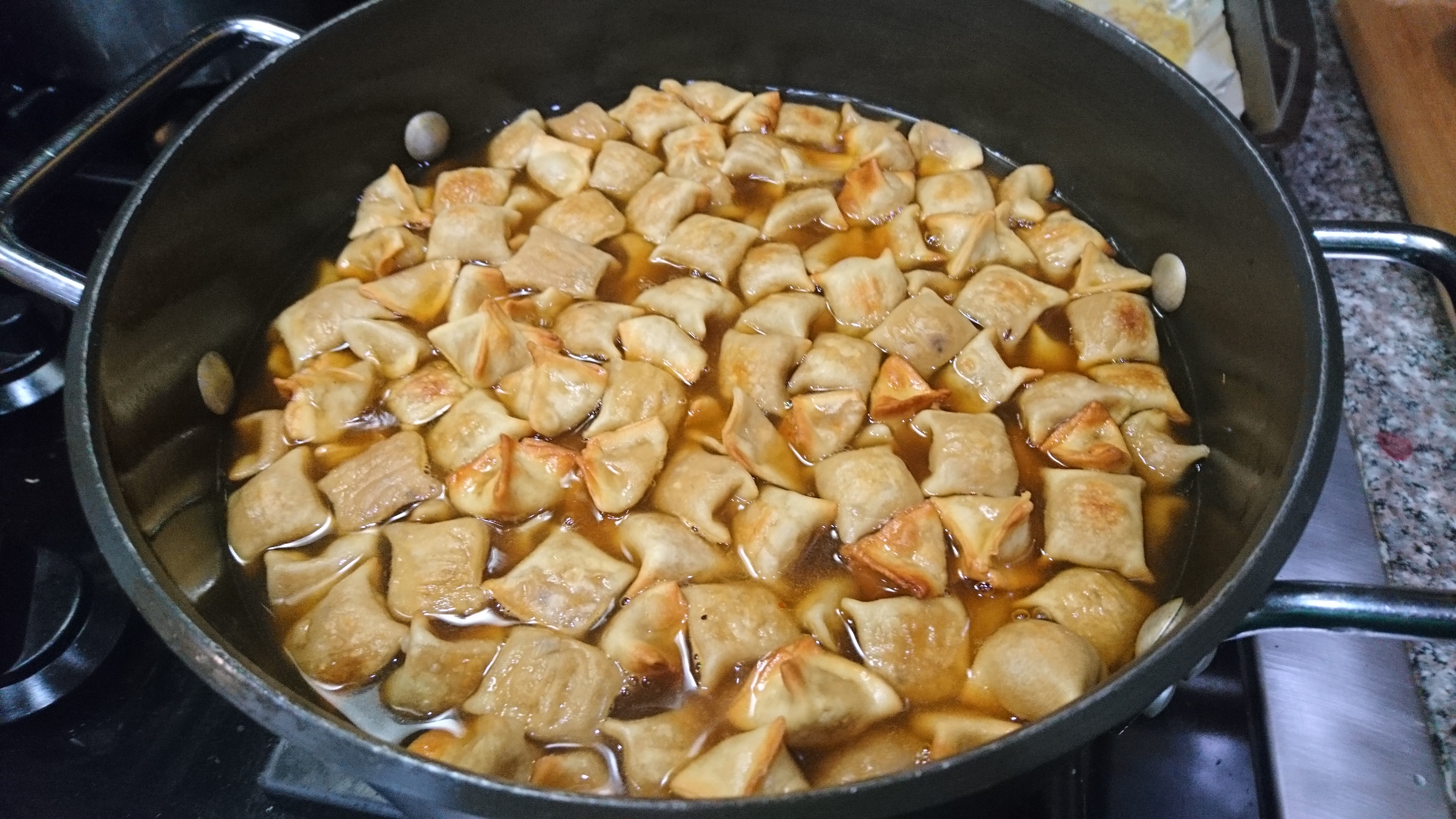 Right before the meal, I boiled them in vegetable broth, to make them extra-savory.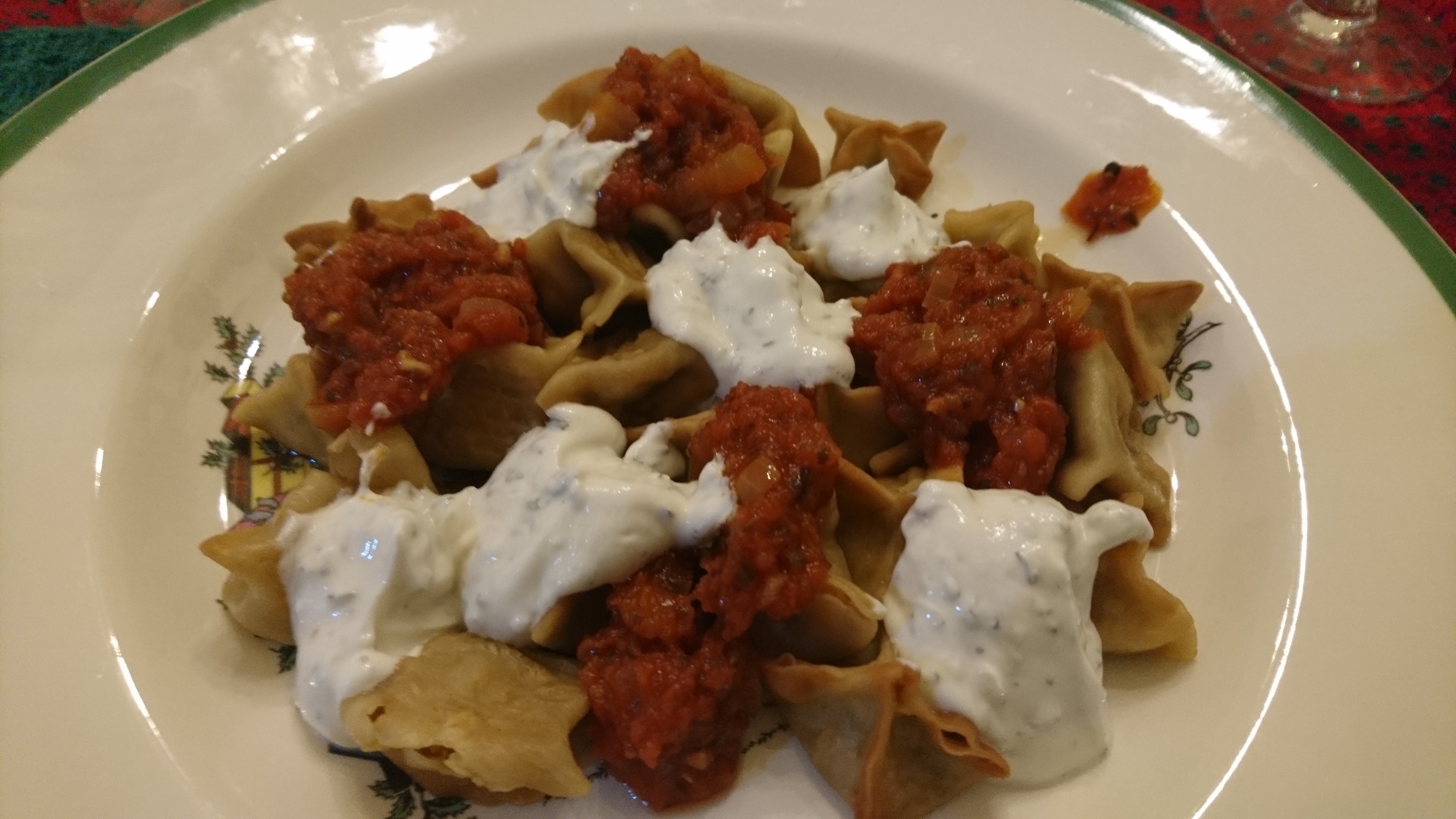 I then plated them and dotted them with garlic yogurt sauce, and a tomato sauce I also made the day before. This was the classic manti presentation, and they were good, and I'm happy to have finally had proper chickpea manti. But I don't think I'll make them again.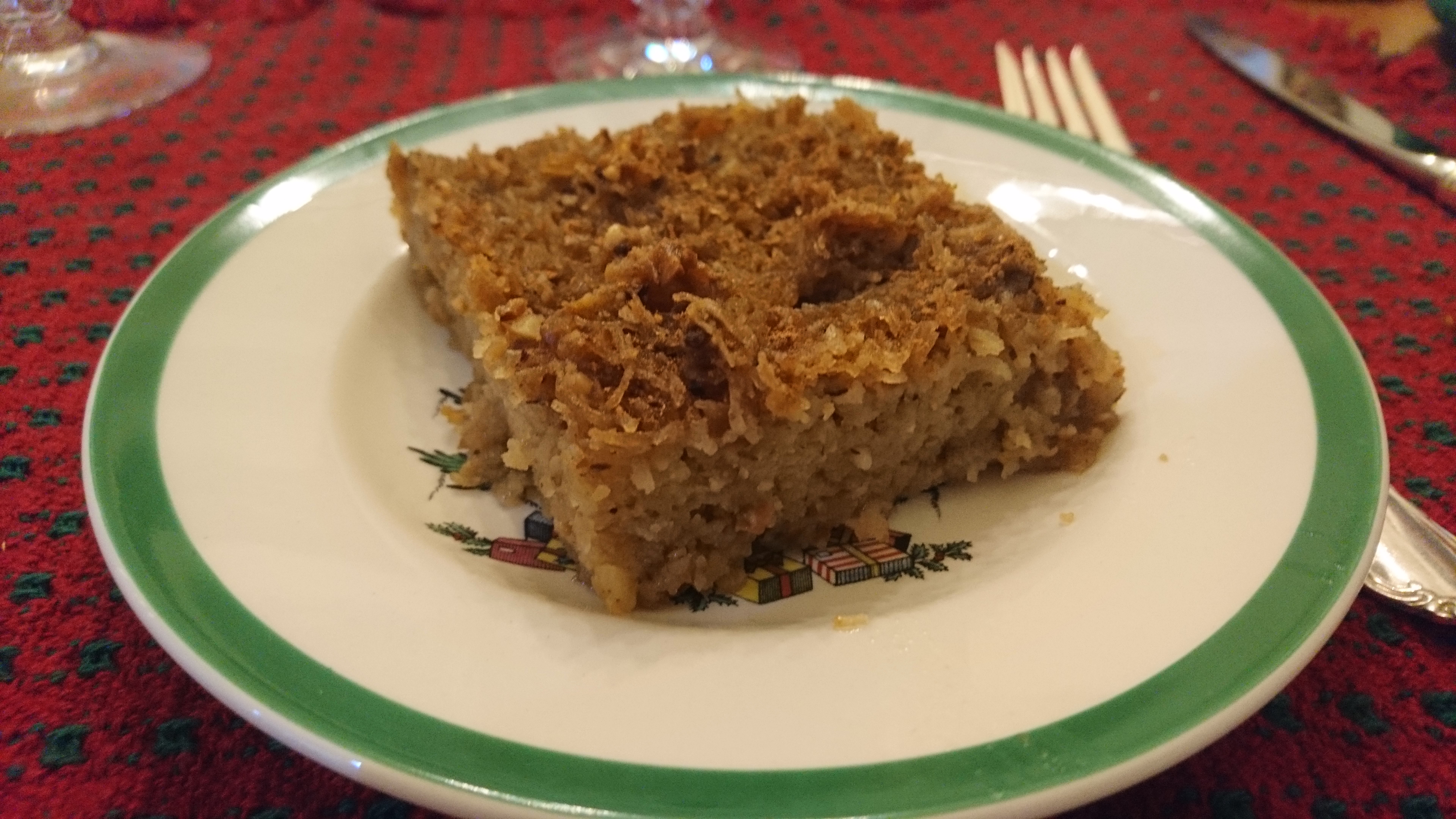 Dessert (of course we had dessert) was a terrific kataifi "bread pudding". My sweetie dried out the shredded phyllo, then soaked it in a cinnamon-seasoned custard, and baked it. It was delicious and a perfect end to the meal, if surprisingly reminiscent of noodle kugle.
pomegranate soup
based on a recipe by Ghillie Basan
1 liter boxed veggie stock or broth (I used Imagine brand)
1 cup pomegranate juice
1-2 Tbs juice from 1 lemon
Seeds from 1 pomegranate (about 2/3 cup)
Salt to taste
Fresh mint leaves (as garnish)
Heat the veggie stock to a boil. Add the pomegranate and 1 tablespoon of lemon juice. Bring it back to a bare simmer. Turn off and stir in the pomegranate seeds.
Taste, and adjust with a little lemon juice and/or salt.
Dish out into 4-5 bowls, making sure to get some seeds into each bowl. Garnish each bowl with sprig of mint. Serve.