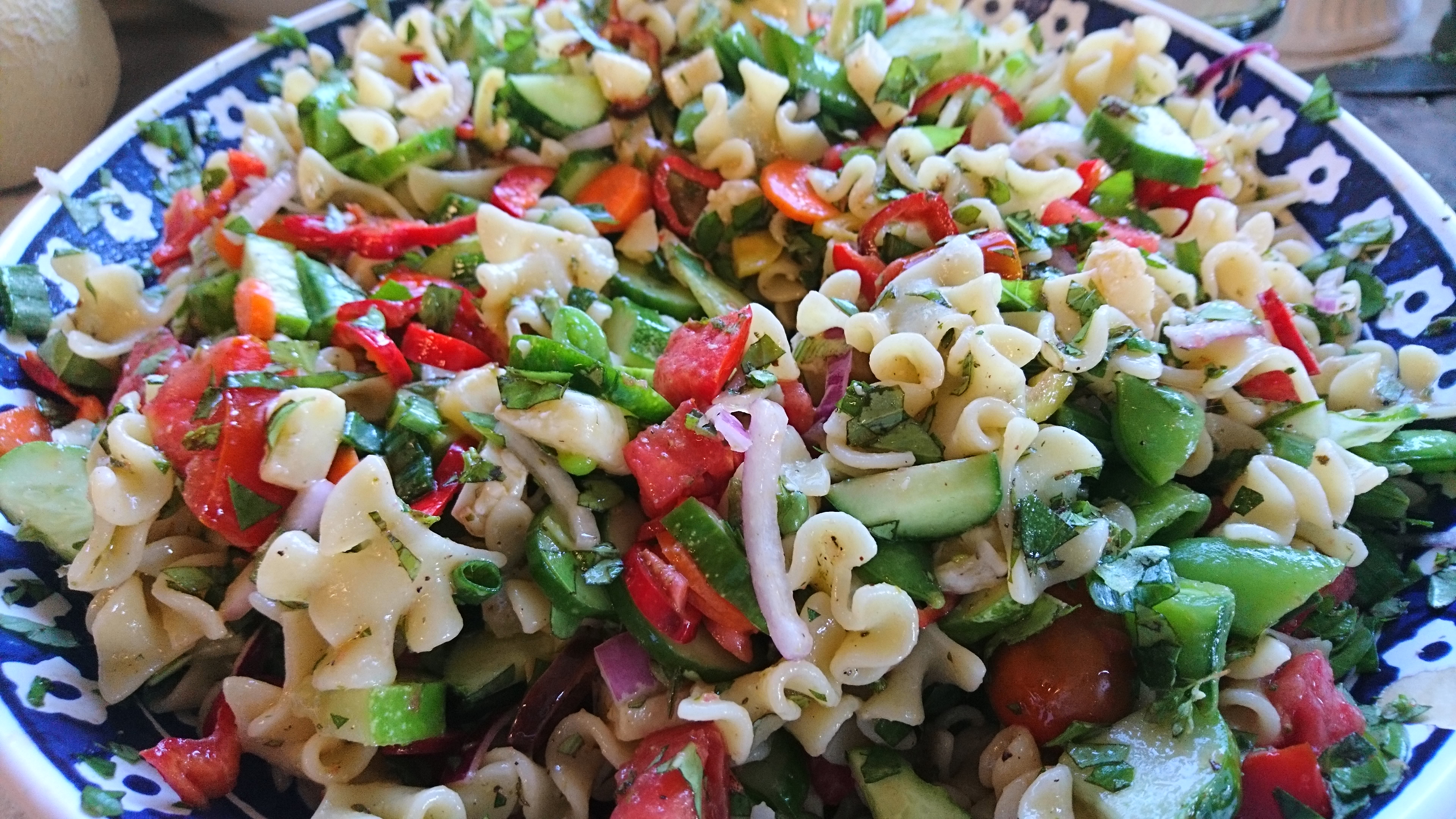 Now that tomatoes are finally coming into season, it's time for some pasta salad that really makes the most of summer produce. It also has the advantage of being a dish that only requires boiling a pot of water, but no other cooking, which is going to be welcome to a lot of y'all contending with heat waves.
The "warm" part of this recipe is that we usually serve it somewhat warm, rather than cold. It's a bit better that way. But if you're dying of heat, it can be eaten cold. The important part is that the past be dressed while still warm, so that it absorbs the dressing.
What's below is less of a recipe and more of a set of guidelines, because you have a lot of flexibility in what you put into your salad. There are lots of tips to make it better, though, and read below the recipe for notes on ingredients. Also, these guidelines make a large portion because this pasta salad makes excellent leftovers.
warm pasta salad
The Pasta
1 lbs (500g) short curly pasta
1 large pot boiling well-salted water
The Dressing
1-4 cloves garlic, whole peeled OR 1 Tbs roasted garlic paste
3 Tbs quality red wine vinegar, plus more to taste
1/2 cup quality olive oil, plus more to taste
2 Tbs minced fresh herbs, OR 1.5 tsp dried herbs
1/2 to 1 tsp salt
1/4 to 1/2 tsp fresh ground pepper
The Cheese
8-11oz flavorful semi-soft Italian cheese.
The Veggies
The trinity of required veggies:
1 to 1.5 lbs ripe tomatoes or cherry tomatoes, diced or sliced in half
5-8oz bell peppers or other sweet peppers, diced or sliced OR roasted and peeled sweet peppers, chopped large
6-10oz cucumbers, peeled if needed and diced
Plus none to a few veggies from this list:
1 cup diced sweet onion
1/2 cup chopped green onions
1/2 to 1 cup chopped fresh herbs
1/2 cup olives, pitted and halved or sliced
1-2 Tbs capers
1 cup fresh snap peas
1-2 cups blanched green beans
1/2 cup sweet peas, steamed
2-6 young carrots, peeled and sliced, either raw or blanched
8 oz grilled, roasted, or steamed asparagus, cut into 1" pieces
8-12 oz grilled, roasted, or fried summer squash, cut into 1/2" pieces
4-6oz diced marinated artichoke hearts
Equipment: pasta pot, colander, very large salad bowl
Instruction
Heat the pot of pasta water. If you don't have roasted garlic, then peel the garlic cloves and blanch them in the water for 1-2 minutes. Cover the pot and push it aside; you're not ready to cook the pasta yet.
Make the dressing. Mash the garlic with the salt and vinegar, using a mortar & pestle, minichopper, immersion blender and cup, or just a fork. Add the olive oil, ground pepper, and the herbs. Whisk together until blended.
Dice and prep all of the vegetables, piling them in a large bowl. Put veggies you want to treat gently, like cucumbers, herbs, and tomatoes, on the bottom, and put veggies that could use a little heat, like onions and peppers, on the top. Finish with the diced cheese.
Now you cook the pasta. Use the maximum time listed on the package; since this is a salad, you want it a bit more done than al dente. Drain the pasta, and immediately dump the still very warm pasta on top of the ingredients in the salad bowl. Drizzle it all over with the dressing, and then start gently tossing until all of the ingredients are mixed.
Taste it. Add oil, vinegar, salt, or pepper as needed.
Let sit for at least 10 minutes for flavors to blend and the pasta to cool. Then serve. Makes 4-7 dinner servings, or dinner for two plus 2-3 leftover lunches.
Ingredient Notes
Pasta: you want a short, "curly" pasta for this, such as such as strozzapreti, fusili, rotini, cavitappi, radiatore, or mafalda (as pictured). Farfalle will also work, and his is a great use for flavored pastas. Tubular pasta like penne and rigatoni, or small shapes like elbows or orzo, do not work well because they don't hold the dressing.
Cheese: you are looking for a semi-soft cheese that has distinct flavors but is not too strong. Flavored cheeses, including smoked ones, work great. Italian cheeses that work include scamorza (smoked mozz), marinated mozzarella, provalone dulce, fontina, asiago, caciocavallo, or young pecorinio. You can also use cheese curds, particularly garlic cheese curds, and manchego or gouda also can work. Plain mozzarella gets lost in the ingredients. Cheddar and feta are a bit too salty, and blue cheeses are not a good idea. If you're vegan, use vegan cheese such as Vegan Smoked Mozzarella, Babybel plant-based, or Just Like Smoked Provalone.
Veggies: At a minimum, the salad needs tomatoes, peppers, and cucumbers. The salad benefits from adding a few other veggies, either cooked or raw, and you don't want any specific veggie to be too strong. Strive for variety and balance, like onions and one kind of bean, or squash and olives, or herbs and peas. You're looking for 5-7 cups of diced veggies and cheese, total.
Herbs: appropriate herbs include basil, oregano, parsley, cilantro, chives, and thyme. Herbs should be chopped roughly for the salad, and minced for the dressing.