St. Nicholas' feast, part 1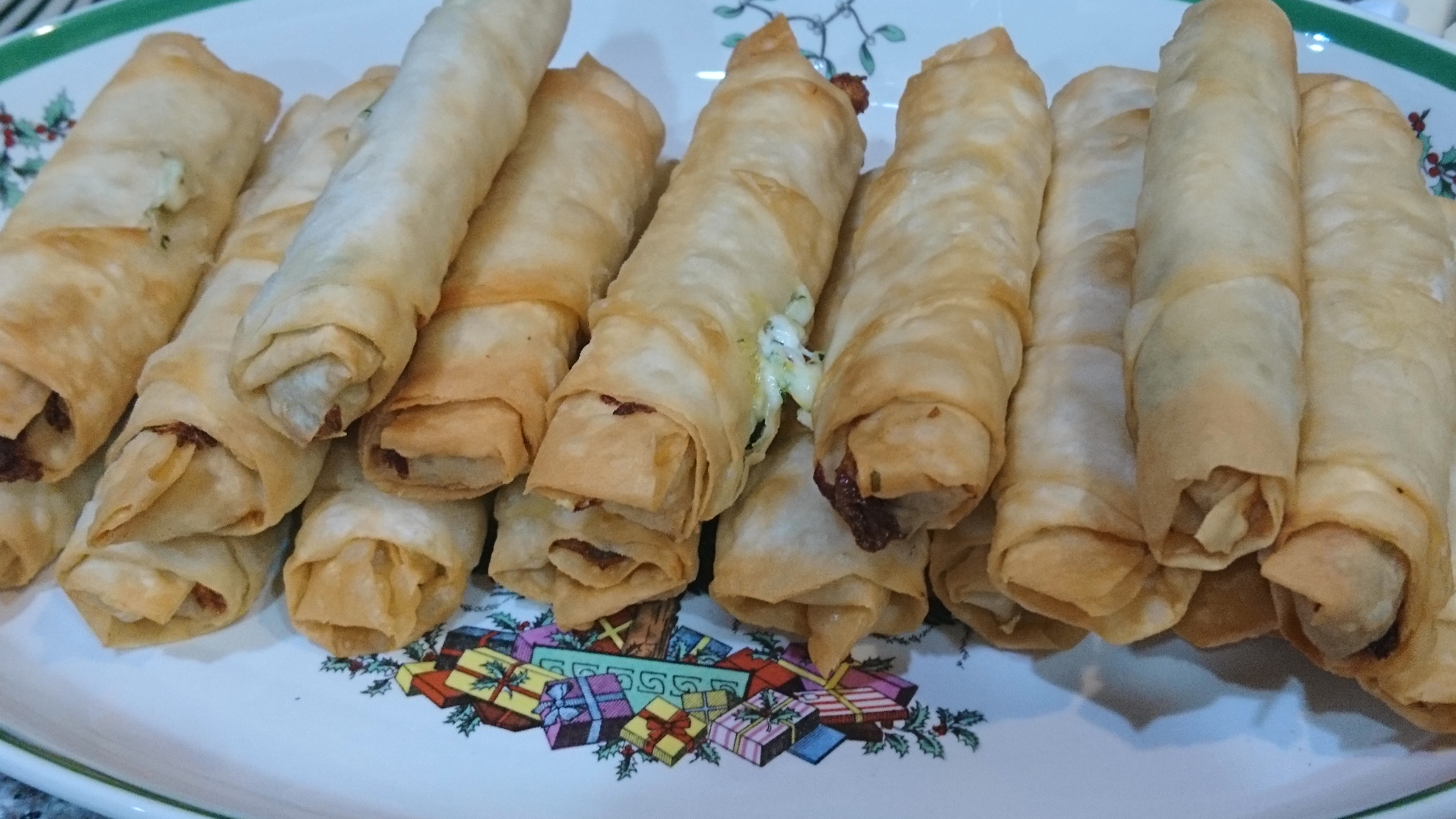 Since it was just a few of us this last Chistmas and not the usual crowd (thanks to you-know-what), we decided it was time to make our dinner a tribute to St. Nicholas. Specifically, Saint Nicholas of Myra, the Bishop of Turkey. Which means ... Turkish cuisine!
Now, a proper Turkish feast means lots of different dishes. But I didn't want to go crazy given that there were just the four of us, and there was only so much we could eat. So I settled on a menu of two meze (small dishes), two salads, a palate-cleaning soup, manti as the main course, and a pastry pudding as dessert.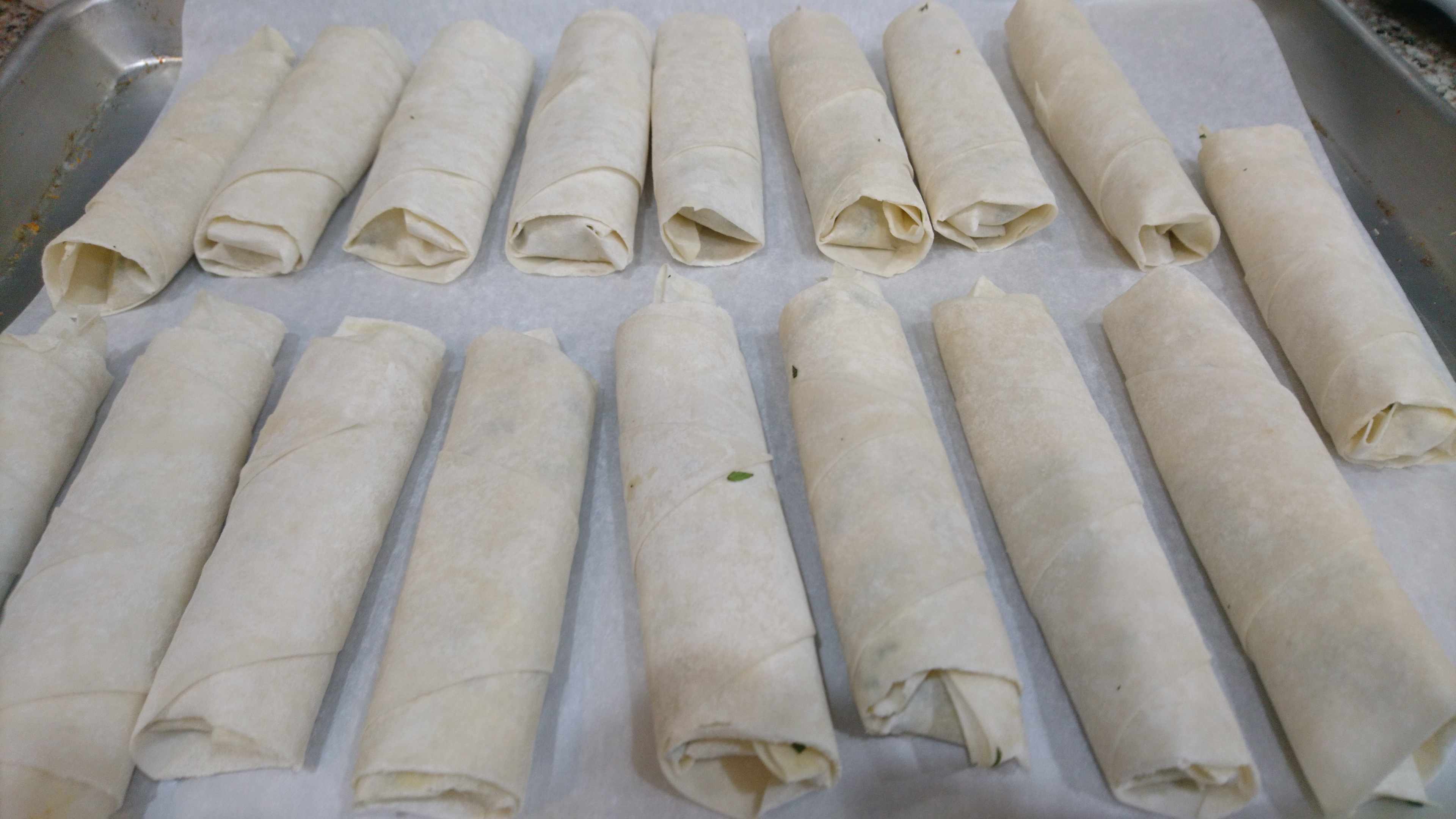 The two meze were what I jokingly called "cheese sticks and meat sticks". The "cheese sticks" are a very common Turkish appetizer known as "sigara böreği", or "cigar pastries", for reasons that should be obvious if you look at the picture. If you can locate the correct dough, called yufka, these are very easy to make. Yufka is about twice the thickness of phyllo, but doesn't dry out or tear as easily. Better, in a well-stocked Middle Eastern grocery you can find yufka cut into triangles perfect for rolling sigara in the freezer case. Grate some village cheese or kasseri, add a little yogurt and chopped mint, and roll them up, then fry.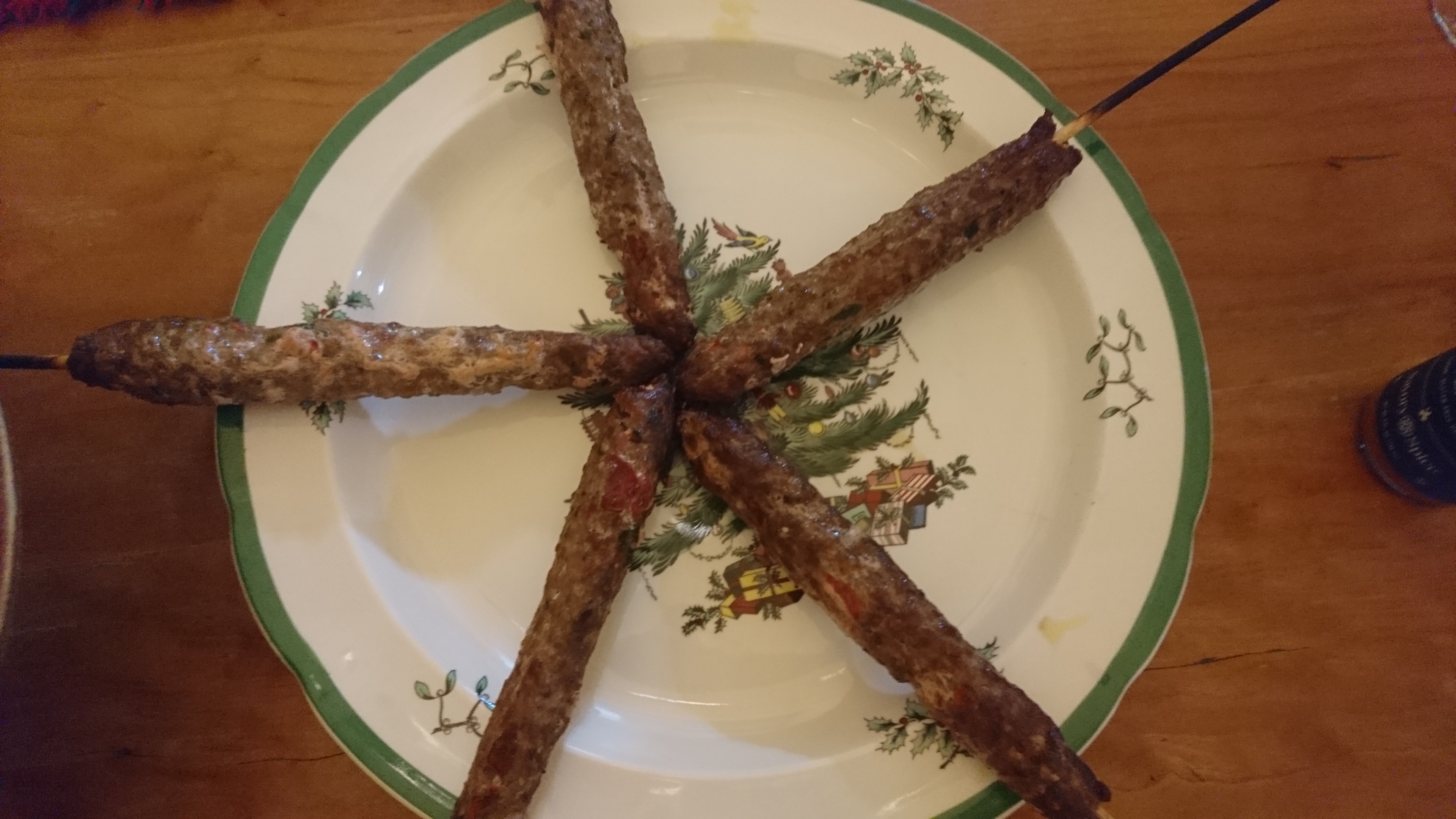 The meat sticks were even easier, because I bought them pre-made from the butcher at Basics Market on Sandy. They were a mixture of beef & lamb, a simple kebab I didn't need to prepare myself (especially since I wasn't going to eat it). Then, the salads.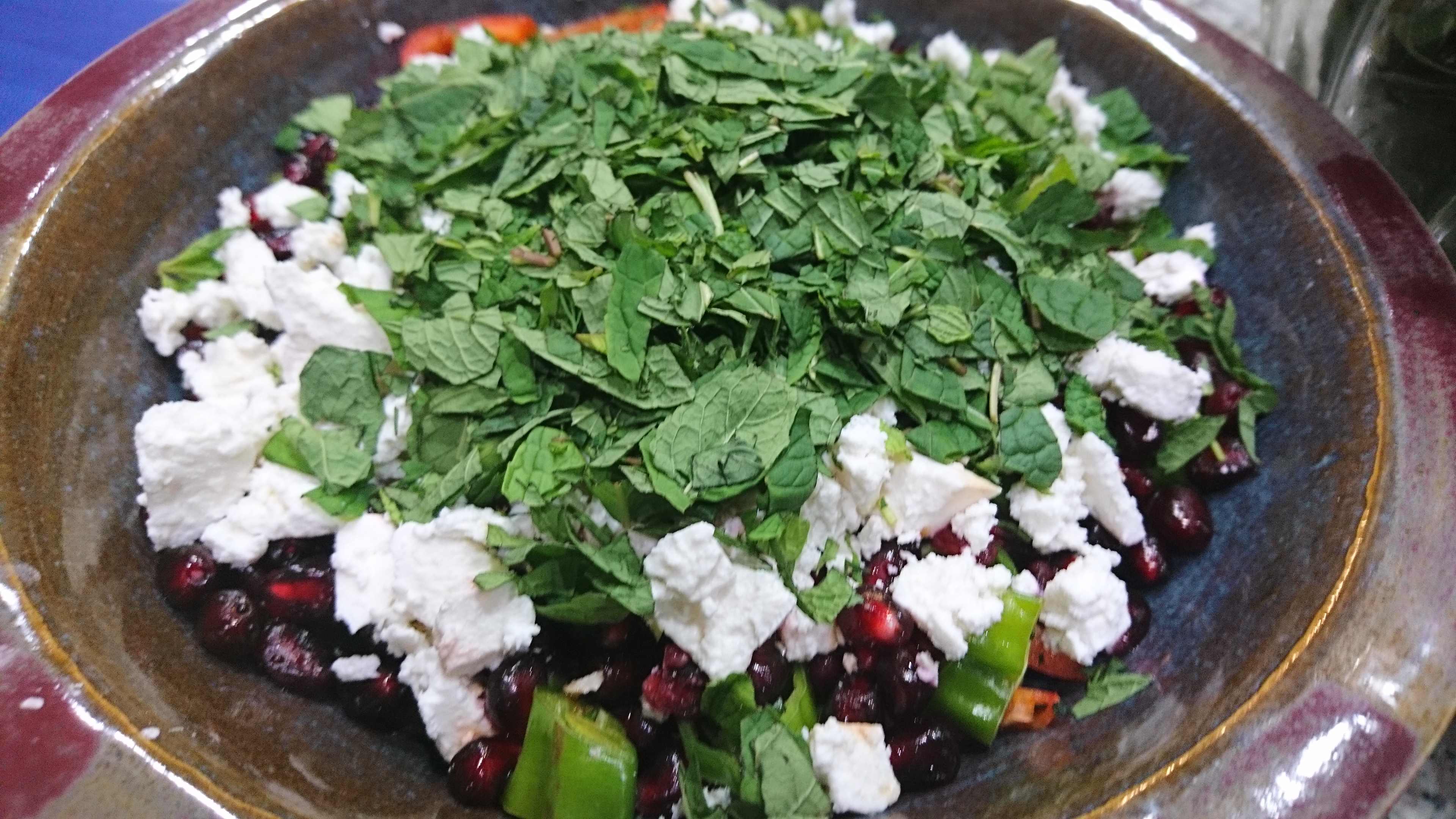 For a touch of seasonality, both salads were red and green. Red with a little green is this salad, made from rehydrated sun-dried tomatoes, peppers, pomegranate seeds, feta and mint. This was excellent, and worth making again as a winter salad. But it wasn't as good as then other salad.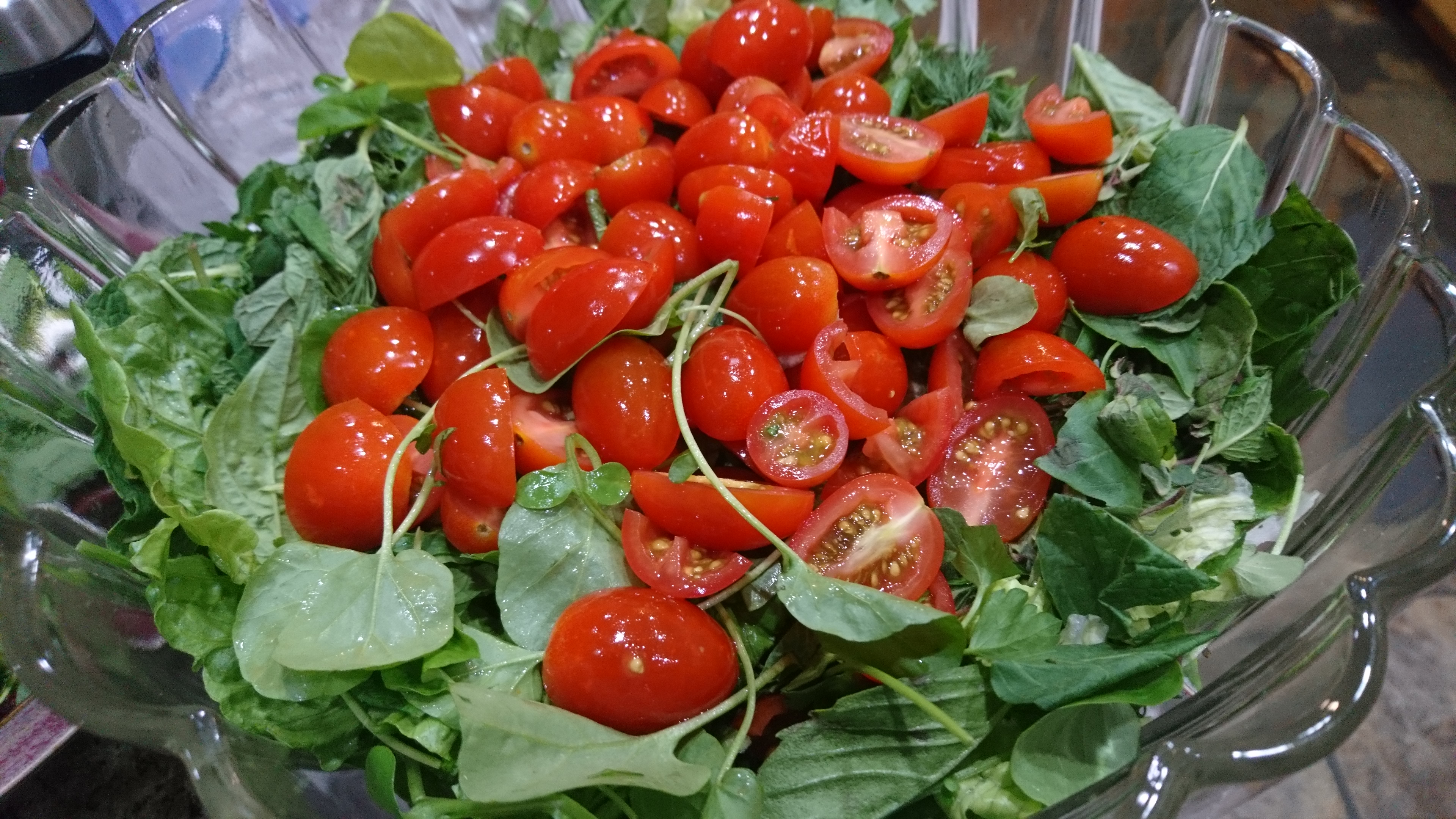 This one was green with a little red. The red was just hothouse cherry tomatoes, but that wasn't what made the salad great: that was the herbs. Like other near Eastern recipes, this salad treats herbs as salad greens, having handfuls of parsley, mint, basil, watercress, and dill. Now, as you can imagine in the middle of winter that made it a bit spendy, probably $20 worth of herbs there. But boy was it worth it, so that's the salad I'm going to share with you.
Herb Salad with Pomegranate Dressing
based on a recipe from Istanbul & Beyond
Salad greens
volumes below are loose packed, and very approximate. More of one herb can substitute for less of another
1/2 head of Romaine lettuce (full leaves, not just hearts), torn into bite-sized pieces, about 3 cups
1 bunch watercress leaves, about 1 cup
1 bunch flat-leaf parsley, chopped large, about 1 to 1.5 cups
1 small bunch basil or Thai basil, leaves stripped and very roughly chopped, about 1 cup
1 small bunch dill, roughly chopped, about 1/2 cup
1 bunch mint, leaves stripped, around 1 cup
Leaves from several twigs of oregano, about 1/2 cup
1 basket cherry tomatoes, halved
Dressing
1/4 cup olive oil
2 Tbs pomegranate molasses
1-2 Tbs fresh lemon juice
1/2 tsp salt
Put the greens in a very large bowl and toss them until completely mixed. Add the tomatoes on top.
Whisk the dressing together, and taste it for tartness. It should be pleasantly tart; if not, add the extra tablespoon of lemon juice. Drizzle it onto the greens. Toss again, and serve within 1/2 hour of tossing.
Enough for six people as a first course.