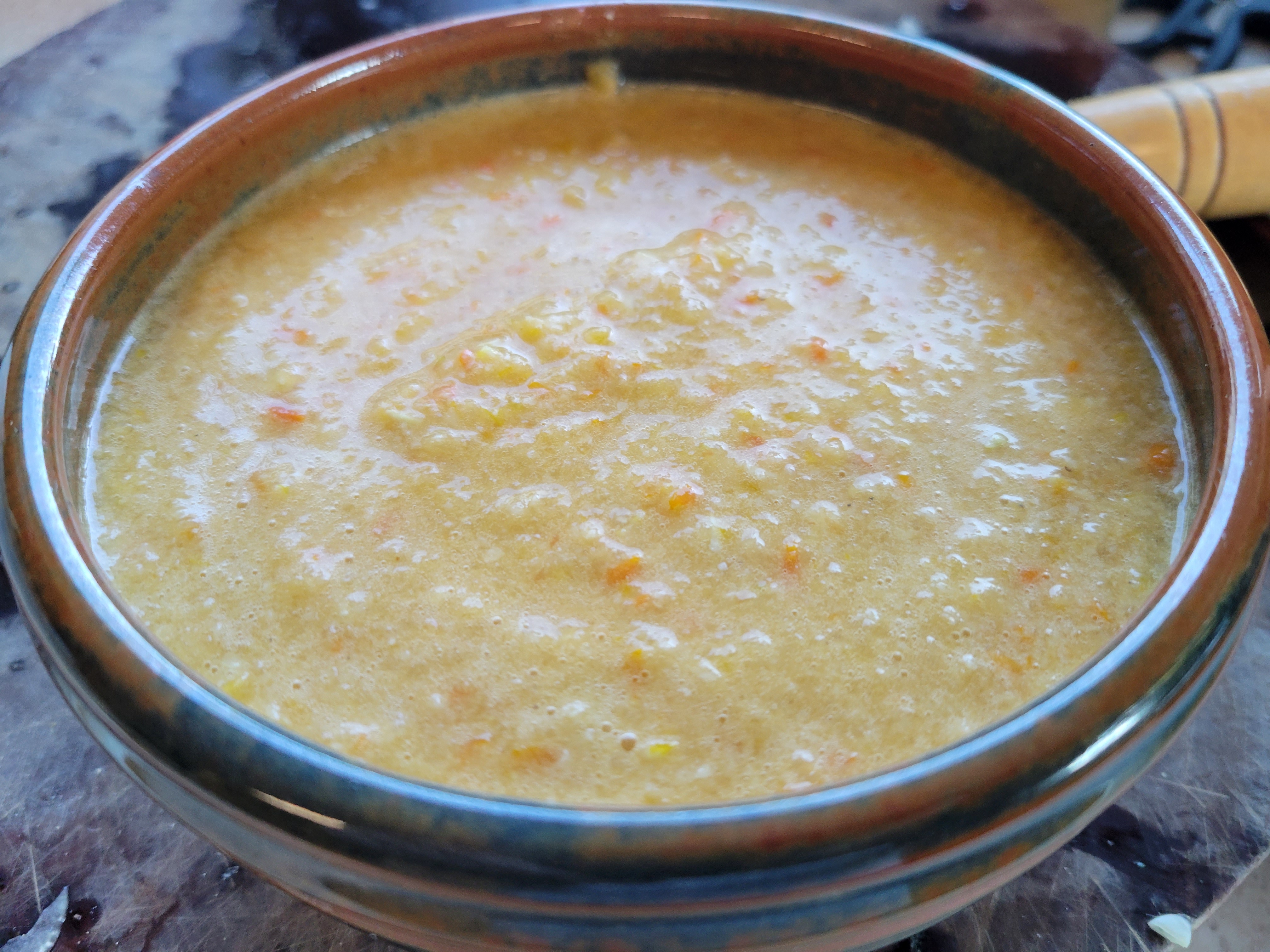 I dunno about where you are, but where I am it is super-hot out. Peak of 105F (41C) today. Appalingly hot weather and peak tomato season mean one thing to me: gazpacho. It's a delicious summer dish that requires no heating anything, and is best eaten slightly chilled.
I've shared my regular gazpacho, but this time, with the sungold tomato plants making a bid to take over the entire backyard, I wanted to make something slightly different: golden gazpacho. Almost like the regular, but with a very different color and a more subtle taste.
Like the other recipe, though, this is all about the peak summer produce. Don't make this with off-season imported produce, you won't enjoy it.
Golden Gazpacho
About 2oz leftover stale white bread
1 clove garlic
1/2 large sweet yellow onion, peeled and thinly sliced crossways, about 3/4 cup
1 yellow bell pepper, roughly chopped
1 large or 2 small lemon cucumbers, roughly chopped with peel left on
1 pint of sungold tomatoes
1/2 to 1 tsp salt
1/2 tsp white pepper
1-2 Tbs quality Spanish olive oil
1 1/2 tsp sherry vinegar
Taste the sliced onion. If it's sharp, then put it in a bowl of cold water to soak for 15 minutes, and then drain.
Cut the bread into dice and put it and the garlic cloves in a food processor. Pulse until the garlic is minced and the bread broken down into crumbs.
Add the bell pepper, onion, and cucumber. Run the food processor until it breaks down to a "chunky salsa" consistency. Add the sungold tomatoes, salt, white pepper, olive oil, and vinegar. Run until the vegetables are almost, but not quite, pureed; you still want them to have a little texture.
Let sit for the flavors to blend. Taste, and add more salt, oil, or vinegar if it needs it, or even a little sugar if your tomatoes weren't that sweet. Serve, accompanied by bread and Spanish cheese.
Substitutions: the sungolds could be replaced by around 12oz-wt of ripe yellow heirloom tomatoes, diced. If you don't have sherry vinegar, use champaigne or white wine vinegar.