pinto bean soup from two cans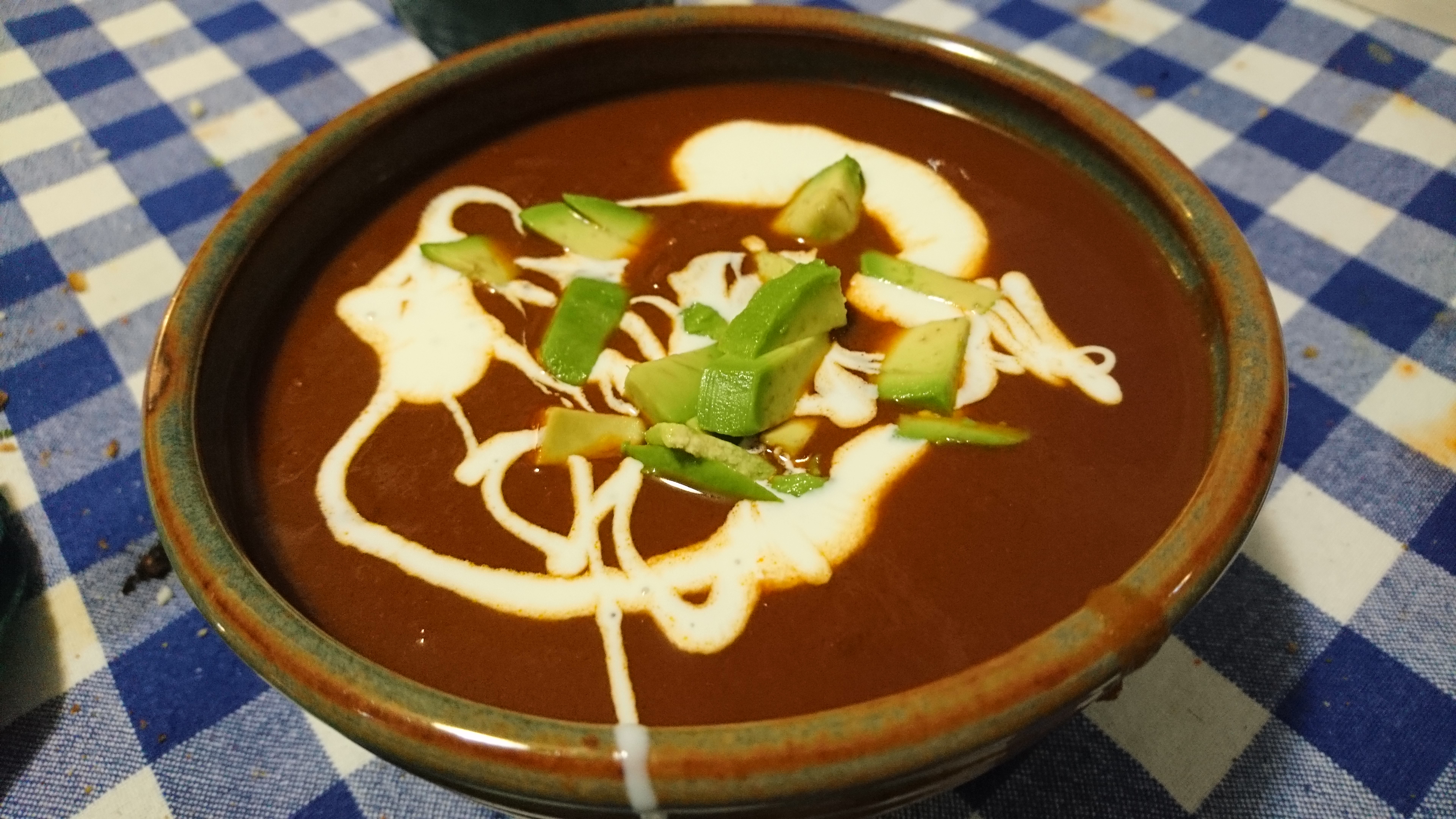 This stupidly easy, yet tasty, soup is based on a recipe by Pati Jinich, who has become my new queen of Mexican cooking and should probably be yours as well. Her recipes are, in general, simple and easy yet delicious, and she teaches you Mexican home cooking that's not about tacos and fajitas.
This soup is basically an adobo sauce, into which you mix pureed beans and broth, showing the simple versitality of Mexican cooking as well as their dedication to sauces. I tinkered with the recipe slightly to use mostly canned ingredients. Accompany this with some quesadillas or cornbread and you have a terrific weeknight meal that can be on the table in 40 minutes. And, for quarantine-time, this recipe serves two (double it for a larger family).
If you don't have Mexican crema around, you can substitute regular sour cream or even heavy cream. For a vegan version, swap in coconut cream or vegan sour cream.
Pinto Bean Soup
1 dried ancho chile
1 14oz can diced or whole tomatoes
1 14oz can pinto beans
2 tbs vegetable oil
1 cup water
2 to 2 1/2 cups veggie or chicken stock
Salt
1/2 cup Mexican crema (or substitute)
1/2 avocado
A few fried tortilla strips (optional)
Remove the stem from the dried ancho, split it in half, and remove the seeds. Tear it into a few pieces and set in a small heatproof bowl. Boil 1 cup of water and pour it over the chile, making sure it is completely covered. Let sit for 10 minutes to rehydrate.
Put the chile pieces (reserving their soaking liquid) and the canned tomatoes and their juice into a blender or food processor. Puree.
Heat the oil in a medium soup pot. Pour the tomato/chile mixture into the pot and cook over medium heat, stirring regularly. In 5-6 minutes the mixture should darken somewhat.
While the pot is cooking, drain the beans. Puree them together with 1/4 cup chile soaking liquid and 1/2 cup stock.
Once the tomato/chile sauce is done, pour the bean puree into it. Add 1 1/2 cups stock, and bring to a bare simmer. Turn the heat down to low and simmer for 15 minutes; the soup should thicken slightly.
Taste the soup and see if you need to add salt. Also check the texture; if it's too thick, add the remaining 1/2 cup stock.
Dice the avocado half. Serve the soup in wide bowls, and add a swirl of crema or cream to each. Top with the diced avocado, and the tortilla strips (if using). Serve, with rolls or quesadillas on the side.
Serves two. Can be easily scaled up.